Visual and performing arts festival brings together french and american artists at a constellation of venues for cross-cultural collaboration
France Los Angeles Exchange (FLAX) is pleased to announce "The Dialectic of the Stars," a series of video, performance, and music-based programs, to be showcased at iconic Los Angeles venues from February 11–25 before heading to Paris later in the year. Under the direction of Program Director and Curator Anna Milone, FLAX has engaged art historian and curator Fabien Danesi, as their Curator-in-Residence to present "The Dialectic of the Stars," featuring works by 19 emerging and established French and American artists. Free and open to all, the pioneering initiative underscores FLAX's mission of promoting mutual understanding between SoCal and France through the arts.
In February—when the nights are long and the lights brighter—the series will draw a constellation of five locales, like points of a star. FLAX invites the public to drift throughout the city attending events at these popular arts destinations, each blending their programming with Fabien's vision to ignite dialogue about LA as an important cultural hub. Installations and performances can be seen as allegories of coordinates, guiding the audience in the vastness of our globalized culture, like sailors once did at sea.
Of the 19 artists featured in this festival, many will be showing in the US for the first time, including Fouad Bouchoucha, Rafaela Lopez and Paris-based multimedia artist Nicolas Momein. Renowned for his innovative and large-scale sculptural work, Momein will create a mobile piece specifically for "The Dialectic of the Stars" that will act as the totem of the project, linking all events together. Magnetic sculptures will be presented on a van and each iteration will unveil a new presentation of the work.
On Sunday, February 11 at 6pm, "The Dialectic of the Stars" launches at the Sowden House with a video proposal by Fabien Danesi and a presentation of Star Dust, a video by Ange Leccia.
On Thursday, February 15 at 7pm, LACE presents "Wrong Ped Xing" with a video installation by Nøne Futbol Club and the screening of Teherangeles by Arash Nassiri at 7:30pm, followed by a performance by Geneva Skeen. The night culminates with a motorcycles concert by Fouad Bouchoucha.
On Sunday, February 18 from 2 to 8pm, "Drag Me Crazy" at Ford Theatres includes installations and performances by Scoli Acosta, Lucky Dragons, Hoël Duret, Rafaela Lopez, Emily Mast in collaboration with Alan Chan, Alison O'Daniel and Assaf Shaham with food, refreshments and games by Robert Karimi from 6pm (by registration only).
On Saturday, February 24 at 7:30pm, "The Dialectic of the Stars" showcases Bodies2 at L.A. Dance Project, which features the screening of The Pit (Dancer with Golden Lips) by Naotaka Hiro followed by Movement on Movement, a performance by Noé Soulier.
On Sunday, February 25 from 6pm, "Surfing Countdown" at Zebulon includes an hour performance by Jasmin Blasco, followed by the screening of Animal Glisse by Bertrand Dezoteux and an afterparty from 7:30pm to midnight.
For more information, visit www.flaxfoundation.org
About FLAX
France Los Angeles Exchange (FLAX) is a California-based non-profit 501(c)(3) which promotes mutual understanding between the diverse communities of Southern California and France through the Arts. FLAX's program offers Southern California artists and organizational partners reciprocal and collaborative opportunities with artists, curators, and cultural institutions based in France. FLAX has a strong commitment to public engagement, introducing multi-disciplinary art projects in collaboration with established arts organizations. For more information, visit www.flaxfoundation.org.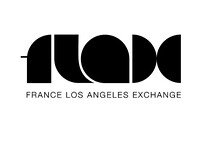 more from FLAX (France Los Angeles Exchange)