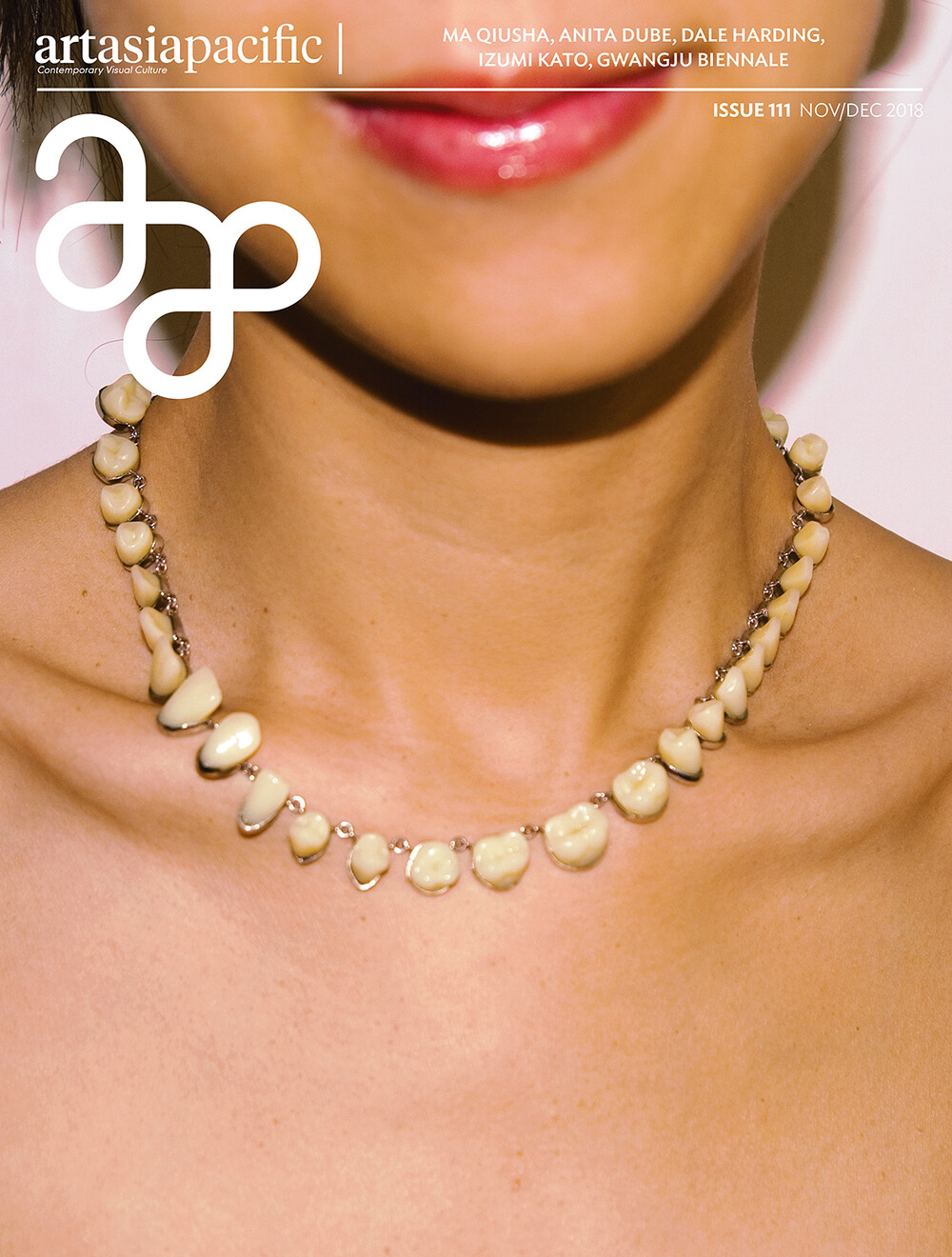 ArtAsiaPacific
November/December 2018
ArtAsiaPacific
November 1, 2018
It has been one year since the New York Times published a report on the numerous allegations of sexual misconduct against Hollywood producer Harvey Weinstein. The article unleashed the #MeToo movement that has swept across the globe in almost every industry, profession and calling, including art and publishing. To mark the anniversary of this historic moment for women to speak out and share their experiences of sexism and sexual harassment, in the Nov/Dec issue of ArtAsiaPacific, we focus on artists who, through their work, highlight the challenges women face.
For our cover Feature, Beijing desk editor Tom Mouna met up with Ma Qiusha, whose diverse practice revolves around personal and collective memories of growing up in China in the 1980s and '90s. Mouna reflects, "Perhaps not surprisingly for an artist whose practice deals with the idea of control or the lack of it—over one's own agenda, over the female body, over the larger societal shifts occurring in Beijing and China—Ma likes to collect objects, as if to temporarily possess narratives that they carry or for the purpose of allowing her to process conjectured histories."
In the second Feature, contributing editor Jyoti Dhar examines the career of Anita Dube, an artist, writer and curator who has played a pivotal role in India's tightly knit art scenes since the early 1980s. Dhar looks back at Dube's interdisciplinary practice—from her involvement as the leading spokesperson in the 1980s art group known as the Radicals, who sought to incorporate the voices and perspectives of marginalized groups (whether Dalit, tribal, queer or female), to her critical art reviews in the progressive Indian newspaper Economic Times. Dhar's analysis offers some hints of what to expect at the forthcoming Kochi-Muziris Biennale this December, which Dube helms as curator.
This issue also concludes our two 25th anniversary Feature series. Then and Now is a selection from our archive of articles and images that capture the social, political and cultural mood over the past two-and-a-half decades. In Young and Emerging, we spotlight five up-and-coming artists whose practices utilize new kinds of digital media: Hayoun Kwon, Miao Ying, Jess Johnson, Refik Anadol and Foundland Collective.
For our special Feature Inside Burger Collection, Christina Végh, director of the Kestner Gesellschaft in Hannover, met with artists Teresa Hubbard and Alexander Birchler to discuss their project about American artist Flora Mayo, created for the Switzerland Pavilion at the 57th Venice Biennale, as well as feminism, power relations, narrative structures and reframing history.
In Essays, two contributors examine recent trends in their respective art scenes. With three art fairs—Art Stage Singapore, SEA Focus and Art SG—lined up for 2019, critic Reena Devi considers whether Singapore's frenzied push for these commercial events will actually benefit the country's arts ecology. From Shanghai, curator Danielle Shang scrutinizes China's new generation of private museums, asking if it is time for the many collector-driven initiatives to adopt institutional standards and social responsibilities. Rounding out the section, Joyce Wong, the winner of AAP's inaugural Young Writers Contest, examines cross-cultural themes in the work of Shezad Dawood.
In Profiles, reviews editor Ophelia Lai discusses the work of Cambodian multidisciplinary artist Khvay Samnang. Australia desk editor Tim Walsh sits down with Brisbane-based artist Dale Harding after a whirlwind year of exhibitions in TarraWarra, Liverpool and Stockholm. Ink Society director Olivia Wang talks with California couple-collectors Jerry Yang of Yahoo! fame and Akiko Yamazaki about their shared love of both traditional and contemporary art forms.
For Where I Work, associate editor Chloe Chu visits the Hong Kong studio of Japanese artist Izumi Kato, whose solo show is currently on view at Beijing's Red Brick Art Museum. Do Truong Linh files a Dispatch from Hanoi and reveals a still conservative yet growing art scene in Vietnam's capital. In One on One, New Zealand's representative artist for the 2019 Venice Biennale, Dane Mitchell, explains his admiration for the late On Kawara. For The Point, we invited Quandamooka artist Megan Cope to elaborate on the importance of contributing to the collective discourse of Indigenous Australian artists active in the 1980s and '90s. Working with similar concerns as Ma, Dube, Hubbard and Birchler, Cope reflects on her critical position in society: "Artists are often the first people in society to carefully articulate their position in the world, in ways that not only expand our visual literacy but also convey what it feels like to be on the receiving end of injustice and prejudice." In the year since #MeToo, it seems more imperative than ever to pursue discussions around issues of social justice, and explore ways to fight inequality.
Subscribe to the print edition or buy digital copies on iTunes, Google Play, Zinio or Magzter. Subscribers can access our entire back-issue catalog in ArtAsiaPacific's Digital Library. Download the ArtAsiaPacific City Guide app today to be in the know about events and openings in 53 countries and territories across Asia, the Pacific and the Middle East!
Don't forget to check out the inaugural episode of the ArtAsiaPacific Podcast, which delves into the 25-year history of the magazine and looks to the future of the arts industry. Subscribe on iTunes for exclusive art news, interviews and stories narrated through sound.