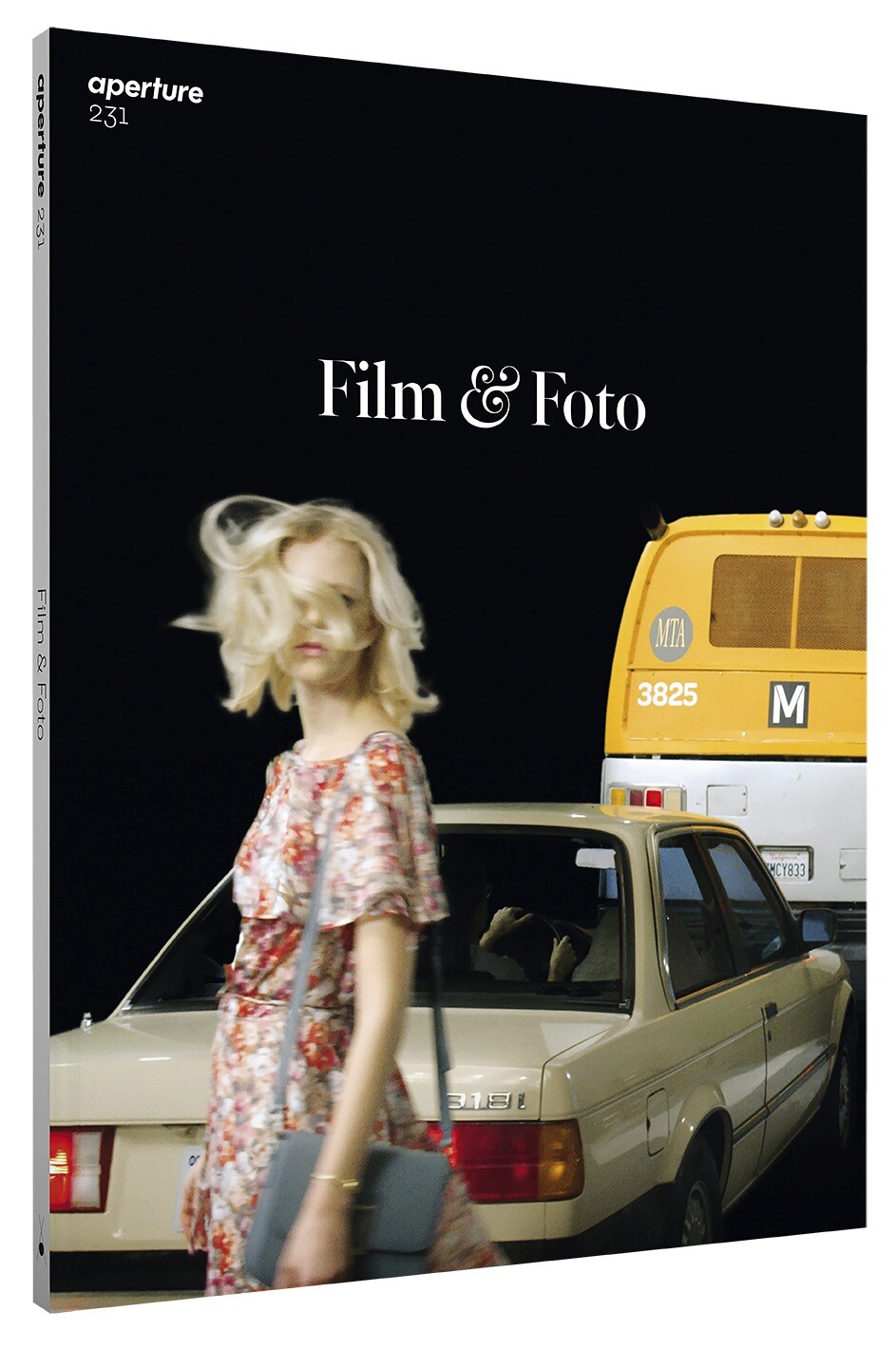 Aperture #231
"Film & Foto"
Aperture Magazine, New York / United States
June 5, 2018
Buy this issue or subscribe.
The summer issue of Aperture magazine considers the influence of photography on leading filmmakers, and the role of cinema in the work of artists and photographers. Featuring in-depth interviews with Sofia Coppola, Shirin Neshat, and Gus Van Sant, and contributions by Negar Azimi, David Campany, J. Hoberman, Alex Prager, RaMell Ross, Antwaun Sargent, Dayanita Singh, and Dana Stevens, among others.
Words
"Sofia Coppola on Pictures"
How photographs influence the acclaimed director's films
A Conversation with Philip Gefter
"Modern Vision"
Revisiting a landmark exhibition on film and photography
By David Campany

"The Red Desert Effect"
Contemporary Italian photography after Antonioni
By Maria Antonella Pelizzari

"Smoke Screen"
The solid light installations of Anthony McCall
By Noam M. Elcott

"Shirin Neshat's Dreamlands"
The artist and filmmaker contends with Iranian identity
A Conversation with Negar Azimi

"The Loving Cut"
Framing queer desire, from George Platt Lynes to Barry Jenkins
By Evan Moffitt

"At Least They'll See the Black"
Kahlil Joseph, Arthur Jafa, and the poetics of African American life
By Antwaun Sargent

"Gus Van Sant: A Thousand Compositions"
Picturing youth on the margins of American society
A Conversation with Jonathan Griffin
Pictures
"Alain Resnais"
Introduction by J. Hoberman
"Dayanita Singh"
Introduction by Aveek Sen
"Alex Prager"
Introduction by Rebecca Bengal
"Ryan Spencer"
Introduction by Dana Stevens
"Basim Magdy"
Introduction by Bruce Jenkins
"Fouad Elkoury"
Introduction by Kaelen Wilson-Goldie
"​RaMell Ross"
Introduction by Salamishah Tillet
Use #FilmAndFoto to join the conversation on Twitter, Instagram, and Facebook.
Aperture: The Magazine of Photography and Ideas
Subscribe now to receive "Film & Foto" and more great issues.
Funding for Aperture magazine is provided by the Andy Warhol Foundation for the Visual Arts and the Board of Trustees and Members of Aperture Foundation. Additional public funds are from the National Endowment for the Arts, New York State Council on the Arts with the support of Governor Andrew M. Cuomo and the New York State Legislature, and the New York City Department of Cultural Affairs in partnership with the City Council.
more from Aperture Magazine