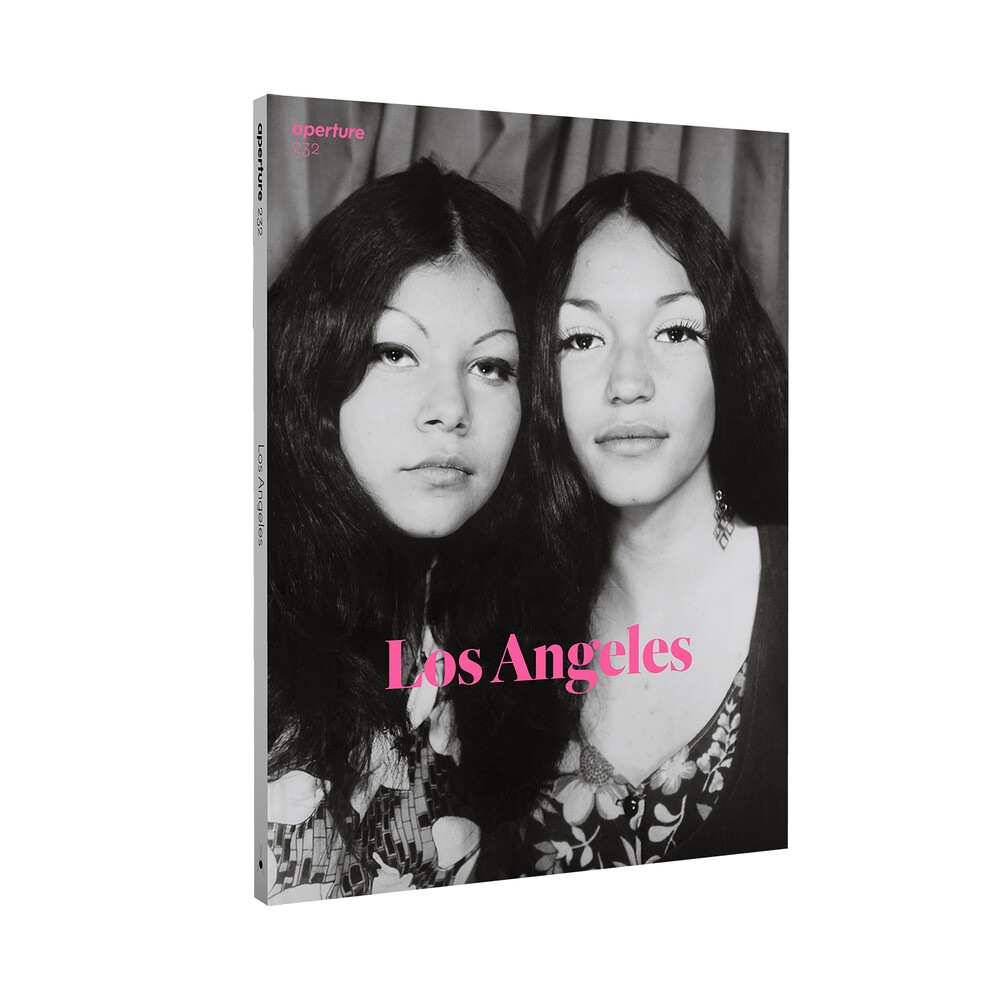 Aperture #232
"Los Angeles"
Aperture Magazine, New York / United States
September 5, 2018
Aperture's "Los Angeles" issue explores how one of America's most photographed cities is also an essential hub for some of today's most important photography and photo-based art. Part of an ongoing series of issues that profile the photographic culture of a particular city, "Los Angeles" features key figures in the city's photography community. Brand-new portfolios highlight Los Angeles's unique conceptual traditions and, in some cases, consider the city as a studio. Including contributions by Janna Ireland, Carter Mull, Torbjørn Rødland, Guadalupe Rosales, Catherine Opie, Paul Mpagi Sepuya, and Lise Sarfati, "Los Angeles" captures the city's historic and contemporary photographic vibrancy through enduring visual records of its landscape and communities.
Words
"City of Images"
Contributions by James Welling, Luis C. Garza, Awol Erizku, Dana Goodyear, Geoff Dyer, and Catherine Opie
"John Divola & Mark Ruwedel"
Traversing the city and the desert
A conversation with Amanda Maddox
"Back in the Days"
In shapshots and portraits, an archive of Chicano life
By Carribean Fragoza
"Chávez Ravine"
Don Normark's 1949 chronicle of a Mexican American community
By Yxta Maya Murray
"Toward Poetic Vision"
Robert Heinecken redefines the photograph
By Rebecca Morse
"The Genuine in a World of Copies"
Revisiting an influential exhibition of Southern California art
By Erin O'Toole
"Ilene Segalove's Modern America"
Artifice and reality in Beverly Hills
A conversation with Charlotte Cotton
Pictures
"Anthony Hernandez"
Introduction by Glen Helfand
"Lise Sarfati"
Introduction by Brian Sholis
"Barak Zemer"
Introduction by Kate Palmer Albers
"Christina Fernandez"
Introduction by Yxta Maya Murray
"Sophie Tianxin Chen"
Introduction by Jennifer Piejko
"Paul Mpagi Sepuya"
Introduction by Andy Campbell
"Carter Mull"
Introduction by Jonathan Griffin
"Rodrigo Valenzuela"
Introduction by Matthew Schum
"David Alekhuogie"
Introduction by Ikechukwu Onyewuenyi
"Janna Ireland"
Introduction by Susan Morgan
"Mona Kuhn"
Introduction by Sara Knelman
"Torbjørn Rødland"
Introduction by Travis Diehl
Use #ApertureLA to join the conversation on Twitter, Instagram, and Facebook.
Subscribe now to receive "Los Angeles" and more great issues.
Lead funding for the "Los Angeles" issue of Aperture magazine is provided by the Henry Luce Foundation. Further generous support is provided in part by The Andy Warhol Foundation for the Visual Arts, the New York State Council on the Arts with the support of Governor Andrew M. Cuomo and the New York State Legislature, and the New York City Department of Cultural Affairs in partnership with the City Council.
more from Aperture Magazine