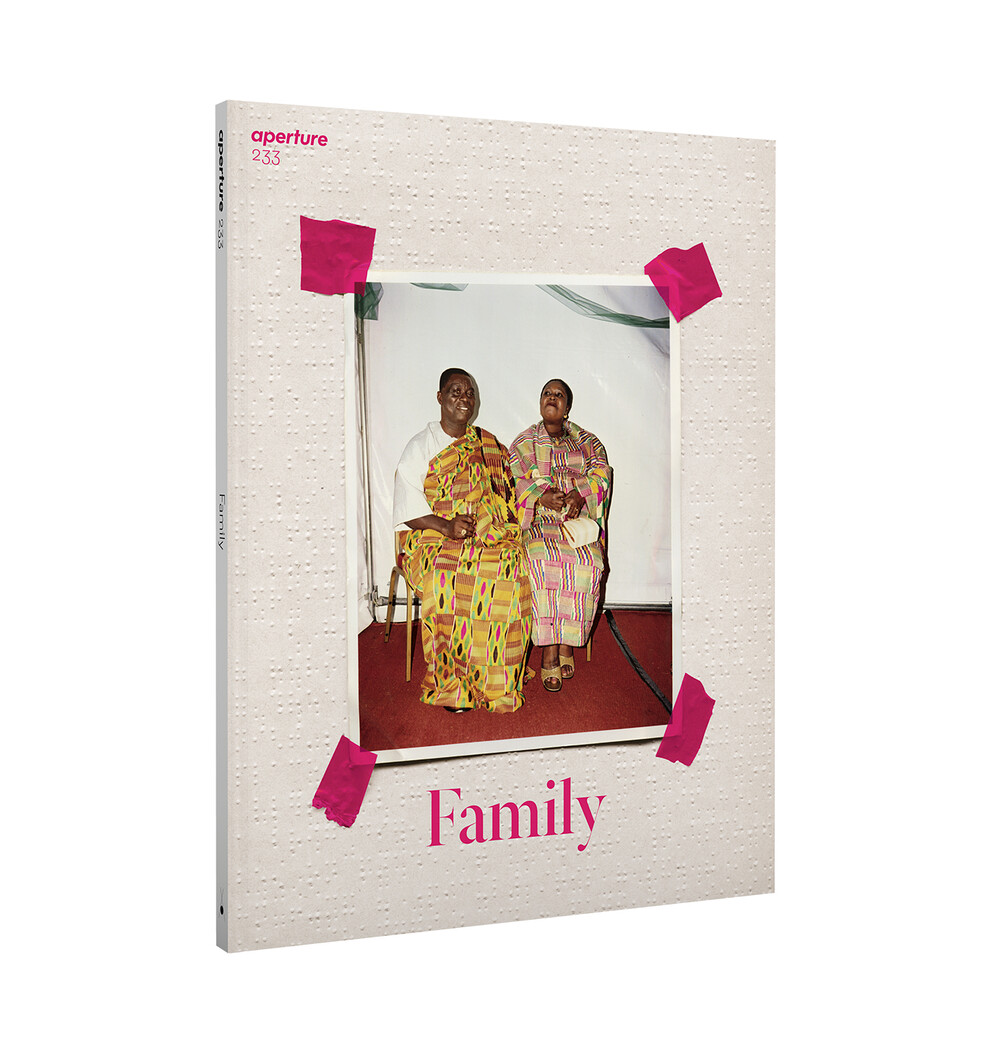 Aperture #233: "Family"
Aperture Magazine, New York / United States
December 4, 2018
"The family photograph is a marker of myths," Glen Helfand writes in Aperture's Winter 2018 issue, "Family." At a moment of conservative backlash to queer rights and of the separation of families at the U.S. border, the image of the family you have—or the family you choose in search of connections across race and sexuality—has never been more important. "Family" features essays by literary figures including Sheila Heti, Pico Iyer, and John Jeremiah Sullivan, as well as photography by Diana Markosian, whose family emigrated from Russia to California; Liz Johnson Artur, who has spent her career photographing individuals of the African diaspora; and a special portfolio by Stefan Ruiz of the House of Xtravaganza, one of New York's legendary ballroom houses. Throughout "Family," artists and photographers transform the group portrait through appropriation, performance, conceptual intervention, and long-term community engagement.
Words
"Liz Johnson Artur: Black Balloon Archive"
Joy, pride, and community across the African diaspora
By Ekow Eshun
"Into the Album"
How have artists reframed the family picture?
By Carmen Winant
"Domestic Labor"
A novelist and a photographer on the fictions of kinship
Lynne Tillman and Justine Kurland in Conversation
"Diana Markosian: Santa Barbara"
Under the sway of a soap opera, a Russian family's new life in the U.S.
By Rebecca Bengal
"Masahisa Fukase: Father Figure"
Parody and pathos in a son's family portraits
By Tomo Kosuga
"American Families"
Picturing the African American family, from Frederick Douglass to Jamel Shabazz
Deborah Willis in Conversation with Rhea L. Combs
Pictures
"Motoyuki Daifu"
Introduction by Dan Abbe
"Charlie Engman"
Introduction by Sheila Heti
"Tammy Rae Carland"
Introduction by Glen Helfand
"Kathryn Harrison"
Introduction by John Jeremiah Sullivan
"House of Xtravaganza by Stefan Ruiz"
Introduction by Mikelle Street
"Tenzing Dakpa"
Introduction by Pico Iyer
"George Awde"
Introduction by Kaelen Wilson-Goldie
"David Armstrong"
Introduction by Jesse Dorris
"Christopher Anderson"
Introduction by Sara Knelman
Use #TheApertureFamily to join the conversation on Twitter, Instagram, and Facebook.
Aperture: The Magazine of Photography and Ideas
Subscribe now to receive "Family" and more great issues.
Lead funding for the "Family" issue of Aperture magazine is provided by the Anne Levy Charitable Trust and the Reba Judith Sandler Foundation. Significant support is provided by the Kanakia Foundation. Further generous support for Aperture is provided in part by The Andy Warhol Foundation for the Visual Arts, the New York State Council on the Arts with the support of Governor Andrew M. Cuomo and the New York State Legislature, and the New York City Department of Cultural Affairs in partnership with the City Council.
more from Aperture Magazine