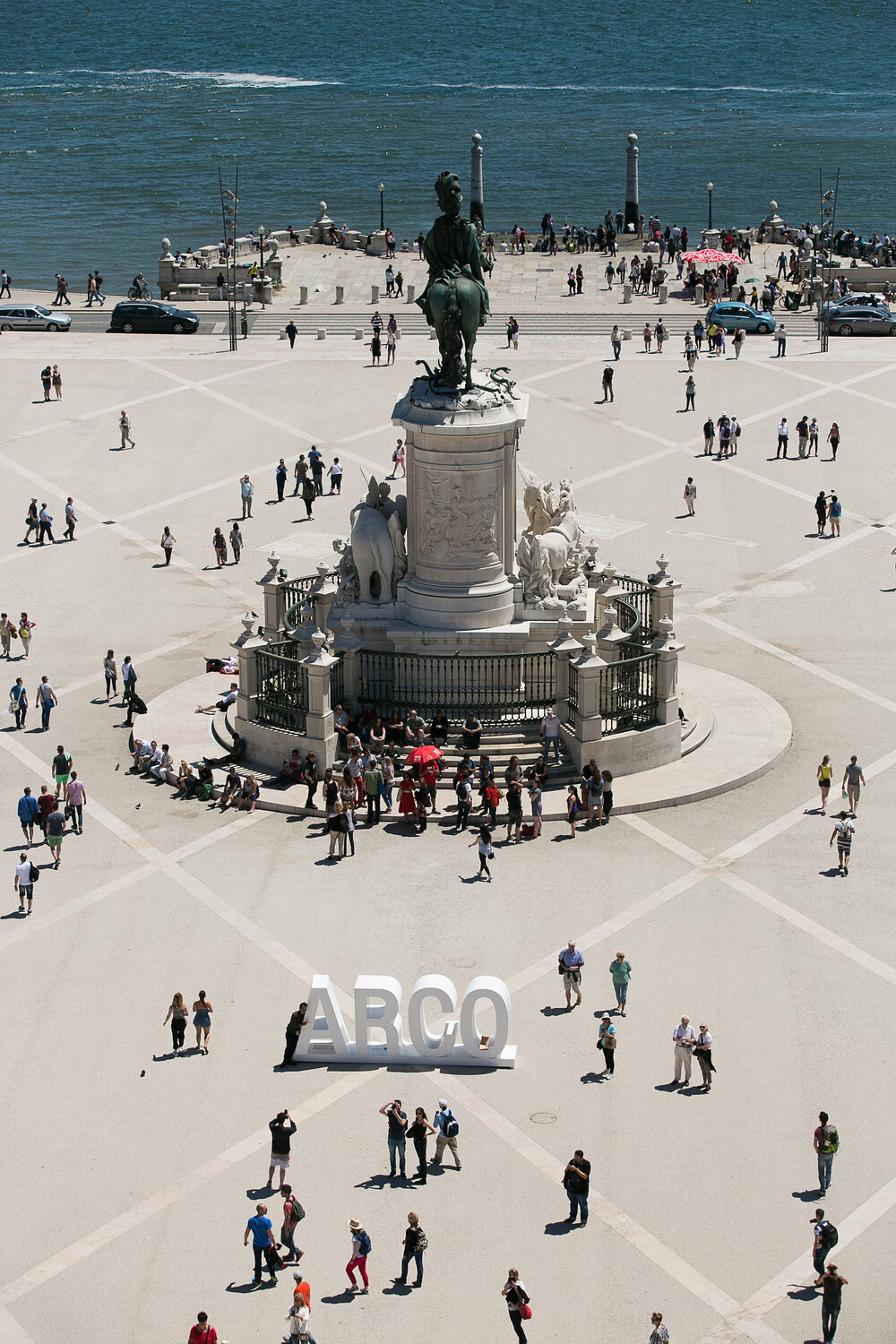 ARCOlisboa 2018
ARCOlisboa, Lisbon / Portugal
May 17–20, 2018

April 17, 2018
IFEMA and the Câmara Municipal de Lisboa join forces to hold ARCOlisboa 2018 from May 17 to 20. Once again, the third edition of the fair will take place at the emblematic Cordoaria Nacional building, providing a unique opportunity to learn all about Portugal's exciting art scene in a dialogue with fascinating international pieces in an 18th century building where the city light floods through the windows and into patios transformed into public spaces. This new meeting has consolidated the project, and a sense of confidence has allowed it to expand its offering to a total of 72 galleries from 14 countries.

New opening hours
ARCOlisboa 2018 has new opening hours that better suit the pace of life in Lisbon: from May 17 to 19 it will open from 2pm to 9pm, and on Sunday from 12pm to 6pm.

New artistic content
This edition will firmly establish the project, bringing a sense of confidence that will enable it to offer new content: Individual artists' projects, are hosted in the Torreão Poente with extensive presentations of works by international creators like Esther Ferrer, José Carlos Martinat and Mónica de Miranda.

The second edition of Opening, an event for young galleries, will now feature 12 projects selected by curator João Laia, with newcomers like Balcony and UMA LULIK_ (Lisbon), Rolando Anselmi (Berlin/Rome), Bombon (Barcelona), and Copperfield (London).

In the main section of ARCOlisboa, visitors will find Portugal's leading galleries, which have supported the project since its inception, and who are being joined for the first time by galleries like Krinzinger (Vienna), Helga de Alvear (Madrid), Carreras Mugica (Bilbao) and Greengrassi (London).

More design, more spaces
For the first time, ARCOlisboa, in collaboration with the Lisbon Architecture Triennale, has organised a competition for the temporary pavilion in the Patio de la Cordoaria. Atelier JQTS (João Quintela, Tim Simon) will, alongside collaborators Daniel Maio and the sculptor Carlos Nogueira, will create a space to house the fair's new restaurant. Furthermore, interior designer Gracinha Viterbo will create an exclusive lounge for events and presentations.

More art publications
As Tables Are Shelves, the independent publishers' event curated by Luiza Teixeira de Freitas, will present a selection of publishers specialising in art and other research on paper, which has grown into one of the rooms in the Torreão Nascente.

More conversations about art
Isabel Carlos, with support from Fundação Millenium BCP, the Collectors' Forum, where details of the exciting work being done by important collectors will be revealed. The Museums Forum will feature opinions from three important Portuguese institutions: Museu de Serralves, Museu Colecção Berardo and Kunsthalle Lissabon. Also for the public, curator Filipa Oliveira will speak to a dozen professionals about their projects at En qué estou a trabalhar?. The 2nd Meeting of European Museums and ARCOlisboa, managed by Pedro Gadanho (MAAT, Lisbon) and Ferran Barenblit (MACBA, Barcelona)

New audiences
With the intention of creating new audiences for contemporary art, ARCOlisboa in collaboration with the Municipal Chamber of Lisbon has organised a line-up of activities managed by Silvia Escórcio,to display content from the fair to newly interested parties, visitors from other cultural institutions from all over the Iberian Peninsula, universities, professional associations...

More Lisbon
The city is a unique setting that not only strengthens but also elevates the artistic importance of the trade fair project. The events organised by the institutions will give foreign visitors an understanding of Portugal's lively art scene and serve as a natural setting for talking to international creators. Tomás Saraceno and Miguel Palma, at MAAT, Michael Biberstein at Culturgest; Julião Sarmento at Fundação Carmona e Costa; Sol Calero at Kunstalle Lissabon; Jorge Molder in Pavilhão 31. Groups at theMuseu Calouste Gulbenkian, and the collections at the Lisbon Municipal Chamber, in the Torreão Nascente and the Museum of Israel at the Museu Colecção Berardo.