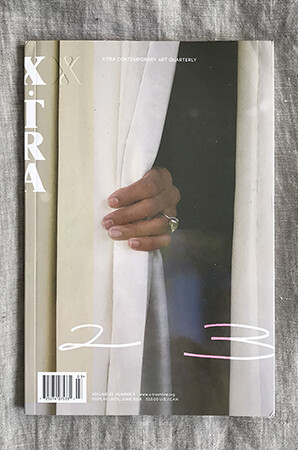 X-TRA
Volume 20, number 3
X-TRA, Los Angeles / USA
April 18, 2018
Announcing the arrival of the spring issue of X-TRA Volume 20.
In this issue:

Leslie Dick weaves fragments of personal narrative into her review of Marisa Merz: The Sky Is a Great Space at the Hammer Museum, Los Angeles.

Artist Writes, No. 3: Martine Syms
"Incense Sweaters & Ice: Video Description Script," Syms's contribution to this series, presents a narrative description of the visual of her film, first shown at MoMA in New York last year.

From Lex Brown, an autobiographic artist's project: time will come back to me.

David Weldzius revisits the town of Bethlehem, Pennsylvania and the work of Walker Evans in Slouching Towards Bethlehem: Four Meditations on the Old and New Spirits of Capitalism.

Sabrina Tarasoff explores the worlds of artist Jessica Stockholder and writer Tove Jansson in Needing Something, Hitting a Wall.

Cora Gilroy-Ware uncovers the symbolic hybridity of the mermaid in her review of The Beguiling Siren Is Thy Crest at the Museum of Modern Art, Warsaw.

Anuradha Vikram delves into the biological and technical systems of art reviewing Juan Downey: Radiant Nature at Pitzer College Art Galleries, Claremont and Los Angeles Contemporary Exhibitions.

Kim Beil considers the politics of listening in this review of Chris Kallmyer: Listening Is a Luxury at FraenkelLAB, San Francisco.

Order the issue now
Start reading
Subscribe by becoming a member: x-traonline.org/subscribe
X-TRA is a quarterly contemporary art journal,based in Los Angeles and founded in 1997. Edited by a collective of artists and writers, X-TRA publishes expansive features, historical essays, commissioned artist's projects, interviews, columns, and substantive reviews.
Visit x-traonline.org to read, shop, donate, and find submission guidelines.
Contact us: editors [​at​] x-traonline.org

X-TRA is published by the nonprofit Project X Foundation for Art & Criticism, which is generously supported by The Andy Warhol Foundation for the Visual Arts, National Endowment for the Arts, Isambard Kingdom Brunel Society of North America, Michael Asher Foundation, Pasadena Art Alliance, The Los Angeles County Board of Supervisors through the Los Angeles County Arts Commission, City of Los Angeles Department of Cultural Affairs, California Arts Council, the Center for Cultural Information and our patrons and subscribers.