Sedimentations: Assemblage as Social Repair
The Shelley & Donald Rubin Foundation, New York / USA
June 21–December 8, 2018

May 24, 2018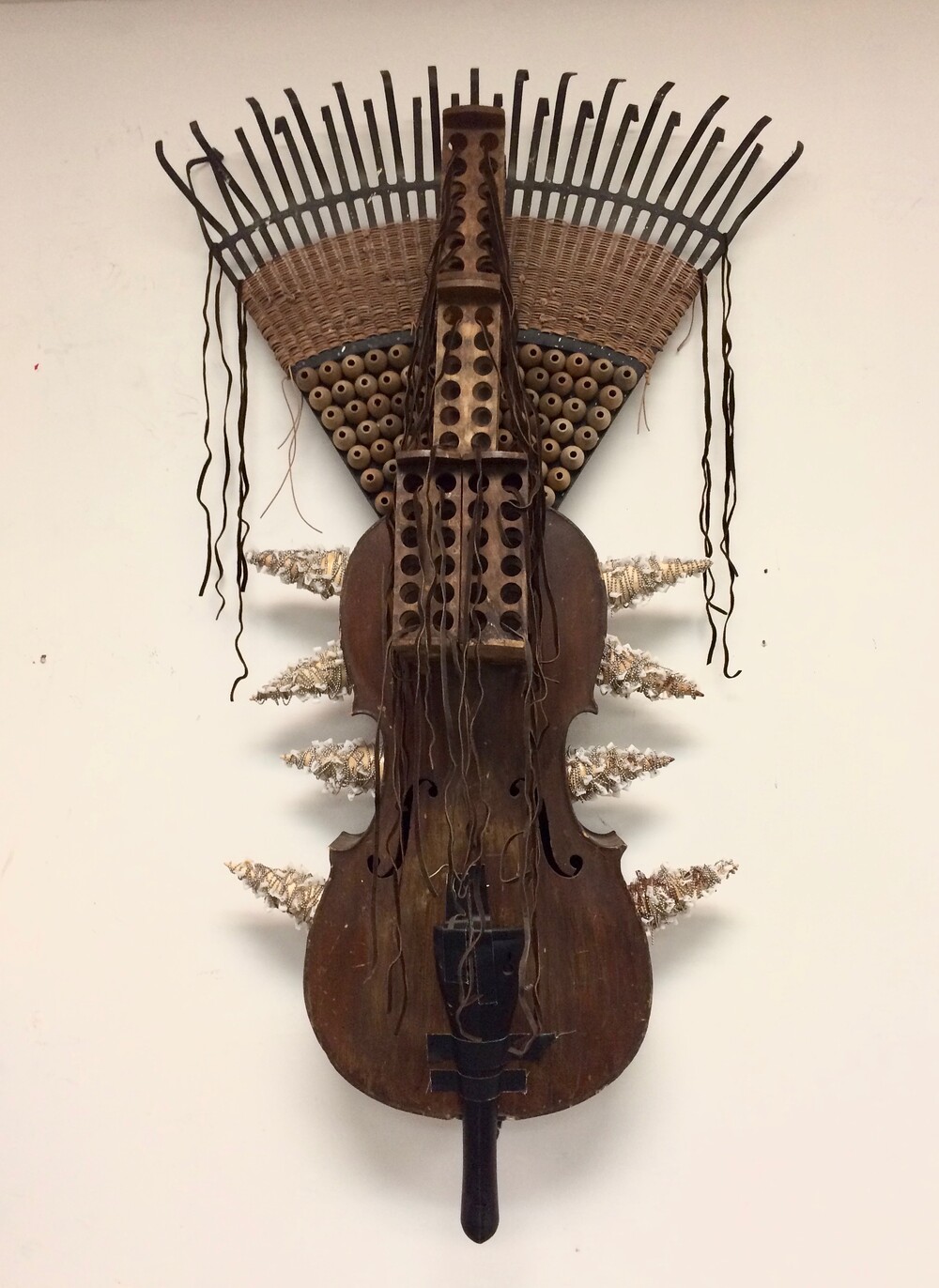 The Shelley & Donald Rubin Foundation is pleased to announce Sedimentations: Assemblage as Social Repair, an exhibition featuring artists who employ strategies of reuse in their practice, incorporating found and repurposed materials that reference a multitude of timescales and politics. Embedded with narratives of cultural heritage and preservation, technological obsolescence, spiritual engagement, sustainable ecology, the impacts of gun culture, and, more generally, social responsibility, artworks in the exhibition are made from the artifacts of human existence to reinterpret the cycles of creation, consumption, and waste.
The title alludes to the late artist Robert Smithson's 1968 essay "A Sedimentation of the Mind: Earth Projects," in which he draws a connection between flows of thought and the shifting earth, making a case against artistic refinement in favor of the ever-changing qualities of a material's natural state. While Smithson was proposing this approach for the production of earth works, his proposition is echoed in the material reuse that connects many of the artworks in the show.
The exhibition, curated by Artistic Director Sara Reisman, proposes that disused objects, waste material, and quotidian gestures can accrue new meaning and value through the artistic process of making. With artworks by El Anatsui, Maren Hassinger, Elana Herzog, Samuel Levi Jones, Mary Mattingly, Lina Puerta, Michael Rakowitz, Jean Shin, Shinique Smith, Mierle Laderman Ukeles, Roberto Visani, and Michael Kelly Williams, the exhibition collectively demonstrates symbolic and literal reversals of the decay associated with ecological loss and its entanglement with geopolitics, culture, and the safety of our planet.
Sedimentations also draws on the work of a Rubin Foundation grantee, Materials for the Arts' (MFTA) Artist-in-Residence program, where three artists in the exhibition, Lina Puerta, Jean Shin, and Michael Kelly Williams, had studio space and unlimited access to materials at MFTA's redistribution center in Long Island City, where over one million pounds of materials are diverted from landfills each year.
Roberto Visani's recent series of iron casts of decommissioned guns (loaned by the Paterson, New Jersey Police Department) register as fossils of weapons that are at the crux of the gun control controversy in this country. While Mary Mattingly's ecological art practice has often been situated in community-based and participatory public art projects, her recent photographs capture landscapes being mined for the raw materials used in the production of guns.
In their performative practices, both Mierle Laderman Ukeles and Maren Hassinger implicate the viewers' relationship to public space. In her seminal project Touch Sanitation (1977–80/2017), Ukeles shadowed New York City Sanitation workers, performing the gestures of their physical work alongside them as a way of understanding the scope of their work. Hassinger's Pink Trash (1982) involved collecting trash from several New York City parks, painting the objects pink, putting them back where she found them. Both Ukeles' and Hassinger's projects provoke questions about maintenance and sustainability: where does our waste go? Who is responsible for its removal?
Elana Herzog and Michael Rakowitz reflect on artifacts of cultural import. Rakowitz's series The invisible enemy should not exist (2007–ongoing) is a symbolic reconstruction of artifacts looted from the National Museum of Baghdad following the U.S. invasion of Iraq in 2003. Each object represents a lost relic reconstructed from Middle Eastern food packaging. Since the late 1990s, Herzog has been making site-specific and architecturally integrated installations that raise questions about our attitudes toward decay. Herzog's Untitled #4 (2001) reveals a faint, partial view of a U.S. flag, which can be read both as emerging and disappearing from view. As Herzog and Rakowitz point to the ideological implications of eroding cultural symbols, many of the artists in the exhibition have committed to assembling meaning from the rubble of our civilization. While long-held habits of waste and excess cannot be reversed by art alone, artistic reuse can help to rematerialize the seemingly obsolete.
About The Shelley & Donald Rubin Foundation
The Foundation believes in art as a cornerstone of cohesive, resilient communities and greater participation in civic life. In its mission to make art available to the broader public, in particular to underserved communities, the Foundation provides direct support to, and facilitates partnerships between, cultural organizations and advocates of social justice across the public and private sectors. Through grantmaking, the Foundation supports cross-disciplinary work connecting art with social justice via experimental collaborations, as well as extending cultural resources to organizations and areas of New York City in need. sdrubin.org
About The 8th Floor
The 8th Floor is an exhibition and events space established in 2010 by Shelley and Donald Rubin, dedicated to promoting cultural and philanthropic initiatives, and to expanding artistic and cultural accessibility in New York City. The 8th Floor is located at 17 West 17th Street and is free and open to the public. Schools groups are encouraged. Gallery hours are Tuesday through Saturday, 11am to 6pm. the8thfloor.org
Join the conversation with the Shelley & Donald Rubin Foundation with the hashtags #RubinFoundation,#The8thFloor,#Sedimentations, #AssemblageAsSocialRepair, and #ArtAndSocialJustice.
Contacts
For further information, members of the media may contact:
Blue Medium Inc.: Gary Grimes
, T 1 212 675 1800, gary [​at​] bluemedium.com
The Shelley & Donald Rubin Foundation: George Bolster
, T 1 646 738 3971, gbolster [​at​] sdrubin.org
more from The Shelley & Donald Rubin Foundation