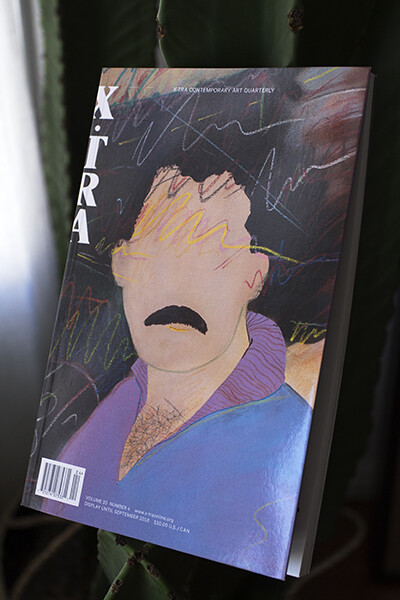 X-TRA
Volume 20, number 4
X-TRA, Los Angeles / USA
June 28, 2018
In the issue:
Artist Writes, No. 4: Pope.L's The Cypress, a short story commissioned for X-TRA's Artist Write series.
Lucas Hilderbrand reviews Axis Mundo: Queer Networks in Chicano L.A. at MOCA Pacific Design Center and ONE Gallery, West Hollywood.
Works of Tamar Guimarães and Kaspar Akhøj, Maria Sibylla Merian and Carolina Caycedo are considered in Candice Lin's triple review, Licking the Wound: Three Works from Pacific Standard Time: LA/LA.
Artist's Project: Carmen Argote scales down with Utensils: Working Small.
Zach Rottman reviews Andrea Zittel at Regen Projects, Los Angeles.
Glenn Harcourt reviews How to Read El Pato Pascual: Disney's Latin America and Latin America's Disney at MAK Center for Art and Architecture, West Hollywood, and the Luckman Fine Arts Complex, California State University, Los Angeles.
Anthony Carfello reviews the Chicago Architecture Biennial 2017: Make New History.
Travis Diehl and Brica Wilcox present a portfolio of 20 artists' sketches for a time-based work including: Meriem Bennani, Jonathan Billet, Jibz Cameron, Poppy Coles, Simone Forti, Liz Magic Laser, Adam Linder, João Enxuto & Erica Love, Shana Moulton, Kelly Nipper, Galeria Perdida, Maria Petschnig, Jon Rafman, Lucy Raven, Carolyn Pennypacker Riggs, Rasmus Røhling, Miljohn Ruperto, Tarwuk and Andrew Norman Wilson.
VIA Art Fund is a producing sponsor for this issue.
Order the issue now
Start reading
Subscribe by becoming a member: x-traonline.org/subscribe
X-TRA is a quarterly contemporary art journal based in Los Angeles and founded in 1997. Edited by a collective of artists and writers, X-TRA publishes expansive features, historical essays, commissioned artist's projects, interviews, columns, and substantive reviews.
X-TRA is published by the nonprofit Project X Foundation for Art & Criticism, which is generously supported by The Andy Warhol Foundation for the Visual Arts, National Endowment for the Arts, Isambard Kingdom Brunel Society of North America, Michael Asher Foundation, VIA Art Fund, Pasadena Art Alliance, The Los Angeles County Board of Supervisors through the Los Angeles County Arts Commission, City of Los Angeles Department of Cultural Affairs, California Arts Council, the Center for Cultural Information and our patrons and subscribers.
Visit x-traonline.org to read, shop, donate, and find submission guidelines.
Contact us: editors [​at​] x-traonline.org