10 Years Laleh June
Laleh June Galerie, Basel / Switzerland
June 11–July 28, 2018

June 11, 2018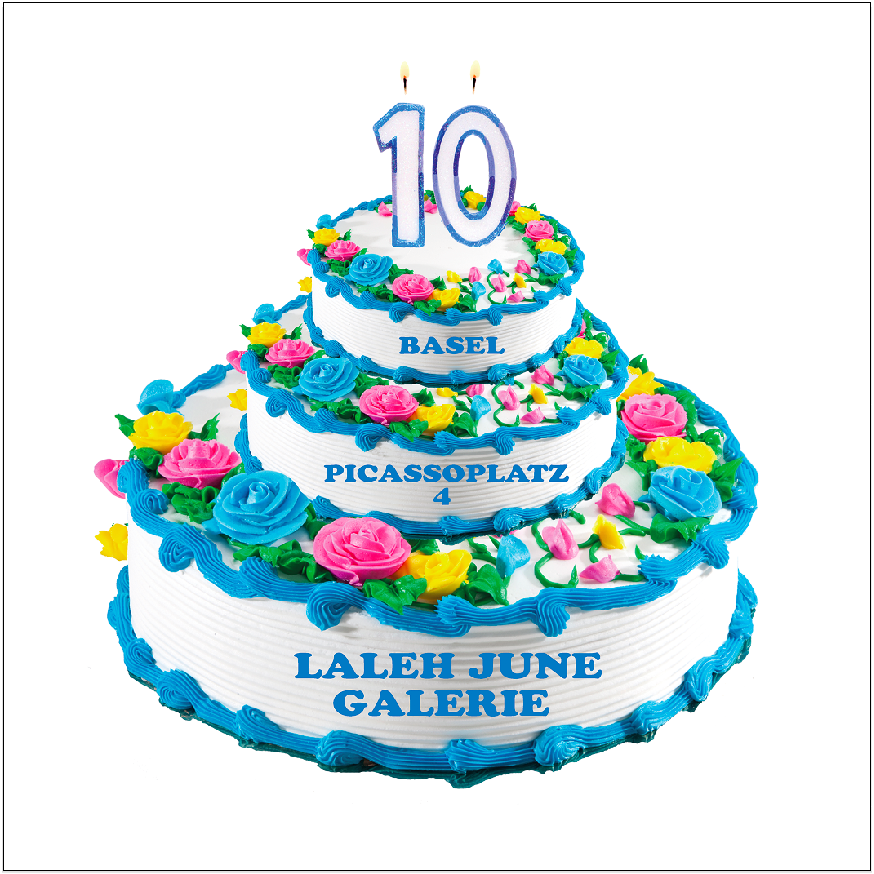 The Laleh June Galerie, Basel will celebrate its 10th anniversary on June 11, 2018 (Monday). To celebrate this, from June 11 (Monday) to June 30 (Saturday), the gallery will conduct a number of days titled June Days 18 at the Laleh June Galerie. During June Days we would like to invite you all to discover—rediscover our program, enjoy and learn more about the gallery.
Artists exhibiting / exhibited (2008–18): Berenice Abbott, Anoush Abrar, Kamrooz Aram, Pooya Aryanpour, Angelo de Aquino, Hans Bellmer, Jacques-André Boiffard, Christine Boillat, Juliette Bonneviot, James Brown, Rob and Nick Carter, Henri Cartier-Bresson, Crystel Ceresa, Emile Compard, George Condo, Francisco Da Mata, Benoit Delaunay, Christian D'Orgeix, Dexter Dalwood, Mostafa Darehbaghi, Wim Delvoye, Antonio Dias, Kamran Diba, Jorge Duarte, Emma Dusong, Alinka Echeverria, Aube Elléouët- Breton, Cris Faria, Sissi Farassat, Mehdi Farhadian, Thierry Feuz, Sylvie Fleury, Shahab Fotouhi, Ali Golestaneh, Al Hansen, Shahrzad Hashemi, Martijn Hendriks, Florence Henri, Lori Hersberger, A.P. Hoshivar, Aimée Hoving, Peyman Hooshmandzadeh, Y.Z. Kami, André Kertész, Joseph Kosuth, Robert Lazzarini, Jean-Jacques Lebel, Beat Lippert, George Platt Lynes, Dora Maar, Rómulo Macció, Man Ray, Servane Mary, Kelly McCallum, Alireza Masoumi, Omid Masoumi, Olivier Mosset, Bruce Nauman, Arnold Newman, Claes Oldenburg, Virginia Overton, Reza Panahi, Marine Provost, Behrouz Rae, Marc Rembold, Pascal Robert, Christian Robert-Tissot, Ed Ruscha, Tom Sachs, Vanessa Safavi, Naomi Savage, Julian Schnabel, Ben Schonzeit, Melika Shafahi, Vahid Sharifian, Maurice Tabard, Morgane Tschiember, Patrick Tschudi, President Vertut, Julio Villani, Bouke de Vries, Carl van Vechten, Firooz Zahedi, Ramtin Zad, Peter Zimmermann, Philippe Zumstein
Exhibitions
2018: Cris Faria, MYTHE SANS TITRE, March 1–April 28, 2018
2017: Christian D'Orgeix, Novemebr 16, 2017–February 24, 2018 / Life is Pink, (Group exhibition), September 1–October 28, 2017 / A Century of Portraits, (Group exhibition), June 13–July 29, 2017 / Marc Rembold, LESS IS MORE, MIRROR SERIES, November 10, 2016–March 4, 2017
2016: High Heels, (Group exhibition), September 2–October 23, 2016 / Star Rider, (Group exhibition), June 9–July 29, 2016 / Paper On, (Group exhibition), April 28–May 31, 2016 / Marine Provost, February 18–March 24, 2016
2015: By Olivier Mosset, September 4–December 13, 2015 / Aube Elléouët-Breton, June 11–July 31, 2015 / What Are You Waiting For, (Group exhibition), April 23–May 29, 2015 / Peter Zimmermann, FLEECE, January 23–March 17, 2015
2014: Caprice, (Group exhibition), November 13–December 19, 2014 / Emma Dusong, SEUILS SILENCIEUX, September 5–October 24, 2014 / Marc Rembold, KITSCH READYMADE ALADDIN BY MARC REMBOLD, June 9–July 31, 2014 / Alinka Echeverria, April 29–June 5, 2014 / Born in Tehran, (Group exhibition), February 27–April 19, 2014
2013: Lori Hersberger, MYSTERY POSTER, September 7, 2013–January 31, 2014 / We Are Young, (Group exhibition), June 13–July 27, 2013 / Kelly McCallum, WHISPERS OF HEAVENLY DEATH, February 28–May 10, 2013 / Christine Boillat, ACCIDENTS AND CEREMONIES, March 1–May 25, 2013 / Marc Rembold, COLOURS IN LOVE, November 22, 2012–January 26, 2013
2012: Lori Hersberger, INSTANT KARMA, August 31–November 1, 2012 / Earthly Delights, (Group exhibition), April 12–June 23, 2012 / Anoush Abrar and Aimée Hoving, February 16–March 31, 2012
2011: Crystel Ceresa, MEMORIES FROM THAILAND, November 10, 2011–January 13, 2012 / You'll Thank Me Later, Olivier Mosset / Christian Robert-Tissot, September 3–October 29, 2011 / Marc Rembold, POP & KITSCH, June 9–July 29, 2011 / Honey is Sweeter than Blood, (Group exhibition), April 14–May 28, 2011 / Rose Méditative, (Group exhibition), February 18–April 19, 2011
2010: Marc Rembold, Light in colour changing colour Paintings, December 9, 2010–February 5, 2011 / Philippe Zumstein, BURST SPACE, October 26–November 27, 2010 / Be Blue, (Group exhibition), September 3–October 22, 2010 / Beauty is Diamond, (Group exhibition), May 18–July 31, 2010 / Crystel Ceresa, FLOWERS, March 11–April 30 2010 / Cris Faria Der Wald Hat Ohren Das Feld Hat Augen, January 29–March 5, 2010
2009: Marc Rembold, GLAMOURY POP ART KITSCH, November 19, 2009–Januray 16, 2010 / Beat Lippert, RIDE, October 8–November 6, 2009 / Behrouz Rae, September 4–October 3, 2009 / Words Are Diamonds, (Group exhibition), May 28–July 31, 2009 / Pascal Robert, PORTRAITS, April 23–May 23, 2009 / Patrick Tschudi, March 19–April 18, 2009 / Crystel Ceresa, DROPS OF POISON, February 5–March 14, 2009
2008: Marc Rembold, CHANGING, December 2, 2008–January 17, 2009 / Philippe Zumstein, CRASH 808, October 23–November 22, 2008 / June Begins May 29 (Group exhibition), May 29–September 4, 2008
Gallery history
The Laleh June Galerie was founded by Laleh June in 2008. The gallery is located in the center of Basel City, in one of the most historical places, on Picassoplatz, between Rhine and the historic old town, steps away from the Kunstmuseum Basel. The central concern when establishing the program was to create a white space for Swiss and international contemporary art in the historical art city, Basel, Switzerland. Laleh June Galerie was set up to promote, represent and invite artists and art historians to Laleh June Switzerland. Since its inception, the gallery mounted historical exhibitions of work by Swiss and international artists work painting, drawing, photograph, sculpture, video, installation, sound installation, performance, new media and new technology. Swiss and international contemporary art.