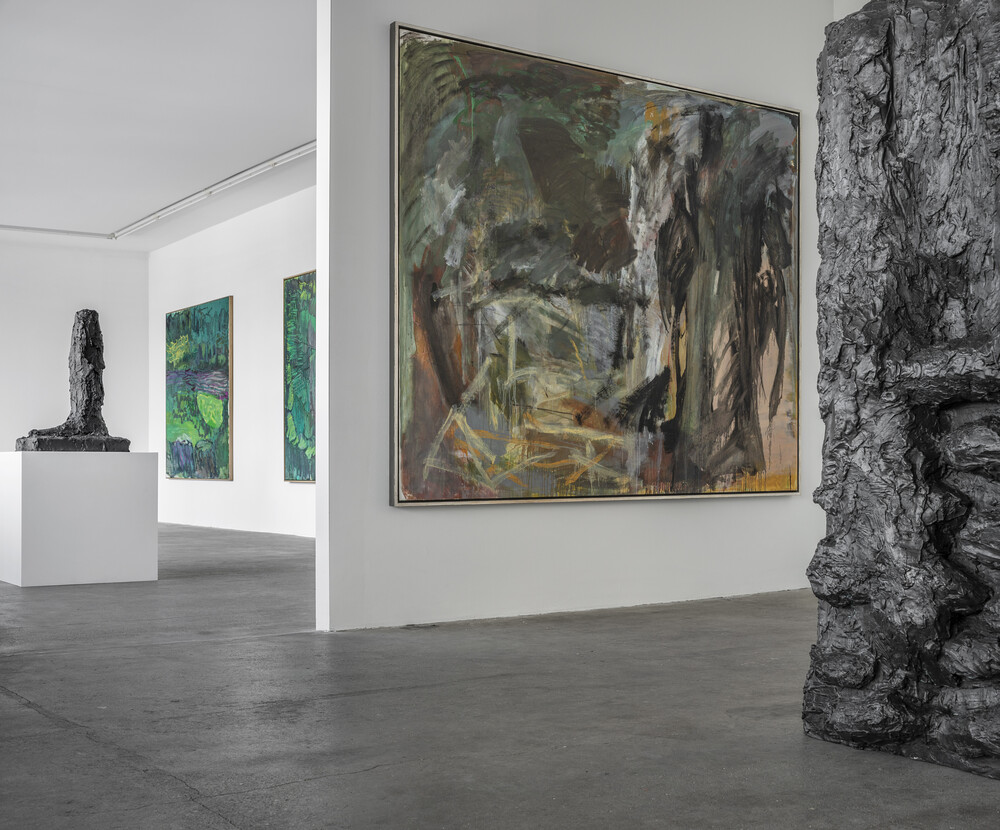 Hommage à Per Kirkeby
Galleri Bo Bjerggaard, Copenhagen / Denmark
August 28–October 20, 2018

August 30, 2018
With the recent passing of Per Kirkeby, Galleri Bo Bjerggaard has lost the artist and friend who was the direct reason for the founding of the gallery in Copenhagen back in 1999. Ever since, Kirkeby has been a source of inspiration and a reference point for all the things essential in the gallery's work.
His wide-ranging interest in culture, and especially in visual art, has made him a highly enlightening person to talk with. But he enlightened us not only through the spoken word—his poetry and his many books on the existential issues of art-making and other artists' work also illuminate. An artist above all else, Kirkeby was one of the most important of his generation and has left us a body of work whose importance speaks for itself.
Kirkeby's work is multi-faceted: his ability to express himself in many different types of media is legendary. While a large part of his vocabulary was conceived back in the 1960s, it continued to evolve until 2013, when illness made it impossible to continue painting. Nevertheless, Kirkeby continued to work with graphics and drawing until the very end.
Hommage à Per Kirkeby showcases selected works in most of the media Kirkeby incorporated in his art. Even though the retrospective exhibition far from includes all Kirkeby's practices, most are represented: masonites, large charcoal drawings, blackboards, bronze models, silkscreens, watercolours of Greenland, gouaches, bronze sculptures and, not least, paintings.
Upon graduation from the University of Copenhagen in 1964 (with a degree in Arctic Geology), Kirkeby was already part of the important Eks-skolen (The Experimental Art School) in Copenhagen. He was also involved with the Fluxus network and was influenced by pop art in the 1960s and later on by abstract expressionism.
In 1970 Kirkeby participated in the Louisiana group exhibition Tabernakel (Tabernacle) with Joseph Beuys, Jan Dibbets, Poul Gernes, Peter Louis-Jensen, Arthur Köpcke, Richard Long, Bjørn Nørgaard and Panamarenko. The artists at the legendary exhibition introduced a whole new kind of art that hadn't previously been exhibited in Danish museums, which triggered a number of scandals. In the 1970s Kirkeby also introduced a new image type (known as the blackboard), completed his first brick sculpture in the public space, and introduced a whole new genre by exhibiting the artist's works in combination with the museum's own objects and environment.
In the 1980s Kirkeby represented Denmark at The Venice Biennale with the Danish artist Bjørn Nørgaard. He made his first bronze sculptures, attended Documenta 7 in Kassel, participated in the momentous painting exhibition Zeitgeist (held in the center of Berlin at the Martin-Gropius-Bau), and made two brick sculptures for the second Skulptur Projekte in Münster 1987.
Throughout the 1990s, Kirkeby published a large number of books—in both Danish and English—about significant international artists. In 1993 he participated in the group exhibition about contemporary painting Der zerbrochene Spiegel in Kunsthalle Wien in Austria and Deichtorhalle in Hamburg, Germany curated by Kaspar König and Hans Ulrich Obrist.
Towards the end of the 1990s and in the following years, Kirkeby received a number of distinctive commissions for public installation projects, e.g. the 200 m2 ceiling painting in the Royal Danish Library in Copenhagen and eight major bronze sculptures for the Bundesrat building in Berlin.
Per Kirkeby was a professor at the Academy of Fine Arts Karlsruhe (1978–88) and Frankfurt Städelschule (1989–2000) and from 2011 was an Honorary member of the Royal Academy of Arts, London.
He has had many separate exhibitions at home and abroad, including The Tate Gallery, London (1998), Louisiana Museum of Modern Art, Humlebæk (2008), The Tate Modern, London (2009) and The Phillips Collection, Washington (2012).
His works are represented in many international art collections, including MoMA, New York; Metropolitan Museum of Art, New York; Tate Modern, London and Centre Pompidou, Paris.
Per Kirkeby was born in Copenhagen September 1, 1938, lived and worked in Hellerup and Læsø, and died in his home in Hellerup on May 9, 2018.
more from Galleri Bo Bjerggaard