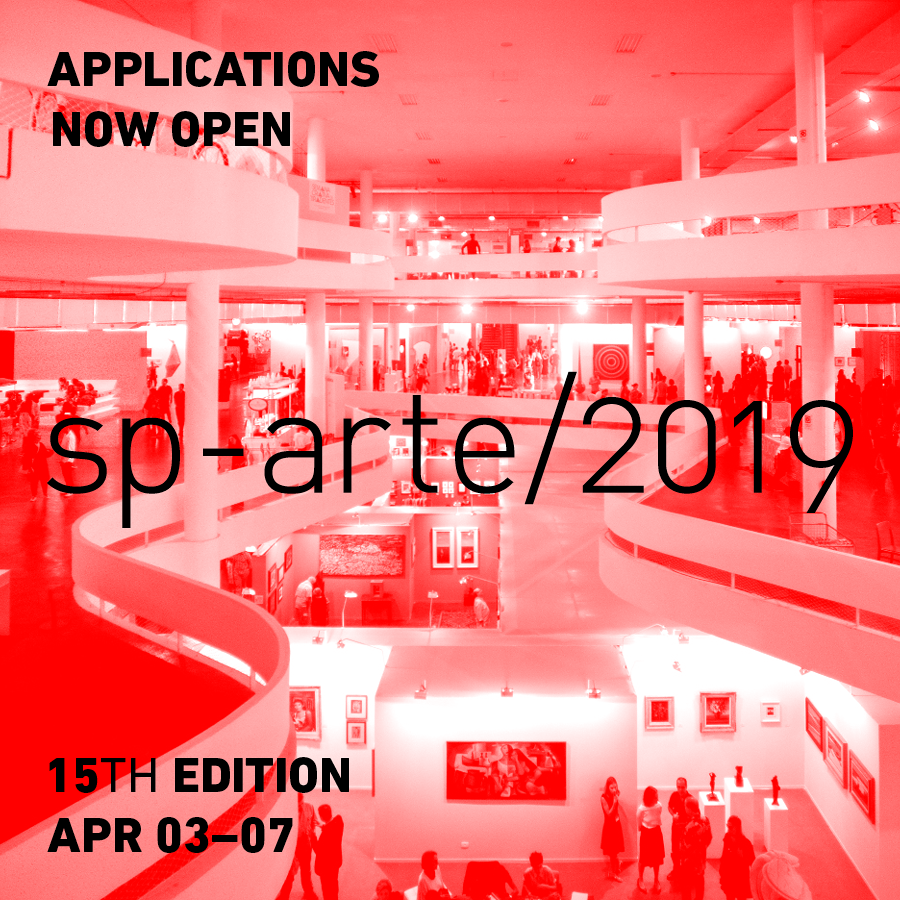 SP-Arte 2019: applications open
SP-Arte, São Paulo / Brazil
April 3–7, 2019

August 30, 2018
SP-Arte is now accepting applications for its 15th edition, to be held from April 3 to 7, 2019, in São Paulo, Brazil.
The São Paulo International Art Festival is a stimulating event in São Paulo's cultural agenda featuring a dynamic program and mix of exhibitors that transform the city into an international hub for art in Latin America.
In its 2018 edition, attended by 34,000 visitors, the Festival presented a series of exciting events including Gallery Night, public performances, guided tours, institutional collection visits, panel discussions and book launches. Throughout its vibrant platform, SP-Arte promoted a selection of diverse exchanges between art dealers, artists, collectors, curators, designers and museum leaders.
In 2019, the Festival will return with a varied agenda of events across town, in addition to its sectors in the Bienal Pavilion. The Art category embraces the traditional Main, Solo, and Repertório [Repertoire] sectors, while the Design category, now in its fourth edition, will present for the first time three areas: Architects, Design and New Designers.
Applications are currently welcome for the following multidisciplinary sectors: Main, including modern and contemporary art, with galleries focused on works that range from the early 20th century to present.
Solo, presenting single artist's booths, coordinated by guest curator Alexia Tala. By exploring Latin America's historical challenges, the Chilean curator and artistic director of Plataforma Atacama, raises questions related to the continent's multiple identities: "Solo dedicates itself to projects bonded by questions including,"'Who are we?' and 'How do we see ourselves?', which invert the perception of others towards us".
Repertório focuses on galleries that wish to present projects of historical works by a single or group of artists considered essential to the understanding of contemporary artistic practices. Exhibitors for Solo and Repertório sections are selected either via application or by invitation by the guest curator. Further information about Repertório sector will soon be announced on SP-Arte's website.
The Design category returns to the Fair's 15th edition, highlighting Brazil's long history of design, while also opening a forum of discussion, presentation and visibility on an international platform. As well as including its traditional Design sector, dedicated to renowned pieces and antiques, SP-Arte welcomes two new, more specific sectors, Architects and New Designers. While the first exhibits design pieces developed by architects for specific projects, the latter focuses on independent designers of furniture, lighting and objects. Please email application [​at​] sp-arte.com for more information. To submit an application, please access the online form here.
All requests will be reviewed by SP-Arte's organizers and the Selection Committee, as well as by the curator of the respective sector when applicable.
The 2019 exhibitors list will be announced in December 2018 on SP-Arte's website.
About SP-Arte
Founded in 2005, SP-Arte has become an essential part of the international cultural circuit and Latin America's key arts Festival.
The 2018 edition welcomed 165 exhibitors from over 15 countries and featured more than 2000 artists and designers. Alongside established Brazilian galleries including Fortes D'Aloia & Gabriel, Luciana Brito Galeria, Galeria Luisa Strina and Mendes Wood DM, SP-Arte welcomed international participants, such as Galleria Continua, David Zwirner, Galleria Franco Noero, kurimanzutto, neugerriemschneider, Stephen Friedman Gallery and White Cube.
"We've returned to SP-Arte each year for the past six because we enjoy a long-term working relationship with the collectorship of Brazil. We find the fair a site for genuine cultural exchange—Brazil has such a rich and singular heritage, be it under the influence of the Neo-Concrete Movement, Tropicália or, of course, its inimitable architecture. Working in the unique setting of SP-Arte continues to be a rewarding experience for us." Burkhard Riemschneider, Co-Founder of neugerriemschneider, Berlin
With over a decade marked by a steady growth, SP-Arte has achieved a leading position in Latin America, and is renowned for its rigorous selection process and criterion for presenting the world's most important galleries and for its growing diverse parallel agenda including the participation of museums and cultural spaces.