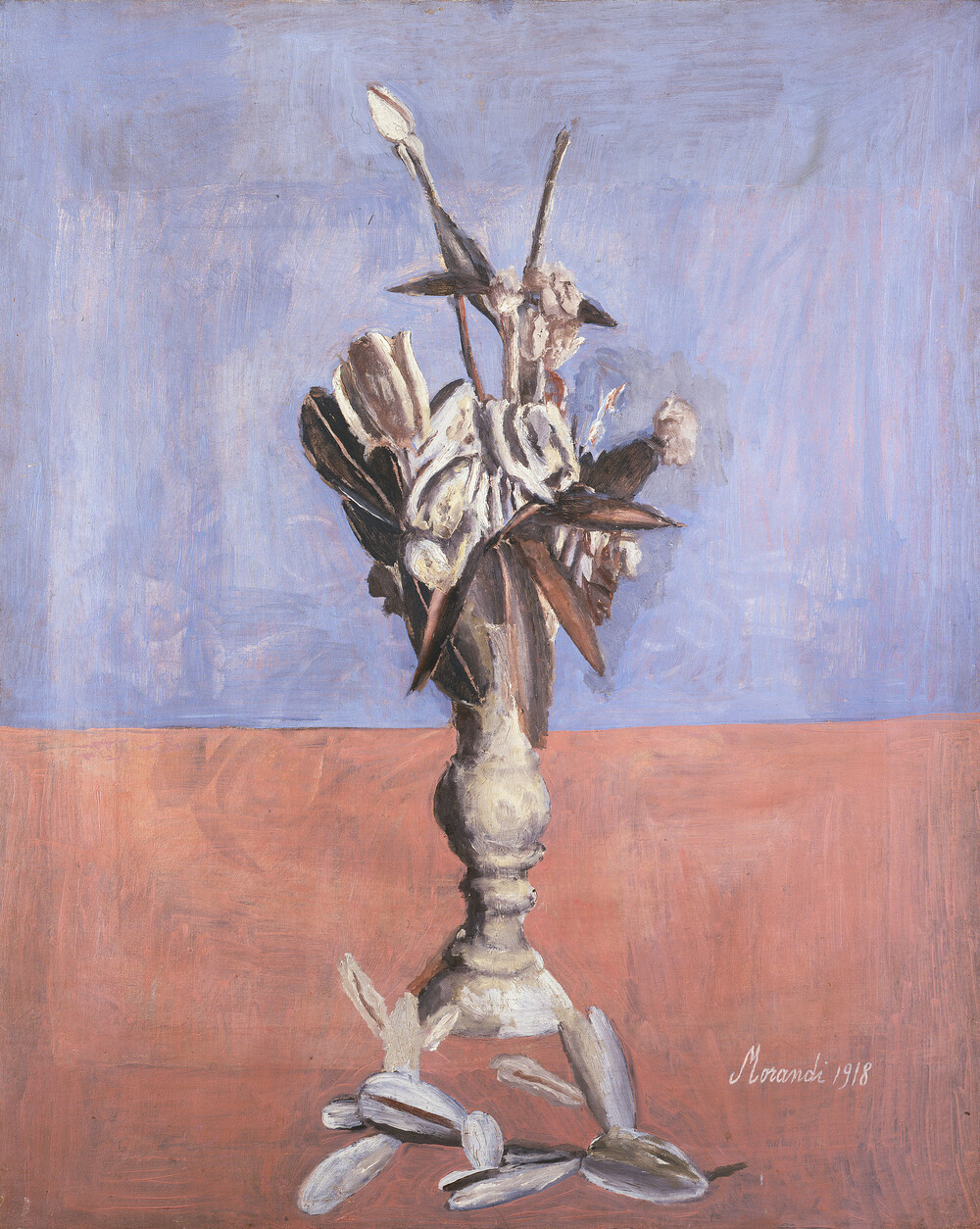 Metaphysical Masterpieces 1916-1920: Morandi, Sironi, and Carrà
Center for Italian Modern Art, New York / United States
October 19, 2018–June 15, 2019

October 5, 2018
For its 2018–19 season, the Center for Italian Modern Art (CIMA) presents a major exhibition devoted to masterpieces of metaphysical art, with rarely seen works created between 1916 and 1920 by Giorgio Morandi, Mario Sironi, and Carlo Carrà, along with a key work by Giorgio de Chirico. Drawn primarily from the collection of the Pinacoteca di Brera, in Milan, as well as from other public and private collections, the exhibition includes works that have never before been seen in the US, and many brought together for the first time. Metaphysical Masterpieces 1916–1920: Morandi, Sironi, and Carrà will be on view from October 19, 2018 through June 15, 2019.
The term "metaphysical painting" (pittura metafisica) refers to an artistic style that emerged in Italy during the First World War. Closely associated with de Chirico, it often features disquieting images of eerie spaces and enigmatic objects, eliciting a sense of the mysterious. Metaphysical Masterpieces concentrates on rarely seen early works by Morandi and important paintings by the lesser-known artists Carrà and Sironi, creating a vivid portrait of the genre and offering a richer and more nuanced view of pittura metafisica than previous exhibitions in the United States.
The rare works from these years were primarily acquired by a few ardent Milanese collectors, including Carlo Frua De Angeli, Emilio Jesi, Riccardo Jucker, Gianni Mattioli, and Lamberto Vitali. The Frua collection has since been dispersed; Riccardo Jucker's artworks were acquired by the Comune di Milano and are currently the core of the city's Museo del Novecento. Gianni Mattioli's collection, still with his heirs, has been promised on long-term loan to the Pinacoteca di Brera, the museum to which Emilio Jesi and Lamberto Vitali also donated their artworks.
The exhibition is presented by CIMA in collaboration with the Brera, and curated by that museum's Director General, James Bradburne, working closely with CIMA President Laura Mattioli; it represents the first preview of the collections that will be on view in the newest Milanese public institution for modern art, Palazzo Citterio, scheduled to open as Brera Modern in 2020.
Upcoming events
James Bradburne on the Future of Brera Modern
October 18, 5:30–8pm: Director General of the Pinacoteca di Brera discusses its Milanese collections with CIMA Fellow Erica Bernardi.
The Bridge Book Award
November 1, 6–8pm: Celebrating the winners of the fourth edition of The Bridge Book Award, which connects Italian and American cultures.
Metaphysical Years Lecture Series, Year 1
November 13, 6–8pm: Franco Baldasso, Director of Italian Studies at Bard College, on the tumultuous year of 1916.
On Metaphysical Decoration
November 28, 6–8pm: Paul Stirton, Associate Professor at Bard Graduate Center, in conversation with CIMA Fellow Antonio David Fiore.
Drawing Night & Aperitivo
November 29, 6–8pm: Guided looking and drawing in CIMA's galleries with artist Jen Mazza.
About CIMA
The Center for Italian Modern Art (CIMA) is a non-profit exhibition and research center dedicated to promoting new scholarship and dialogue devoted to 20th century Italian art. Through its annual exhibitions, art history fellowships, and rich calendar of public programming, CIMA situates Italian modern art in a broad historic and cultural context, illuminating its continuing relevance to contemporary culture.
Programs
Programs include contemporary artist talks, drawing nights, discussion panels, book launches, and performances that expand upon an aspect of the featured exhibition or enhance appreciation of Italian culture. Programs are frequently recorded and archives are accessible via CIMA's website, facebook page, and vimeo chanel. Subscribe to CIMA's mailing list to find out first about upcoming events.
Visit
CIMA is open to the public Fridays and Saturdays; visits require registration. Signature guided walk-throughs of the exhibition, led by CIMA's fellows, are offered both days at 11am and 2pm. Visitors may view the exhibition independently between 1 and 6pm. CIMA is wheelchair accessible and available for group tours and CIMA member appointments Monday through Thursday. Members may also visit for free during public hours. For information and reservations, visit CIMA's eventbrite page.
Get involved
CIMA relies greatly on the support of individuals to fulfill its mission and in return offers its members unique opportunities to deepen their appreciation of Italian modern and contemporary art. Membership contributions are partially tax deductible and include exclusive benefits corresponding with associated levels of contribution. Learn more about the perks—including include free, unlimited admission to CIMA for one year, invitation to Members previews and receptions, annual exhibition catalogue, and more—here.
more from Center for Italian Modern Art