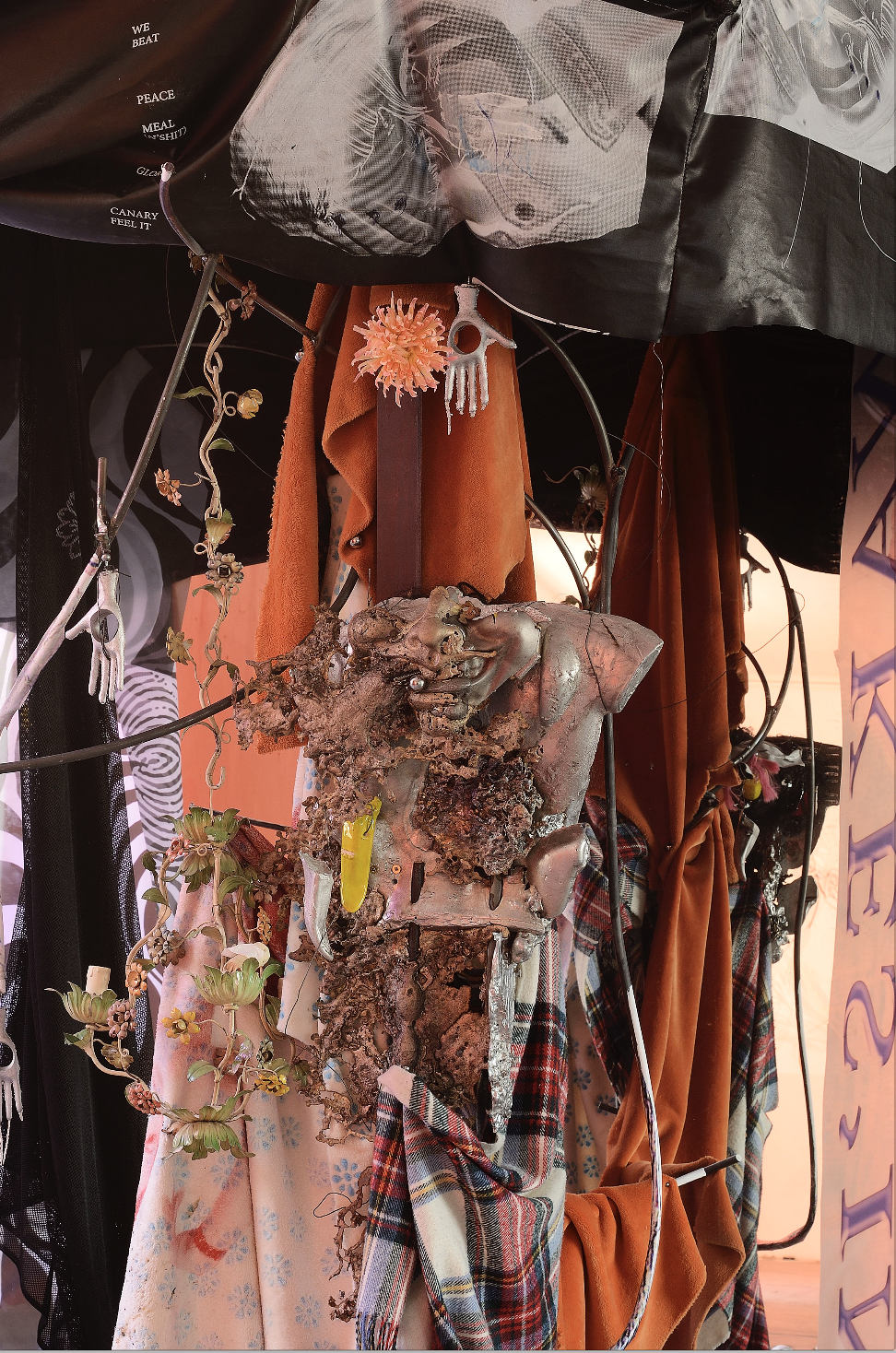 David Douard
blindf'old
CURA., Rome / Italy
September 27–November 30, 2018

October 9, 2018
Hi David, when did you open?
September 27, 2018.
Where?
At KURA. in Milan.
What is the title of the show?
blindf'old.
What does blindf'old mean?
I don't have an explanation for the title. Things happen.
Is this a new production?
Yes.
Did you work at the venue?
Yes.
What media did you use? Did you create at the foundry?
Objects, both made and found, and other different media. Foundry, yes, I worked there.
The mask is a recurrent element of your work. What does it represent for you?
The presence of an absence, which is how I see art. The most interesting things are not visible.
In your previous production you focused on interstices (of space and time). Are interstices still part of your interests and your research?
Yes, the double is great. It creates a body with contradictions. I work toward that direction. Always.
Blindness, reflection, mirrors, the iris, the ambiguity of what we see and what we don't, are all elements which you often refer to…
Yes, it's about the surface and the presence. Sometimes we just can't explain, we can't react to all the information we have. So blindness, as well as reflection, could help understand. The media, the nervous breakdown, the narcissism online…
What will we see (or not see) at the exhibition?
I think life is better than art. But art makes life better. The only thing I can say is that we will see a representation of something interesting and we will know that this is impossible to represent.
David Douard (b. in 1983, Perpignan, France) lives and works in Aubervilliers, France. He was recently a boarder at the Academy of France in Rome, Villa Medicis (2017–18) and he won the Ettore Fico Prize at Artissima in 2017. Selected solo exhibitions include: BLOOD O' US, Rodeo, London (2017); Horses, Kunstverein Braunschweig, Germany (2016); Bat-Breath. Battery, Galerie Chantal Crousel, Paris (2015); S', Union Pacific, London (2015); The Reason We No Longer Speak, Fahrenheit, Flax Foundation, Los Angeles (2015); SO, Basement Roma, Rome (2015); juicy o'f the nest, Sculpture Center, New York (2014); Mo'Swallow, Palais de Tokyo, Paris (2014). Selected group exhibitions include: Today Will Happen (off-site program at 12th Gwangju Biennale) Gwangju Civic Center, Gwangju, South Korea (2018); CHILDHOOD - Another banana day for the dream- fish, Palais de Tokyo, Paris (2018); Take Me (I'm yours), Villa Medici, Roma (2018); Strange Days, Musée de la Ville de Paris, Le Plateau, Paris (2016); Inhuman, Fridericianum, Kassel, Germany (2015); CO-WORKERS, Musee d'Art Moderne de la Ville de Paris (2015); The Great Accelaration, curated by Nicolas Bourriaud, Taipei Biennale (2014); Meanwhile, Suddenly… and Then, 12th Biennale de Lyon, Lyon (2013). David Douard is represented by Galerie Chantal Crousel (Paris) where he will have a solo show in 2019 and Rodeo Gallery (London-Athens).
Curated by Ilaria Marotta, Andrea Baccin
Advisory Board: Lorenzo Benedetti, Anthony Huberman, Samuel Leuenberger, Luís Silva, João Mourão, David Reinfurt
KURA. programming is run by CURA. and it's made possible by the kind support of its patrons.
Thanks to Fonderia Artistica Battaglia.
Hours: Wednesday–Friday, 3–7pm or by appointment
Contact: info [​at​] k-u-r-a.it