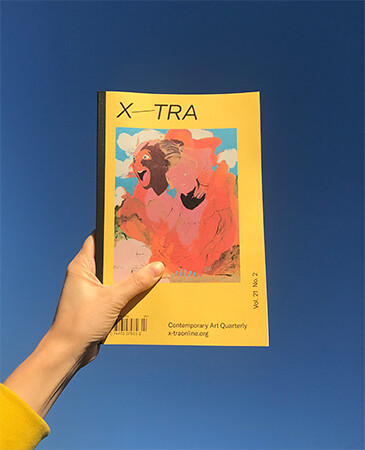 X-TRA
Volume 21, number 2
X-TRA, Los Angeles / USA
November 20, 2018
The winter 2018 issue arrives next week!
Order your copy or subscribe now and get four issues delivered to your door.
In the issue:
Interview
A Clear-Eyed Sense of the World: In Conversation with Paul Chaat Smith
by Candice Lin
Review
Asher Hartman: Sorry, Atlantis: Eden's Achin' Organ Seeks Revenge
by Rossen Ventzislavov

Review
Cally Spooner: DRAG DRAG SOLO
by Sabrina Tarasoff

Artist's Project
sacri-oficio
by ektor garcia

Review
Rothko Chapel and Ellsworth Kelly's Austin
by Ellen Birrell

Interview
Stress and Jest: A Conversation with Janiva Ellis
by Laura Brown

Column
Ringier AG and Their Artists: The Synergy of Subversion
by Travis Diehl

Order the issue now, shipping next week.
Start reading: X-TRA Online.
Subscribe by becoming a member.

X-TRA's mission is to provoke critical dialogue about contemporary art. As a collective of artists and writers, we produce the quarterly art journal X-TRA, the website x-traonline.org, and public programs. Founded in Los Angeles in 1997, X-TRA collaborates with artists, writers, and institutions to generate meaningful content for a diverse contemporary art community.

Visit x-traonline.org to read, shop, donate, and find submission guidelines.

Contact us: editors [​at​] x-traonline.org

X-TRA is published by the nonprofit Project X Foundation for Art & Criticism, which is generously supported by The Andy Warhol Foundation for the Visual Arts, National Endowment for the Arts, Isambard Kingdom Brunel Society of North America, Michael Asher Foundation, VIA Art Fund, Pasadena Art Alliance, The Los Angeles County Board of Supervisors through the Los Angeles County Arts Commission, City of Los Angeles Department of Cultural Affairs, California Arts Council, the Center for Cultural Information, and our patrons and subscribers.