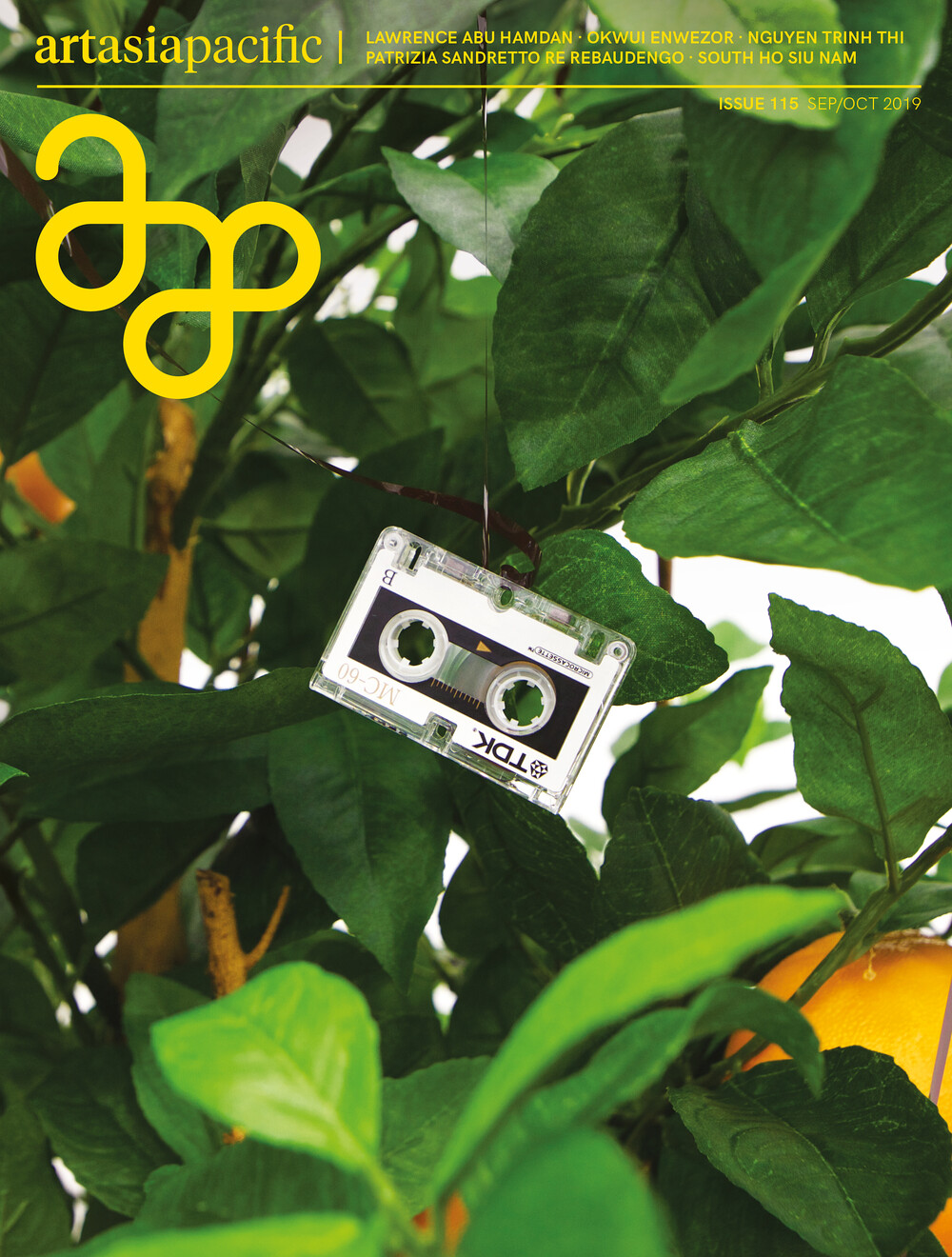 September/October 2019
ArtAsiaPacific
September 3, 2019

September 3, 2019
In the mountains of Lebanon, strands of old cassette tape are draped over trees to ward off birds. Turner Prize nominee Lawrence Abu Hamdan salvaged one of these coils, discovering a recording of an Islamic scholar explaining the concept of taqiyya, the right to deny one's faith when under duress. The tape inspired a series of works that continued the artist's investigations into the conditions of speaking and listening, and how sound can serve as an index of power. In Issue 115, ArtAsiaPacific reviews editor Ophelia Lai delves into these ideas in her cover feature on the artist.
In March, the art world was deeply saddened by the death of Okwui Enwezor. As a tribute to the legendary curator, AAP invited artist Alfredo Jaar and curators Ute Meta Bauer, Hyunjin Kim, and Hou Hanru to reflect on Enwezor's tireless efforts to rewrite the art historical canon from a decolonized perspective.

Elsewhere in Features, Minh Nguyen interviews filmmaker Nguyen Trinh Thi, tracing the literary and documentary roots of her practice. In our regular In Depth section, AAP's editors look at videos, installations, and performance works by Joyce Ho, Christine Sun Kim, Naomi Blacklock, and Dylan Mira. Finally, in Inside Burger Collection, Alex Baker tracks the rise of self-taught artist Timothy Curtis, from his days of tagging street walls to presenting his graffiti-inspired works in galleries.

In Essays, AAP is pleased to publish Harry C. H. Choi's winning entry in our second annual Young Writers Contest. Choi analyzes the conditions for free expression in South Korea through the works of artists Hong Sung-dam, Minouk Lim, and Heecheon Kim. Also in this section, critic and curator David Xu Borgonjon looks at the "ancestral turn" in the practice of several Asian-American artists, including Wu Tsang, Taehee Whang, and Yen-Chao Lin, considering the "contradictory politics" of the relationships formed by diasporic artists to cultural and familial figures from the past.

In Profiles, associate editor Chloe Chu writes on the figurative works of İnci Furni, who in her sketches of people at leisure explores the idea of hobby as political inaction. Managing editor Ysabelle Cheung discusses the abject sculptures and installations of New York artist Sydney Shen, whose layered obsessions parallel that of meme culture. Finally, Patrizia Sandretto Re Rebaudengo welcomed AAP to her family foundation in Turin to explain her approach to arts patronage.

Elsewhere in the magazine, artist Htein Lin fondly recalls his encounters with Antony Gormley's works, critic Alessandra Alliata Nobili files a Dispatch from Milan, and Heather Hubbs, executive director of the New Art Dealers Alliance, explains why the organization canceled its New York art fair, and is instead supporting galleries through programs that bring audiences to their exhibition spaces. For Where I Work, Ysabelle Cheung visited artist South Ho Siu Nam's Hong Kong studio to look at the activist-artist's work in bringing people together against the gales of political, natural, and social forces. In Fine Print, contributing editor and lawyer Ryan Su explains how institutions must do their due diligence to prevent public controversies from erupting over revelations about the business interests of their patrons and board members—as happened recently at the Whitney Museum of American Art in New York and the Serpentine Galleries in London.

As the artists, curators, and events discussed in this issue reveal, if cultural institutions and even governments refuse to understand the perspectives of their constituents, then people will speak even louder and seek new ways of resistance.

A digital edition of the full AAP 115 September/October issue is now available for purchase on Zinio, Google Play, iTunes, and Magzter.

Don't forget to check out the ArtAsiaPacific Podcast; subscribe on iTunes for exclusive art news, interviews and stories narrated through sound.