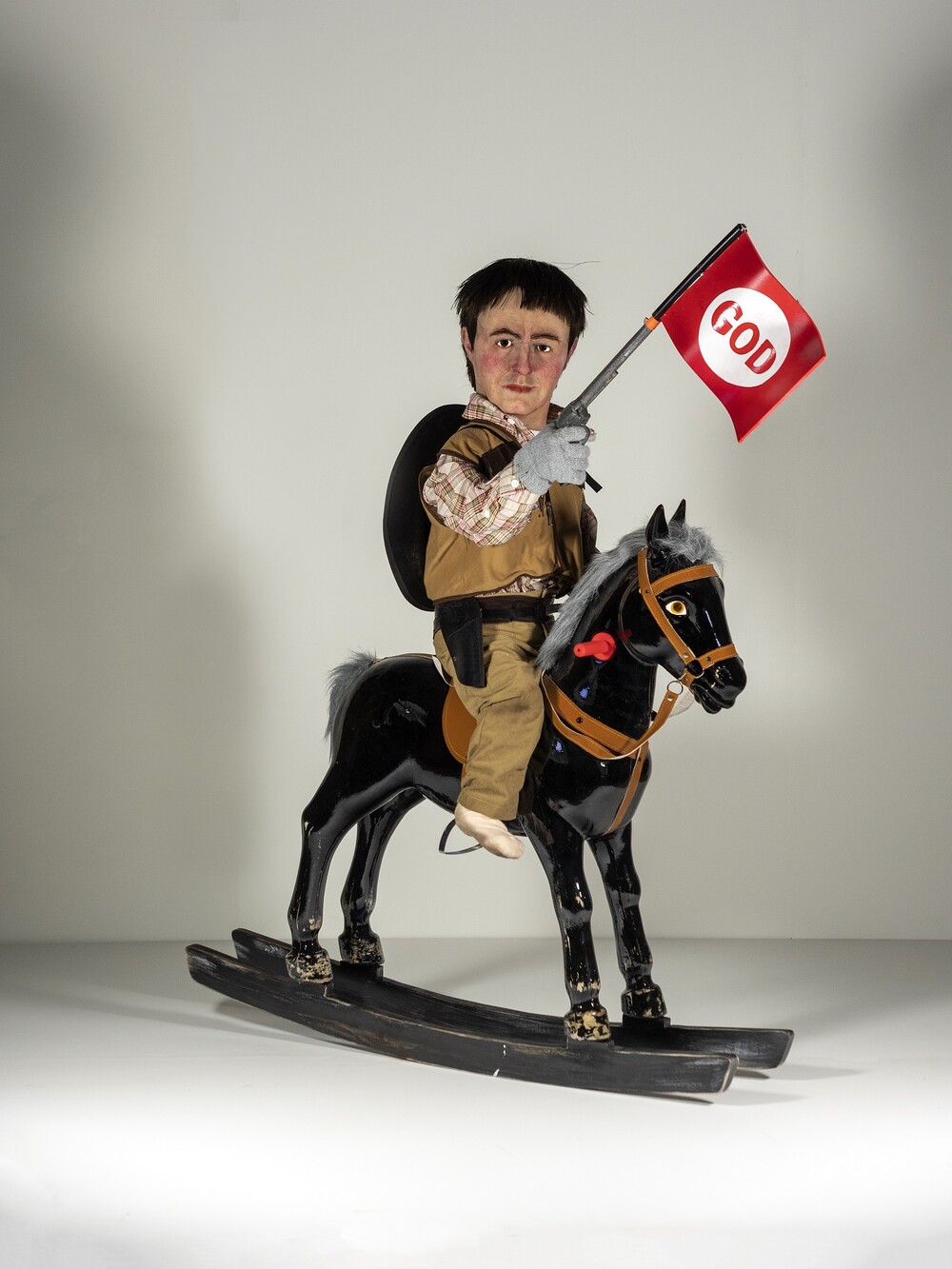 Enrique Marty & Antonius Höckelmann
Deweer Gallery, Zwevegem / Belgium
February 6–March 10, 2019

January 21, 2019
February 6–March 10, 2019
Vernissage: February 3, 2019 , 2-6pm
3pm Panel discussion with Philippe Van Cauteren, Julie Espeel, Peter Swinnen & Enrique Marty. Moderator Dries Verstraete. Book presentation of Observer, observed followed by a signing session.
Enrique Marty: All your world is pointless
The seventh solo exhibition of Spanish artist Enrique Marty (b. 1969) at Deweer Gallery All your World is Pointless takes the viewer on an audio-visual trip through the absurdity of human existence and the way in which we ourselves deal with it, laced with Marty's typical sense of self-reflection and surreal humour, and numerous references to psychology, philosophy and history. Using a wide range of artistic devices, ranging from hyperrealistic puppets, bronze sculptures, remarkable paintings, and collages to animated films, Enrique Marty depicts himself, his friends/family as well as figures from history and Greek mythology as tragicomic, symbolic extras in a grotesque epic. To fashion the faces and limbs of the dolls, Enrique Marty experimented for the first time with silicone, which feels soft and lifelike to the touch.
Antonius Höckelmann: Revisit
Antonius Höckelmann (1937–2000) was one of the most talented and important German artists of his generation. Together with friends/artists such as George Baselitz, A.R. Penck, Markus Lüpertz and Jörg Immendorff, Höckelmann was a pivotal figure in the post-war German art scene that was dedicated to expressive figuration. A quarter of a century ago, Deweer Gallery presented a final solo exhibition of Antonius Höckelmann. In continuation of this, and bolstered by the current revival of art from the 1980s, the idea arose to present you, again, a breath-taking view into Höckelmann's universe. This exhibition celebrates the German artist by highlighting a particularly unique part of his oeuvre, namely his sculptures, drawings and paintings from the eighties and nineties.
In order to better situate the work of Antonius Höckelmann in 2018, Deweer's art historian Sofie Crabbé travelled to Cologne to conduct research into personal testimonies of persons who were closely acquainted with the artist. She interviewed the former director of the Museum Ludwig, Prof Dr Siegfried Gohr. This German art historian, archaeologist and philosopher wrote several essays and books on Höckelmann's work. In 1980, as director of the Kunsthalle in Cologne, he organised a solo exhibition with work by Höckelmann. The catalogue Antonius Höckelmann. Skulpturen, Handzeichnungen was published to coincide with this exhibition. Ms Crabbé also spoke with art historian Prof. Dr. Manfred Schneckenburger. He was, among others, artistic director of documenta 6 (1977)—in which drawings by Antonius Höckelmann were shown—and documenta 8 (1987), in Kassel.
On the basis of our research, we are now able to present—a quarter of a century later—a contemporary vision of the work of Antonius Höckelmann. We do this through an exhibition and a wide range of quotes and archival material that will be accessible through social media. After all, his work continues to amaze and move us. Do not miss this unique opportunity to (re)discover the versatility and highly artistic quality of Höckelmann's art.
Just Paintings
Just Paintings is a group exhibition that focuses on several approaches of the medium painting. The show contains works by artists that move away from the dualism figuration/abstraction. Participating artists: Marc Bauer, Tatjana Gerhard, John Kørner, Thomas Kratz, George Little, Benjamin Moravec, Gerda Scheepers and Norbert Witzgall