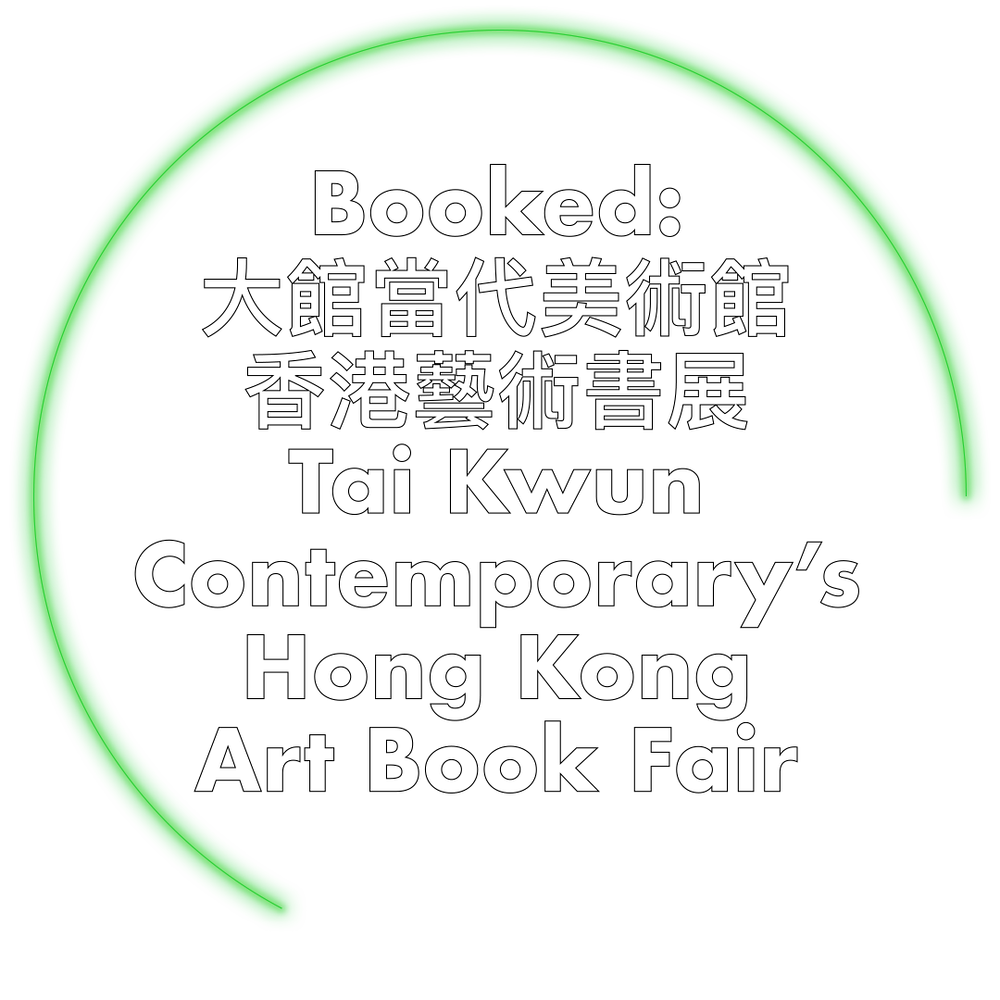 Booked: Tai Kwun Contemporary's Hong Kong Art Book Fair
Tai Kwun Contemporary, Hong Kong
January 11–13, 2019

January 8, 2019
​Hours: Friday 1–9pm, Saturday 11am–9pm, Sunday 11am–7pm
Tickets
Discounts available for students, seniors, and children (free admission under 3 years of age)
The inaugural Booked: Tai Kwun Contemporary's Hong Kong Art Book Fair brings together over 60 art book publishers, artists and exhibitors from Hong Kong, the region and the world for the first time, to share their work in publishing and art through the medium of books. The art book fair takes place from January 11 to 13, 2019 within the JC Contemporary building, designed by Herzog & de Meuron and situated within Tai Kwun, the restored Central Police Station compound in the heart of Hong Kong's Central district. As a landmark revitalization project, Tai Kwun has welcomed over one million visitors since opening in May 2018.
As an annual three-day event, "Booked" aspires to create a platform for art book publishers and artists to display their range of works, from photography books, art albums, art historical and theoretical texts, to zines, and objects of art known as artists' books. This art book fair also offers an extensive public program of talks, book launches, workshops, performances and special projects.
In presenting a wide range of books for the public to enjoy and to use as resources for learning and research, some of the books to be displayed at "Booked" are also included as part of the Artists' Book Library—an ongoing collection of Asian artists' books and an integral part of the program at Tai Kwun Contemporary.
Exhibitors:
Absurd TRAX (Hong Kong), ACO Books (Hong Kong), artbooks.ph (Mandaluyong City), Art Metropole (Toronto), Asia Art Archive (Hong Kong), Asia One Books | Thames & Hudson (Hong Kong), BANANAFISH BOOKS (Shanghai), BANGKOK CITYCITY GALLERY (Bangkok), BOM DIA BOA TARDE BOA NOITE / Elgarafi (Berlin), Book Society (Seoul), brownie publishing (Hong Kong), Case Publishing (Tokyo), Chan Wai Kwong (Hong Kong), Blythe Cheung (Hong Kong), Chow San (Hong Kong), Communal Table (International), David Zwirner Books (New York), Dialect (Macau), dmp editions (Taipei), Dolphins (Hong Kong), Dreamer FTY + abC (art book in China) Art Book Fair (Beijing), ECU Press / READ Books (Vancouver), Empty Gallery (Hong Kong), Fillip (Vancouver), Silas Fong (Hong Kong), Foto Féminas (Hong Kong), Fully Booked (Dubai), Hanart TZ Gallery (Hong Kong), Hardworking Goodlooking (Tropical Diaspora), HATO Press (London), Jiazazhi (Ningbo), Kubrick (Hong Kong), Lubok Verlag (Leipzig), MAP Office / MAP Book Publishers (Hong Kong), MCCM Creations (Hong Kong), mini press (Hong Kong), MOSSES (Hong Kong), Motto (Berlin), New Documents (Los Angeles), Nieves (Zurich), onestar / Three Star (Paris), Onion Peterman (Hong Kong), Para Site (Hong Kong), PERROTIN (Hong Kong), Ping Pong (Hong Kong), Primary Information (New York), Printed Matter (New York), Queer Reads Library (Hong Kong), ROMA Publications (Amsterdam), RONDADE (Tokyo), Russian Independent SelfPublished (Moscow), The Salt Yard (Hong Kong), shashasha (Tokyo), the shop (Guangzhou), Soft D Press (Hong Kong), soundpocket (Hong Kong), Sternberg Press (Berlin), TASCHEN (Hong Kong), Three Shadows Photography Art Centre (Beijing), Triple Canopy (New York), Zen Foto (Tokyo), Zine Coop (Hong Kong)
Displays and Special Projects:
Displays: Art Booked Bags; Cover to Cover, Academy of Visual Arts, Hong Kong Baptist University (Hong Kong); Heap of Language (in Light): Iftikhar Dadi & Elizabeth Dadi, Ko Sin Tung, João Vasco Paiva, Gabriel Rico (Hong Kong); Let's take it back to the 70s…, Ranee Ng Sio-ieng (Hong Kong)
Projects: say, Listen, soundpocket (Hong Kong); Under the Bed: The Past Fights, C&G Artpartment (Hong Kong)
Art Magazine Station
ArtAsiaPacific, Artforum / Artforum China, Artomity, Fleurs des Lettres, frieze, Kaleidoscope / Kaleidoscope Asia, Ocula, Ran Dian, Spike, White Fungus, Yishu
Talks and performances
Ongoing performance: Market Research by Display Distribute
Friday, January 11, 2019
8–9pm: Opening performance: The Great △ (Makoto Oshiro / Takahiro Kawaguchi / Satoshi Yashiro)
Saturday, January 12, 2019
10am–12pm: Workshop: Pirate Deep Listening with Clara Balaguer (Hardworking Goodlooking) (registration required)
1–2pm: Talk: Max Schumann (Printed Matter)
2–3pm: Discussion: Fair Trade: Art Book Fairs around the World
3:30–4:30pm: Discussion: Self-Publishing in Asia
4–5pm: Book launch: Ping Pong
5–6pm: Lecture performance: Bending the air, again, by Cédric Maridet
5–7pm: Workshop: Book-Binding with Percy So (registration required)
6–7pm: Book launch: Tomato Grey
7–8pm: Lecture performance: Outside the Hit Factory, by Alexander Provan (Triple Canopy)
8–9pm: Music performance: Absurd TRAX
Sunday, January 13, 2019
11am–1pm: Workshop: Book-Binding with Percy So (registration required)
12–1pm: Discussion: Loudspeaking: Dissemination Tactics of Sounds and Texts
1–2pm: Book launch: Boy Vereecken
2–3pm: Lecture performance: De-Romanticizing Self-Reliance, by Hardworking Goodlooking
3–4pm: Conversation: Christophe Boutin (onestar / Three Star) with John Tain (Asia Art Archive)
4–5pm: Performance: OF81, by Blythe Cheung
5–6pm: Discussion: Ephemera, at the Edge
6–7pm: Conversation: Christophe Boutin (onestar / Three Star) with John Tain (Asia Art Archive)
9–11pm: Closing Music Performances: DJ Freckles, DJ username, NYPD
Registration: booked [​at​] taikwun.hk
Website: booked.taikwun.hk
Facebook: Tai Kwun Contemporary
#BookedHK2019 #Booked #ArtBookFair #TaiKwunContemporary #TaiKwun #ContemporaryArt #HongKongArt #HongKongArtBookFair #ArtBooks #ArtistBooks
About Tai Kwun Contemporary
Tai Kwun Contemporary is the contemporary art programming arm of Tai Kwun dedicated to presenting contemporary art exhibitions and programmes as platforms for a continually expanding cultural discourse in Hong Kong. Operated by the contemporary art team, Tai Kwun Contemporary is an integral part of Tai Kwun at the Central Police Station compound, Hong Kong.
Working with other like-minded institutions and art groups to present the highest standards of exhibition-making and art programming, Tai Kwun Contemporary hosts six to eight curated exhibitions every year alongside exciting public programmes. Reflecting as well as contributing to Hong Kong's contemporary art landscape, these exhibitions affirm the city's position as a leading international art hub in Asia. As a non-profit art centre, Tai Kwun Contemporary steers free from the commercial art world.
Tai Kwun Contemporary's exhibitions are presented in 1500 square metres of museum-standard galleries, designed by Herzog & de Meuron. Additionally, within the Central Police Station compound, there are numerous public art works specially commissioned by Tai Kwun Contemporary.
About Tai Kwun — Centre for Heritage and Arts
"Arts, culture and heritage" is one of The Hong Kong Jockey Club's strategic areas of charitable contribution. The Central Police Station (CPS) Revitalization Project is the largest heritage conservation and revitalization project undertaken by the Club and has been carried out in partnership with the Government of the HKSAR.
The CPS compound comprises three declared monuments (former Central Police Station, Central Magistracy and Victoria Prison), with a total of 16 heritage buildings and some outdoors spaces, on a 13,600 square-meter site in the heart of Central. An international-grade art gallery and an auditorium have been added to contribute to the adaptive reuse of the site.
In addition to undertaking the CPS Revitalization Project, the Club's Charities Trust has set up The Jockey Club CPS Limited to manage and operate the site as Tai Kwun — Centre for Heritage and Arts.
Tai Kwun is the local colloquial name used by police officers and the public alike to refer to the former police headquarters and the surrounding CPS compound. The name has been adopted by The Jockey Club CPS Limited as a reminder of the historical importance of the site.