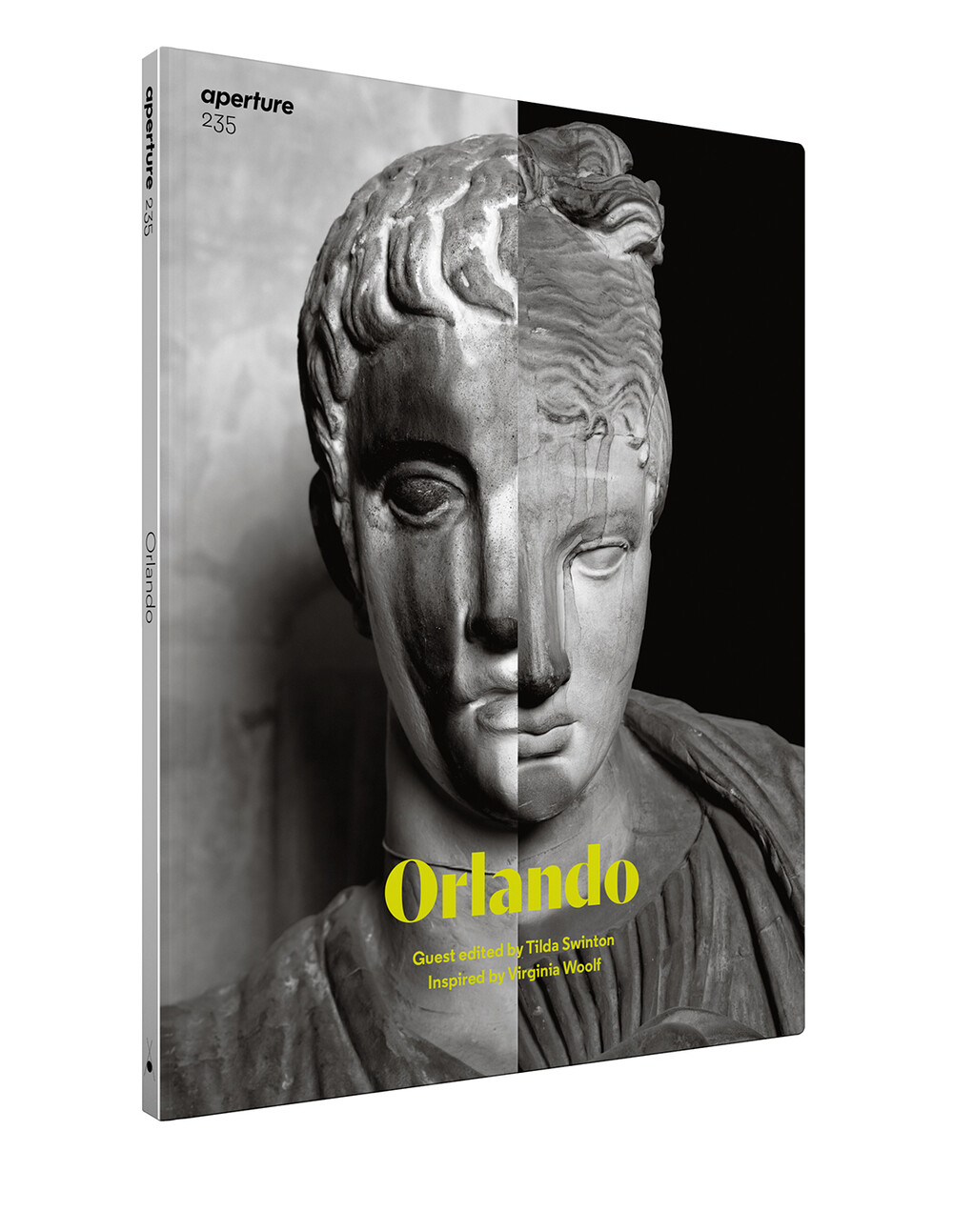 Issue 235: "Orlando"
Aperture Magazine, New York / United States
June 11, 2019

June 11, 2019
Buy this issue or subscribe and save.
For the summer 2019 issue of Aperture and the concurrent exhibition, guest editor Tilda Swinton draws upon the themes of Virginia Woolf's prescient 1928 novel Orlando, revolutionary in both form and spirit, to offer original images and writings that celebrate openness, curiosity, and human possibility.
Exhibition on view at Aperture Gallery in New York through July 11, 2019.
Featured artists include: Zackary Drucker / Lynn Hershman Leeson / Paul Mpagi Sepuya / Jamal Nxedlana / Elle Pérez / Walter Pfeiffer / Sally Potter / Viviane Sassen / Collier Schorr / Mickalene Thomas / Carmen Winant
In the issue:
Words
"Orlando: Spirit of the Age"
From Virginia Woolf to Sally Potter, life without limits
By Tilda Swinton
On "Orlando": Four Reflections
Transfiguration(s)
By Michael Cunningham
"A Call to Arms"
By Isaac Julien
"Hero and Heroine"
By Marina Warner
"Love Unlimited"
By Lynne Tillman
"The Time Travelers"
How Derek Jarman's groundbreaking films made history queer
By B. Ruby Rich
"The Double"
A multimedia pioneer and a maverick poet on the long lives of artists
Lynn Hershman Leeson and Eileen Myles in Conversation
"Radical Vision"
The enduring genius of Virginia Woolf
Maggie Nelson in Conversation with Shannon Ebner
Pictures
"Finding Orlando"
Photographs and introduction by Sally Potter
Collier Schorr
Introduction by Jack Halberstam
Viviane Sassen
Introduction by Jerry Stafford
Paul Mpagi Sepuya
Introduction by Vince Aletti
Carmen Winant
Introduction by Sara Knelman
Elle Pérez
Introduction by Justin Torres
FAKA by Jamal Nxedlana
Introduction by Milisuthando Bongela
Walter Pfeiffer
Introduction by Michael Bullock
Zackary Drucker
Introduction by Susan Stryker
Mickalene Thomas
Introduction by Antwaun Sargent
Use #ApertureMagazine to join the conversation on Twitter, Instagram, and Facebook.
Aperture: The Magazine of Photography and Ideas
Subscribe now to save and never miss an issue.
Artist commissions for the "Orlando" issue of Aperture magazine and the related exhibition at Aperture Gallery are made possible with the support of Slobodan Randjelović and Jon Stryker. Aperture also thanks ROOT STUDIOS for supporting the production of Mickalene Thomas's work in this issue.
Significant support for Aperture magazine is provided by The Kanakia Foundation. Further generous support for Aperture magazine is provided in part by The Andy Warhol Foundation for the Visual Arts and the New York City Department of Cultural Affairs in partnership with the City Council.
more from Aperture Magazine