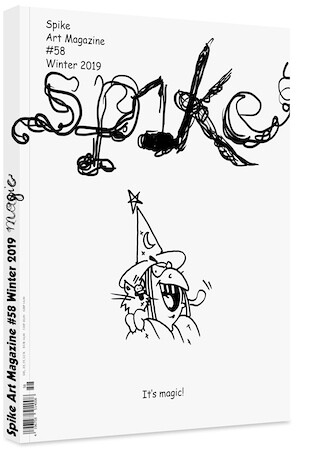 Issue 58 "Magic" out now
Spike Art Magazine
February 4, 2019
In the witching hours of the twenty-first century, magic is once again a tool with which we can change reality, but at the same time it is pervasive and pernicious, co-opted by spiritual entrepreneurism and the false gods of Silicon Valley. Spike and Ignota Books, who collaborated on the conception of this issue, are pleased to unveil Spike 58: "The Magic Issue" and bid you welcome on your journey through, cybernetic, psychedelic, technoshamanic worlds that are still in the making. After fifteen years of bilingual publication, Spike is also excited to announce that from this issue on, the magazine will appear in English only, taking the last step in fully opening itself to the many art scenes—from Shanghai to Hong Kong to Johannesburg, São Paulo, Mexico City, and more—of the polycentric world.
Essays:
Hyperworld Underworlds by Ella Plevin
We seem to be living through the revival of esotericism and techno-belief in a disenchanted age, but what we are witnessing is no comeback. The gods we pray to and spells we cast have, in fact, been here all along, now they just bear different names. The reality is that the Enlightenment has yet to come.
Algo Seance Rising
The worlds of technology and spirituality are converging once again, but something different is emerging. Hans Ulrich Obrist and Ben Vickers on new dimensions of understanding in lines of code.
Artist Portraits:
Chinese artist Lu Yang lures the viewer into syncretic hells of augmented realities. With high-energy soundtracks and by tapping into the realms of ancient Buddhism, cyberfeminism, and technoreligions, her installations and videos conjure spiritual stimulants, curious deities, death, and posthuman life forms. By Harry Burke
Jim Shaw talks with the artist Stanya Khan about the high priests of evil, his band Dred Dwarf, the end of the world, and the true meaning of his religion O-Ism.
Crafting an alternative history of the twentieth century through cybernetics, psychedelia, and tarot, Suzanne Treister's sprawling projects trace a vertiginously networked world where everything is connected and nothing is meaningless. By Lars Bang Larsen
Plus:
American poets CAConrad and Ariana Reines in conversation about rituals for writing and the bones of poetry; Dean Kissick on embryonic chimeras and why we shouldn't continue to live as before, when we could become one with animals; Rob Horning on the psychology and power of positive thinking; Philomena Epps on Tony Oursler's archive of mystical objects; and Elisabeth von Samsonow on the history of Viennese modernism and its relation to the resurgence of magic today.
Questions are answered by Matt Liston, Porpentine Charity Heartscape, Victoria Sin, and Erik Davis, who addresses millennial culture and turning towards psychedelics; Lynn Zelevansky remembers Paul Thek's "Processions" (1969-1973); Bhanu Kapil shares her Artist's Favourites; Pádraic E. Moore zooms in on John McCracken's Red Pyramid (1974); Alison M. Gingeras and Jamieson Webster write The End Is Night; and Ashley Bickerton sends a postcard from Bali.
Reviews include Bob Nickas on Cady Noland at the MMK in Frankfurt; Federica Bueti on Beatriz González at KW Institute for Contemporary Art in Berlin; Maximilian Geymüller on Ernst Caramelle at Mumok in Vienna; Adriana Lara on Tania Pérez Córdova at Kunsthalle Basel; Aria Dean on Kevin Beasley at the Whitney Museum of American Art in New York; and Harry Burke on the 11th Taipei Biennial, amongst much more…
See the full table of contents and buy Spike 58: "The Magic Issue" here.
In connection to the issue, Lu Yang has also created a brand-new artist edition which will be unveiled very soon. Be the first to see it by sending us an email at editions [​at​] spikeartmagazine.com.
The next issue of Spike will be out on April 8, 2019.
more from Spike Art Magazine