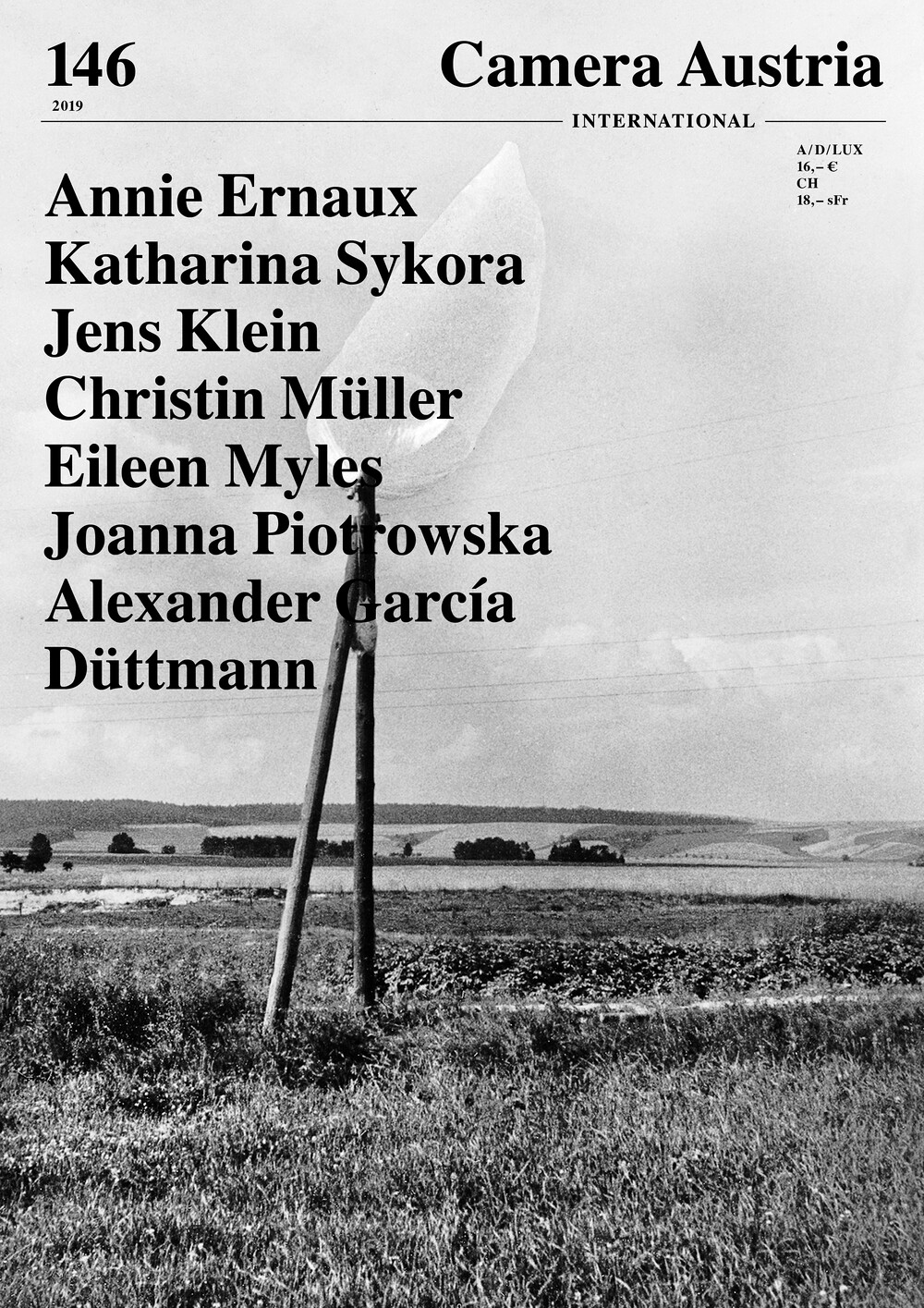 Camera Austria International 146
Camera Austria
June 12, 2019
Featuring: Annie Ernaux, Katharina Sykora, Jens Klein, Christin Müller, Eileen Myles, Joanna Piotrowska, Alexander García Düttmann, Susanne Kriemann, Erik van der Weijde, Brad Feuerhelm

Order here
The close relationship shared by photography and literature is the focus of the summer issue of Camera Austria International. Some contributions gathered here take a literary approach, others a photographic one, yet all explore what is playing out at the interface between the two mediums and the ensuing narratives. Documentary photos unfold as adventurous narratives about German history or as seemingly absurd domestic scenes, while literary texts in turn make the poetics of the photographic image tangible.
Écrire la vie—writing life—is the name of the volume released in 2011 by Gallimard which compiles a large portion of the texts published by the French author Annie Ernaux up to that year. In many of these books, the autobiographical writing of her life takes place not only on a written plane, but also through the medium of photography. At times it becomes evident on the pages, at other times through the content and materiality as described by the author, who sets out to make readers aware of a certain moment and to lend form to that which has passed. "In literature, she represents the same claim to reality as analogue photography by conjuring up the having-been-there of the speakers in order to subject it to a sociobiographical reading," writes Katharina Sykora in her analysis of the photographic approaches found in the books by Ernaux.
Another form of narrative is developed in the work of the artist Jens Klein. To this end, he scrutinizes photographs from public and private archives, liberating them from their historical and social context. Christin Müller, in her contribution, traces Klein's treatment of archival photographs and examines how partially speculative stories about the past are spun through this decontextualization of the individual images and their rearrangement in series, even balancing out the documentary character of the photographs: "Manifesting there is a vacuum which strongly urges us to fill it with stories. The images thus become planes of reflection for a fictitious activity that has little to do with the past and much more to do with our mindscape."
The American poet Eileen Myles has developed, for Camera Austria International, a contribution titled "the escalator" (2019) which constellates quotidian scenes from Myles's surroundings and her home through an interplay of image and text. Myles, who discerns "the other side of poetry" in Instagram, makes no effort to carve out the special facets of everyday life in these photos. Instead, she shows life in its manifest banality through quickly shot, technically flawed pictures. "I feel like what I do in poems I also do in photographs, which is to say that I'm wanting them to carry the sense of moving through the world, with stuff being apprehended awkwardly and indirectly rather than straight on."
In her photographic practice, which is based on precisely choreographed stagings, Joanna Piotrowska focuses on family structures and everyday gestures, on how both are entangled in political, economic, social, and cultural contexts. In his text, Alexander García Düttmann immerses himself in the spaces, gestures, and structures portrayed by Piotrowska and investigates how the contemporary is defined today: "This artist pushes the act of photographic representation to the limits of irrefutable evidence, especially in that the images often indicate an absence instead of a presence."
Susanne Kriemann agreed to develop, for this issue's Forum, a series of images in collaboration with twelve students majoring in media art with a focus on photography. The series takes as its point of departure the visual archive of the former Nuclear Research Center at Karlsruhe Institute of Technology (KIT) along with related real sites. The issue is rounded off by by Erik van der Weijde's series "Talking Books" and a comprehensive review section with responses to recent national and international exhibitions.
*Photo above: Based on a photograph taken from the archive of the State Security Service of the former German Democratic Republic (BStU-Archiv).