Call for applications 2020
The Armory Show, New York / USA
March 5–8, 2020

May 23, 2019
Applications are now open for The Armory Show 2020, taking place March 5–8, with a VIP Preview Day on March 4. Situated in the heart of Manhattan, the upcoming edition will mark 26 years as New York's premier show for modern and contemporary art.
The 2020 edition will include important new developments, which build upon the success of the 2019 fair. Among these is the introduction of a third curated exhibitor section, dedicated to historical material viewed through a contemporary curatorial lens.
The upcoming edition will take place across Piers 90 and 94. Pier 90 will now be entirely devoted to curator-led initiatives. In addition to Focus and a selection of Platform projects, the new curated section, Perspectives, will replace Insights and feature roughly half of the number of exhibitors.
The fair is proud to announce its 2020 section curators: Jamillah James, Curator, Institute of Contemporary Art, Los Angeles, will curate Focus; Nora Burnett Abrams, Ellen Bruss Curator, Museum of Contemporary Art Denver, will curate our new historical section, Perspectives; and Anne Ellegood, Senior Curator, Hammer Museum, Los Angeles will curate Platform.
Galleries may apply to one or more of the following exhibitor sections:
Galleries: Leading international galleries present outstanding 20th and 21st century artworks across a range of media.
Focus: Devoted to solo- and dual-artist presentations of today's most relevant and compelling artwork. Curated by Jamillah James.
Perspectives: An intimate grouping of thought-provoking historical presentations examined through a contemporary theme. Curated by Nora Burnett Abrams.
Presents: A platform for emerging galleries no more than ten years old to showcase recent work through solo- and dual-artist presentations.
Platform: Large-scale installations and performances that respond to and activate the fair's industrial venue. Curated by Anne Ellegood.
To apply, visit thearmoryshow.com/apply. Applications can only be completed online using the login credentials supplied by fair management. For questions, contact exhibitor [​at​] thearmoryshow.com.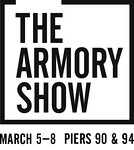 more from The Armory Show