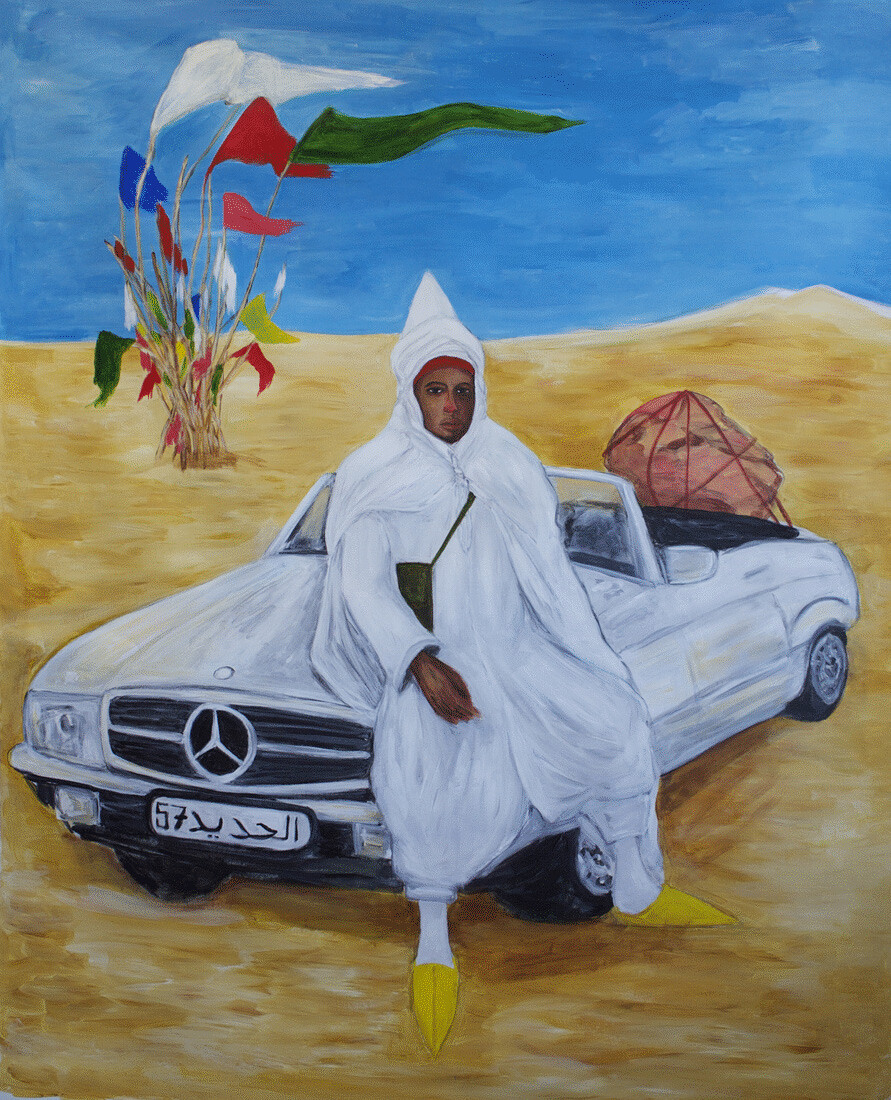 Anuar Khalifi and Kazim Rashid
The Third Line, Dubai / UAE
November 27, 2019–February 6, 2020

November 11, 2019
Gallery 2
Anuar Khalifi: Forever Is A Current Event
The Third Line is pleased to present Anuar Khalifi's first solo exhibition at the gallery, with works on canvas exploring the exchange between tradition and the contemporary world.
Embodying both the stylistic elements and socio-political spirit of neo-impressionism, Khalifi equips his paintings with metaphors and symbols which bridge visuals of the past with that of a globalised contemporary culture.
Often inspired by the lyrical writings of iconic musicians, Forever Is A Current Event, derives its title from a verse by the acclaimed rapper yasiin bey:
"Save the date.
Forever is a current event.
We will not pass this way again,
No time to pretend."
Khalifi's emotive works are layered with complexity and saturated with colors that act as a visual confrontation of dysfunctional systems, misrepresentations of media, and corporate agendas. Although his work may first present itself as naïve and playful, Khalifi leaves a trail of subtle hints reminding the viewer that each painting is loaded with topical social discourse. He often achieves this by altering small details that reward the keen eye with an unexpected play on brand iconography or iconic imagery from current events.
The figures in the artist's paintings are typically autobiographical in nature; they have grown from adolescents to young adults, to the occasional older male. These works offer glimpses into the lives of male characters that are placed in absurd settings, either caught red-handed in a playful act or captured in the fleeting stillness prior to some mischief. In an open invitation for the viewer to engage and complete the narrative, Khalifi's works depict brief moments in a story left incomplete.
AV Room
Kazim Rashid: Nothing Looks The Same at Night
The Third Line is pleased to host the world premiere of Kazim Rashid's latest video installation Nothing Looks The Same at Night.
A nod to WHAM!'s Nothing Looks The Same in The Light, the film's title speaks to the artist's fascination with the hours after-dark and how this time of day gives us the place to explore our secret selves—an unfiltered, unapologetic state that the video echoes in its intertwined depictions of man's impact on Earth and male/female coexistence.
Nothing Looks The Same at Night's first part features Ziggy Ama Idir Iman—a figure who has held a month-long conversation with Rashid about the film's themes via voice notes across timezones and borders before ever meeting. Idir Iman is the subject we see and the voice we hear, while apocalyptic visions of burning landscapes, bushes, houses, populate the adjacent frame. Idir Iman's appearance embodies the spirit of Shakti and Yin/yang, the harmonious coexistence of male and female energies defined by Rashid as essential to reaching a divine state individually and collectively as mankind.
A visual intermezzo to Idir Iman's performance, is a clip from the film I Shot Andy Warhol, based on the true story of 1960s radical feminist Valerie Solanas whose S.C.U.M Manifesto was a major piece of Rashid's research whilst making the work. In it, Solanas elaborates on her theory to eliminate the male sex in an effort to better society. Such disquieting statements are relieved by a suave soul composition, while the imagery of forest fires resumes, and Idir Iman starts dancing.
Nothing Looks The Same at Night is a journey of contrasts, in which what you see is mitigated by what you hear, and vice-versa. The fire looks like it is dancing whereas the moving body of Idir Iman looks like it is on fire. A journey that ends with Bob Marley's words on struggle and survival. Nothing Looks The Same at Night is a non-linear moving image work, consisting of multiple parts to be experienced on loop.