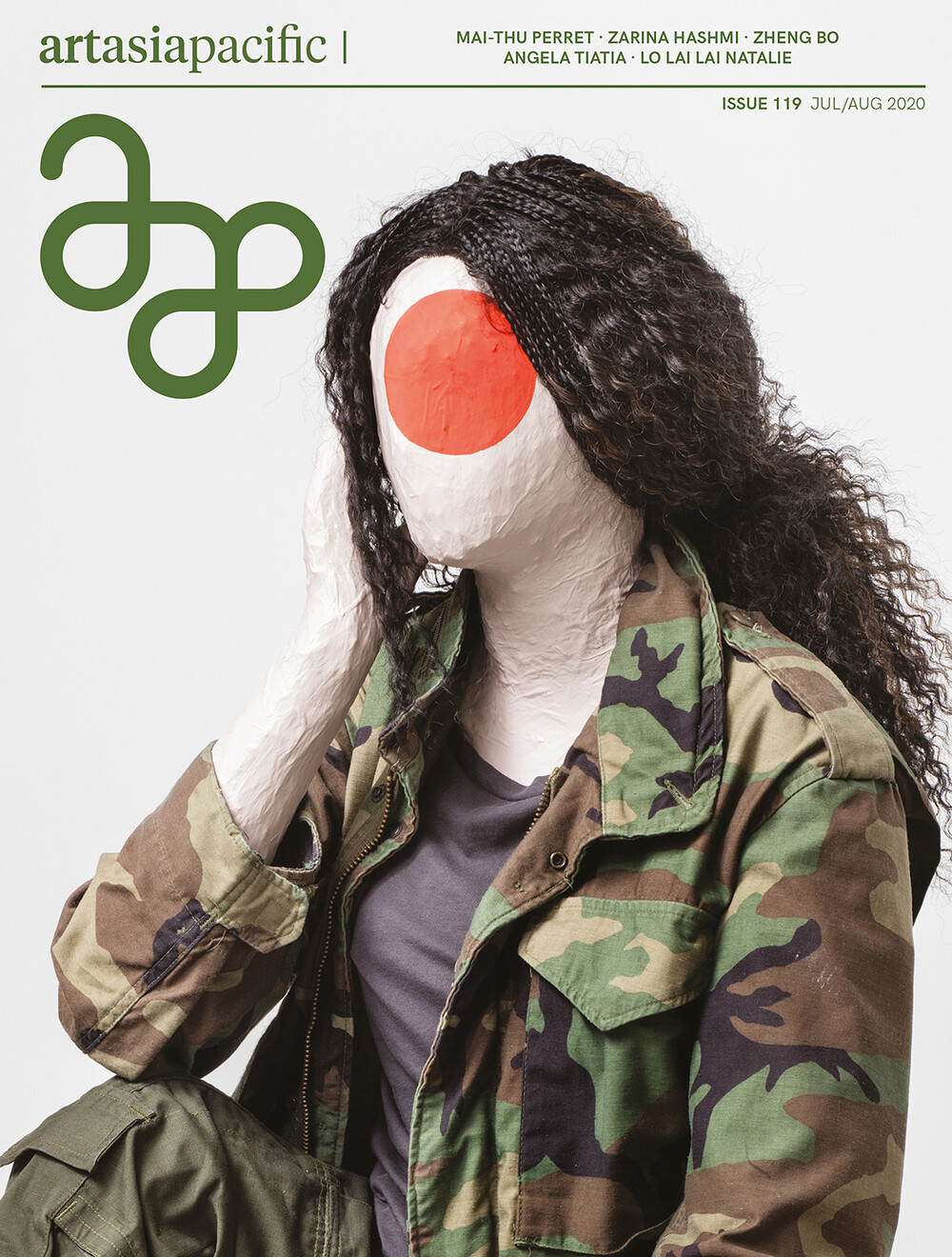 July/August 2020
ArtAsiaPacific
July 1, 2020
In this era of social distancing, being away from the maddening throngs of society has been necessary. As time slowed down and activities came to a halt, there has been a chance for reflection on the future.
In her ongoing project, The Crystal Frontier (1999–), Mai-Thu Perret conjures a fictional women's commune where alienation, the patriarchy, and capitalism do not exist. She renders mixed-media figurative sculptures based on real-life individuals, including the fighters of the Kurdish Women's Protection Units, as seen on our cover. Her textiles, paintings, and installations reflect her imaginings of what The Crystal Frontier women would make. Yet the artist is careful not to convince us that this paradise could exist. As ArtAsiaPacific managing editor Chloe Chu argues, Perret's practice demystifies utopian experiments and scrutinizes the real conditions that are stymieing the manifestation of a better society.
In our second Feature, we pay tribute to Zarina Hashmi, who passed away in April. Born in 1937, Zarina witnessed the Partition of India, and she and her family were temporarily forced to leave their home to avoid persecution as Muslims. This experience fundamentally shaped her life and artistic practice. Her minimal, black-and-white prints and sculptures speak of places lost and recollected, including her childhood home, and reflect her search for belonging in foreign countries. Her friend and collaborator Sarah Burney writes in a poem dedicated to Zarina: "she did not know the meaning of 'afraid.'"
In the Up Close section, AAP associate editor Ophelia Lai dissects Farid Rasulov's film Dream of Dreams (2020), which examines the "absurd profligacy of Qurban Bayram," the religious festival when millions of animals are sacrificed in Azerbaijan and across the Muslim world. Andrew Luk's installation Haunted, Salvaged (2020), at Hong Kong's de Sarthe Gallery, evokes a devastated landscape that recalls "so many corners of the earth today," in deputy editor and deputy publisher HG Masters' words. Byron Kim's bruise paintings bring to mind both human and celestial bodies, revealing that "each of us possesses a vast universe within," according to assistant editor Pamela Wong.
In Essays, artist JJ Chan reflects on their decision to withdraw from an exhibition at Manchester's Centre for Chinese Contemporary Art due to the institution's failure to address the underrepresentation of Chinese people on its staff, and, by extension, its role in perpetuating Eurocentric perspectives.
For Profiles, curator Sophie Rose spoke to Angela Tiatia about her performances and videos, which tackle the "disparity of power," particularly in relation to Pacific communities within Australasia. AAP news and web editor Lauren Long met Arthur de Villepin at his new gallery in Hong Kong to discuss how art has been an important part of his identity. From Manila, John Alexis Balaguer spoke to Joven Cuanang, a neurosurgeon and the founder of the Pinto Art Museum, about art as a healing practice.
In One on One, multidiscipinary artist Sung Tieu examines the practice of artist and feminist writer Mary Kelly, who complicated notions of domestic labor. Mirthe Berentsen files a Dispatch from Amsterdam, delineating the postcolonial discussions that are just beginning to take root in the city's cultural institutions. In the Point, artist Zheng Bo advocates for the rethinking of art as a multispecies activity, as he aims to address the anthropocentrism undergirding the climate crisis. In Fine Print, legal expert Ryan Su offers museums that are grappling with the current financial crunch legal advice on deaccessioning works.
Finally, for Where I Work, Pamela Wong visited the farm—and studio—of Hong Kong video artist Lo Lai Lai Natalie. While being both a farmer and an artist is not easy, together, these activities, taking place at a distance from the city, have allowed her to pay close attention to the ever-shifting world around her.
A digital edition of the full AAP 119 Jul/Aug issue is now available for purchase on Zinio, Google Play, iTunes, and Magzter.