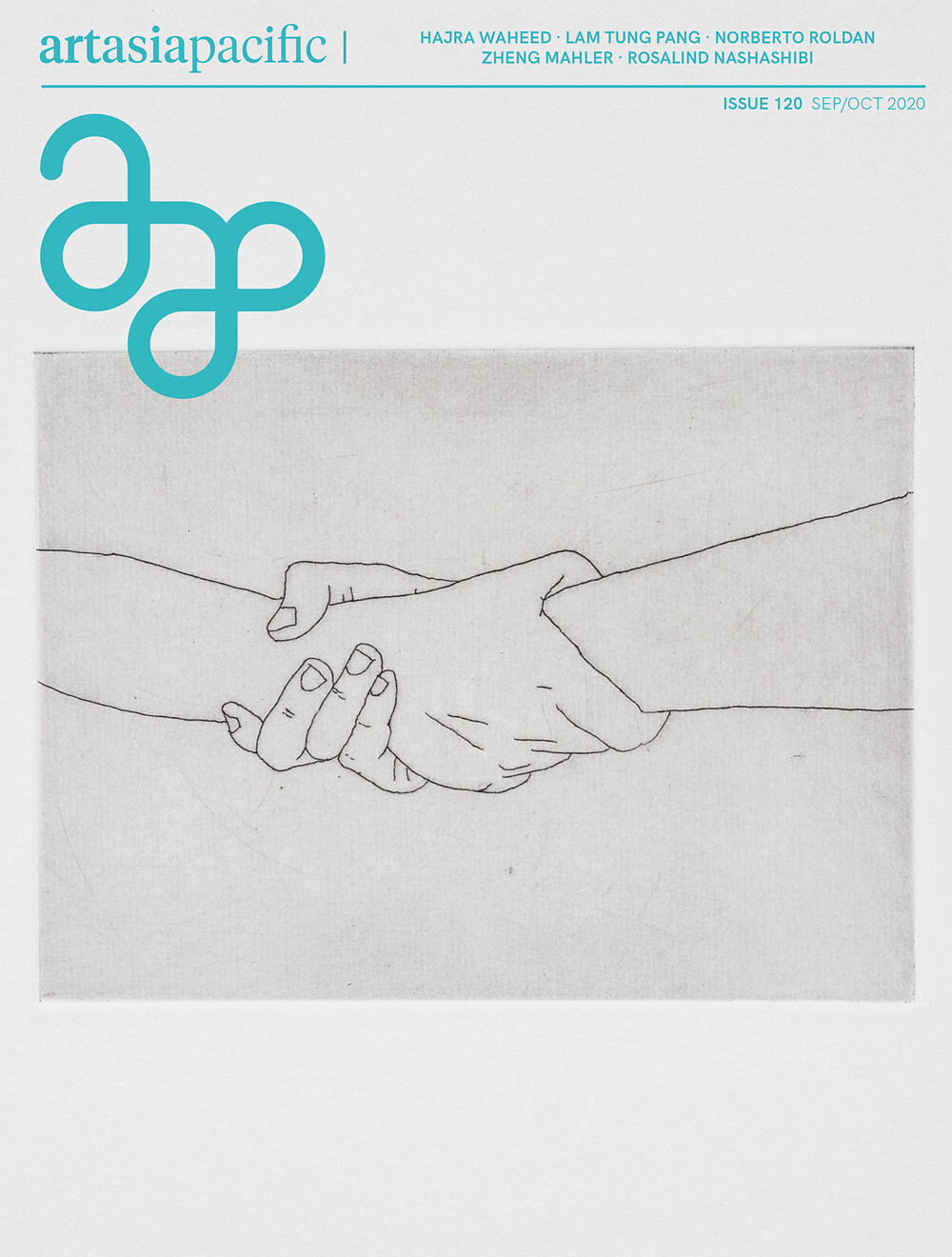 September/October 2020
ArtAsiaPacific
September 1, 2020

September 1, 2020
The pandemic-plagued world is ripe with divisions. As communities around the world look to address both immediate and longstanding problems, artists have the ability to create spaces of understanding, empathy, and awareness.
ArtAsiaPacific's September/October cover Feature, by deputy editor and deputy publisher HG Masters, centers on Hajra Waheed's explorations of the possibilities for "radical hope." The artist's latest work, Hum (2020), is a 16-channel sound installation featuring the collective humming of songs that were central to solidarity struggles in the decolonization of the Global South. The act of humming, Waheed says, "cuts across a crisis of hardened differences, challenging border constructions and for a moment, transforming divisions around ethnic, religious, linguistic and national affiliations into a larger call for solidarity."
Layering a collection of perspectives is central to the multimedia practice of Hong Kong-based artist Lam Tung Pang, who personifies landscapes and elements of nature to convey the pathos of his hometown amid times of dramatic transformation. Managing editor Chloe Chu visited Lam in his studio to discuss his new projects, the importance of observing to Lam's creative process, and the difficulty of maintaining a clear perspective when one is "caught within the wave of history."
Up Close looks at new moving-image projects by Diane Severin Nguyen and Allison Chhorn as well as the latest investigation by Forensic Architecture. For Inside Burger Collection, contributing editor Paul Laster examines the career of Canadian painter Tim Gardner, who is known for his sensitive autobiographical watercolors of his male friends and family members.
In Essays, we spotlight the winner of our Young Writers Contest 2020, Cheng Mun Chang. In her article, Chang argues that the logic of colonialism undergirds post-independence Singapore's land reclamation projects. She considers the impact of these development policies through the works of locally based artists Charles Lim, Zarina Muhammad, and Debbie Ding.
The Profiles section features Los Angeles-based Miljohn Ruperto, whose collaborative films and animations reject "concepts of originality and essentialism," writes Ikon Gallery curator Melanie Pocock. Offering an expansive, often historical, perspective is also at the heart of duo Zheng Mahler's research-based installations, which, as associate editor Ophelia Lai explains, reveal the interconnectedness of seemingly disparate materials, locales, and peoples. In Singapore, Patricia Chen met with arts patron Rachel Teo to discuss The Private Museum, a platform for collectors that Teo co-founded with her father. For Chen, "Teo's example shows that being . . . intentional about contributing to the art community's systemic needs can make a difference in this difficult time."
In The Point, socially engaged artists Lucas Ihlein and Kim Williams reflect on their experience of working with the Biennale of Sydney to curb the organization's reliance on plastic, and propose ways for the art world to address the planet's human-driven ecological crisis. In his Dispatch from Vancouver, curator and writer Godfre Leung intersects the issues of race and space, elucidating how the city's art scene has been shaped by the two. For One on One, Palestinian artist Inas Halabi writes about how Rosalind Nashashibi's approach to filmmaking has influenced her own explorations of "the construction of identity in relation to history and place." And in a special Tribute, gallerist Johnson Tsong-zung Chang bids farewell to the Hong Kong artist Gaylord Chan (1925–2020).
Lastly, for Where I Work, John Alexis Balaguer visited the studio-residence of artist Norberto "Peewee" Roldan, who co-founded Manila's oldest artist-run nonprofit, Green Papaya. Roldan's bungalow in Metro Manila now houses documents and artworks damaged in the fire at Green Papaya's space in June. Balaguer describes his home-studio as brimming with artifacts from the city's disappearing architectures, which Roldan incorporates into his assemblages. A longtime advocate for regional artists in the Philippines, Roldan embodies the spirit of art, community, and camaraderie that runs through this issue.
A digital edition of the AAP Sep/Oct issue is available for purchase on Zinio, Google Play, iTunes, and Magzter.