Maria Antelman, Joey Fauerso, and Paul Mpagi Sepuya
Intimate Actions
Bemis Center for Contemporary Arts, Omaha / United States
December 10, 2020–April 24, 2021

December 8, 2020
Bemis Center for Contemporary Arts invites the public to the virtual opening of three new solo exhibitions by artists Maria Antelman, Joey Fauerso, and Paul Mpagi Sepuya on Thursday, December 10 from 8 to 9pm on Twitch and Facebook. Bemis Chief Curator and Director of Programs Rachel Adams will introduce each exhibition followed by a performance by musician and artist David Hurlin, as part of Fauerso's exhibition and a Q+A with Adams, Fauerso, and Hurlin. Curated together under the rubric of Intimate Actions, the exhibitions are centered on the theme of intimacy and how it enters into representations of the body, one's connection to space and surroundings, and our relationships. The exhibitions are on view through April 24, 2021. A Visitor Code of Conduct has been implemented to keep staff and visitors as safe as possible and to avoid the spread of COVID-19.
Maria Antelman: Soft Interface
With references to classical sculpture and archeology, Maria Antelman's work in Soft Interface acknowledges the line between permanence and impermanence. Intimately photographing herself and her family and then splicing these with imagery from the natural landscape—referencing bodies as historic sculptures—Antelman intertwines the human form (humanity) with the porous stones of the earth. Creating formal connections through diagrammatic framing techniques, Antelman's photographs, and closed loops (gifs) are transformative. Her process includes photographing primarily with 35mm film, then scanning, manipulating, and/or animating the images, editing and displaying the final work within the designed frames. While previous works have focused on the intersection of humanity with computer technology, the work in Soft Interface is rooted in stone, the base element for all future technological development. As a native of Greece, Antelman culls deeply from history while dually imagining the future.
Maria Antelman (b. 1971, Athens, Greece) is a visual artist based in New York. She works mainly with 35mm film photography and she holds an MFA in New Genres from Columbia University. Recent exhibitions include Companion Pieces: New Photography 2020 at The Museum of Modern Art in New York; Mechanisms of Affection (solo) at the VAC, UT Austin (2019); and Disassembler (solo) at Pioneer Works, Brooklyn (2018). She has been awarded production grants from the Onassis Foundation USA, the National Museum of Contemporary Art, Athens, and the J.F. Costopoulos Foundation.
Joey Fauerso: Inside the Spider's Body
Treading the thin line between creation and destruction, Joey Fauerso's work explores dualities of the human condition, interweaving personal experiences with the current socio-political climate. Through painting, sculpture, performance, and film, Fauerso's graphic works lean heavily on humor and tragedy, speaking to both fragility and resilience. After being diagnosed with breast cancer, Fauerso's work shifted, opening the door for her personal life and anxieties to influence and exist within her practice. As a mother and an artist, she is inspired by the temporality and impermanence of childhood and the (almost) tragic theatricality of growth which she marries with historical references, mythology, and one's relationship between the body and the landscape. Experiencing her work means stepping behind the curtain and encountering layers of complexity that surround the current moment. Forever in transition, oscillating between harmony and discord, Fauerso explores how humanity always plays multiple roles.
Joey Fauerso (b. 1976, San Antonio, TX) is an artist and Professor in the School of Art and Design at Texas State University. Recently her work has been included in exhibitions at Blue Star Contemporary, MASS MoCA, the Drawing Center in New York, The David Shelton Gallery in Houston, and Antenna Gallery in New Orleans. Fauerso received her MFA from the University of Wisconsin-Madison, WI in 2001, and a BFA from the University of Iowa, Iowa City in 1998. She is the recipient of numerous grants and residencies including BSC's Berlin Residency Program with Künstlerhaus Bethanien in Berlin, Germany, and the Drawing Center's Open Sessions Residency in New York (2014-15). She lives and works in San Antonio with her husband Riley Robinson and their two sons.
Paul Mpagi Sepuya: Drop Scene
Paul Mpagi Sepuya's unconventional portraits and other studio-based photographs explore the artist's relationship between himself and the camera, sexuality, friendship, and the space of the studio, which are intertwined and radically dependent on each other. Through his explorations, Sepuya opens up his world to the viewer, leaning into the dust and smudge marks that lay on a mirror, or adding bodies to the space with work prints pinned to the walls. Cameras play a central role, reflected back at the viewer while they focus on the formal yet playful performance of bodies within Sepuya's space. These photographs not only offer a glimpse into the tenderness that exists between artist and sitter but underscores the presence of Black, brown, and queer bodies within the work. While living somewhere between revelation and obscuration, these portraits are experimental yet controlled, and the work often depends on blackness to make visible the traces of the subject, revealed via curtain, skin, or piece of clothing. This encourages one to look deeply, scouring out details while being denied by the theatrical minimalism of a black curtain hung in just a way that negotiates the space, the ongoing relationship, and all that surrounds it. The work is dynamic, self-reflexive, and powerful, offering an intimacy that embraces itself while contributing a newness to studio photography.

Paul Mpagi Sepuya's (b. 1982, San Bernardino, CA) work is held in a number of major museum collections worldwide including the Museum of Modern Art, New York; the Whitney Museum of American Art, New York; the Studio Museum in Harlem, New York; Museum of Contemporary Art, Los Angeles; and the Museum Fine Arts, Houston; among many others. His work has been featured in numerous exhibitions at venues that include the Museum of Contemporary Art, Los Angeles; the Contemporary Art Museum Houston; the Walker Art Center, Minneapolis; the International Center of Photography, New York; the Museum of Contemporary Art, Chicago; the Museum of Modern Art, New York; the Artist's Institute, New York; and the Institute of Contemporary Art, Philadelphia; among others. He was featured in the 2019 Whitney Biennial.

A series of free virtual public programs will provide opportunities to engage with the artists and further explore the exhibitions. Adams and each of the exhibiting artists will participate in a virtual conversation titled "Between Two Screens", Fauerso on January 6, Sepuya on January 13, and Antelman on January 27, 12–1pm CT. Facilitated by community members exploring the exhibition themes, "Public Assembly", will include informal conversations seeking to connect questions in the artwork with issues directly affecting Omaha's social, political, and artistic landscape beginning on February 11, 6–8pm CT with additional dates to be scheduled.
Virtual exhibition opening + performance
Thursday, December 10, 2020, 8–9pm CT
Free and open to all. Stream at twitch.tv/bemiscenter (Twitch account not required) and facebook.com/bemiscenter.
For more information about the exhibitions and related public programs, visit bemiscenter.org.

Intimate Actions is on view at Bemis Center for Contemporary Arts through April 24, 2021. Bemis Center gallery hours: Wednesday, Friday, and Saturday 11am–5pm; Thursday 11am–9pm. Admission: Free. Reservations are requested at bemiscenter.org. Capacity is limited but walk-ins will not be turned away if space is available. A Visitor Code of Conduct has been implemented to keep staff and visitors as safe as possible and to avoid the spread of COVID-19.
Intimate Actions is sponsored, in part, by The Andy Warhol Foundation for Visual Arts; Art Bridges; Douglas County, Nebraska; Nebraska Arts Council and Nebraska Cultural Endowment; and Omaha Steaks.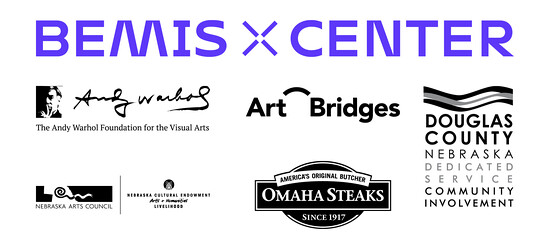 more from Bemis Center for Contemporary Arts