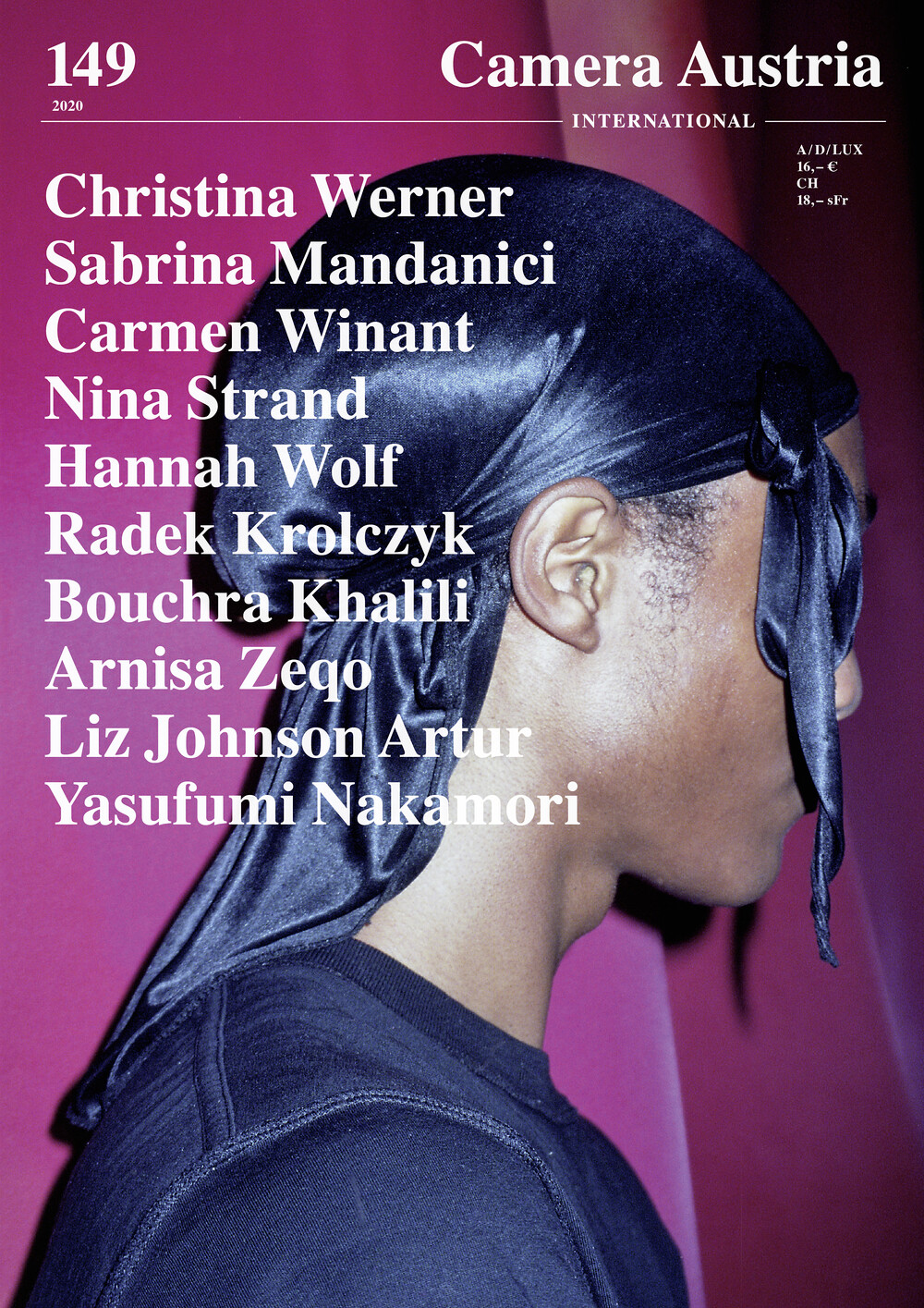 No. 149
Camera Austria, Graz / Austria
March 6, 2020

March 6, 2020
Featuring: Christina Werner, Sabrina Mandanici, Carmen Winant, Nina Strand, Hannah Wolf, Radek Krolczyk, Bouchra Khalili, Arnisa Zeqo, Liz Johnson Artur, Yasufumi Nakamori, Talisa Lallai, Lena Rosa Händle, Johannes Gierlinger, Benjamin Jones, Laura Ben Hayoun, Jiwon Kim, Erik van der Weijde, Emilie Lauriola
Order here

The contributions to the March issue of Camera Austria International focus on the potential inherent to an exploration of everyday regimes and on how democracy can unfold at the interfaces between public and private life.
"Part of the appeal of Christina Werner's art is that it aims to educate without being didactic," writes Sabrina Mandanici in her contribution. In her mostly long-term projects, Werner observes how the restructuring of public spaces sometimes proceeds without anyone noticing the political instrumentalization at play there, or how representatives of right-wing populist parties adopt, for their own purposes, a rhetoric usually associated with democratic convictions. Besides making the cracks in our democratic system visible, she also traces the question of which individual liberties can be occupied here.
Nina Strand's text on the work of Carmen Winant likewise deals with laying claim to personal liberties. Citing her 2019 publication Notes on Fundamental Joy, as well as the artist's interest in the Lesbian Lands movement, especially in the Oregon Women's Land Trust (founded in 1975), Strand spotlights the role that photography and publishing play in the self-empowerment of women, along with the importance of creating common feminist spaces. "The vast number of publications produced by Lesbian Lands—zines, pamphlets, magazines—show us how photography was an important tool for these women: the making of pictures became a way to reclaim and reinvent."
Radek Krolczyk and Hannah Wolf have developed the contribution "Sky / No Sky" from their joint publication practice. Here, they reflect on the meaning and the temporality of political images and symbols in the urban space of Istanbul. They analyze the images found before elections and on national holidays, at protests and demonstrations, or on the plastic tarps of large-scale construction areas, but also the absence of previously present imagery. "Irregular gray patches are thus found on the walls. They are eradicated slogans and pictures that simultaneously tell of the state's fear."
The works of Bouchra Khalili shed light on the subjective lines of movement between divergent cities, which serve as points of departure for telling stories of migration with all their fragility. Arnisa Zeqo interrelates the artist's films with Pier Paolo Pasolini's autobiographical cycle of poems Poesia in forma di rosa. She notes the similar way in which Pasolini allows the voices of both the living and the dead to have their say: "Khalili's films create a civic space for 'under-heard' voices, a space for political and subjective consciousness between nations, street corners, and houses, where there is space made for dignity."
The "Black Balloon Archive" by Liz Johnson Artur, created over the course of more than thirty years, encompasses a plethora of photographs documenting black communities throughout the world, brought into ever-new constellations by the artist. Yasufumi Nakamori talks with the artist about belonging to the black diaspora, about the role that narration plays in her work, and about her interest in increasingly integrating this into collaborative contexts in order to open it up to discourse: "I am for boxes and negatives, but I also want to see all those pictures, to not feel that I just take it compulsively. So for me being able to show means I can have different conversations and one leads to another."
The issue is rounded off by Erik van der Weijde's series "Talking Books," for which he interviewed the head of Le Bal Books, Emilie Lauriola, and a comprehensive review section with responses to recent national and international exhibitions including Tell me about yesterday tomorrow, NS-Dokumentationszentrum Munich; The Life and Times of Alvin Baltrop, The Bronx Museum of the Arts, New York; The 12th Edition of Rencontres de Bamako, various venues, Bamako; Lisa Holzer, Secession, Vienna; Julian Charrière, MASI, Lugano, and many others.