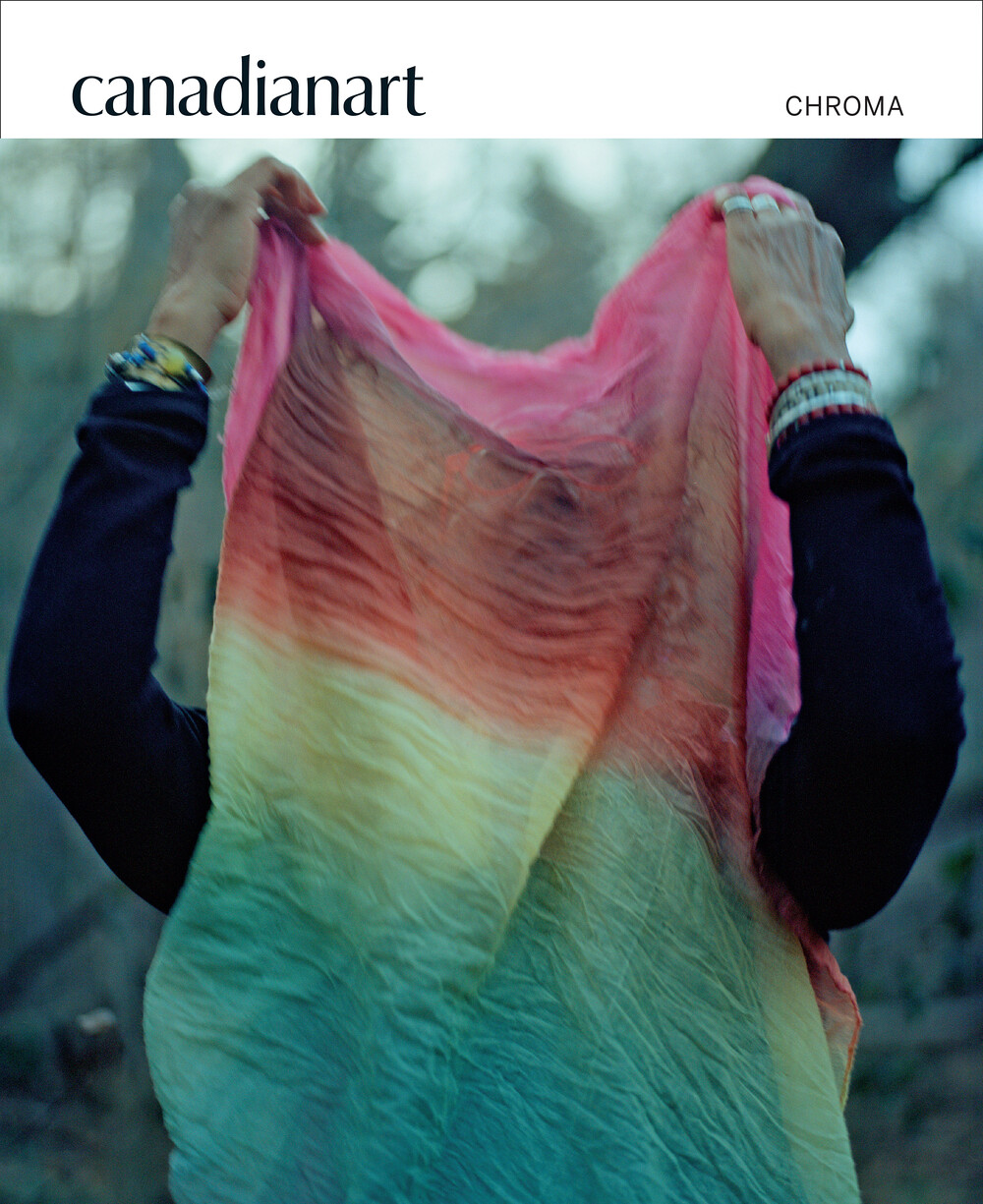 Fall 2020: "Chroma"
Canadian Art
September 15, 2020

September 15, 2020
A year in the making, the fall 2020 issue of Canadian Art, available now, surveys the aesthetic practices and legacies of Black art production in Canada and beyond. Edited by Denise Ryner, writer and director/curator at Or Gallery, and Yaniya Lee, writer and features editor at Canadian Art, "Chroma" continues the work of "Bodies Borders Fields," a 2019 symposium that reflected on how legacies of Black art and Black presence are omitted from Canada's contemporary art narratives. With recent (renewed) institutional interest in Black Canadian art, and the twin pandemics of systemic racism and COVID-19 revealing how social inequality touches all sectors of life, how is Blackness being thought and rethought? In what ways are artists pushing for change? How does art address, and archive, these moments? Blackness, and Black creative practices, has survived through excesses and refusals; in "Chroma," artists, writers and thinkers continue discussions that have too often been sidestepped in mainstream contemporary art publications—including this one.
Tiana Reid explores the collective mentors of artist Tau Lewis and the genealogies of influence in her sculptures.
Poets M. NourbeSe Philip, Imani Elizabeth Jackson and S*an D. Henry-Smith discuss memories of the ocean and share thoughts on the meaning of un/settling in Dialogue.
Cecily Nicholson reflects on storefront gallery The Cheeky Proletariat and its role in Vancouver's Black arts community.
Nicholas Croggon unpacks the embodied and theoretical inconsistencies of the 1967 "black" issue of Canadian Art's predecessor artscanada, drawing new meaning from the issue's roundtable, for which participants included New York artists Cecil Taylor and Aldo Tambellini.
Guest editor Denise Ryner explores the invisibility of workers' bodies through images of labour by Stan Douglas.
Kelsey Adams discusses curator, artist and cultural organizer David Woods's dedication to the overlooked histories and contributions of Black Maritime artists.
Tim Whiten contributes an artist project in which he remembers soundscapes that moved him and considers the productive capacities of exchange.
For Spotlight, curator Sally Frater profiles 10 artists and art collectives who explore collaboration and shared memory.
Plus:
For the Keynote section, six educators from across the country—Katherine McKittrick, Charmaine A. Nelson, Deanna Bowen, Elizabeth (Dori) Tunstall, Rinaldo Walcott and Afua Cooper—discuss making space for Black art and culture in Canadian academic institutions.
Griffin Poetry Prize nominee Chantal Gibson contributes a poem about Black life and its legacies within art history.
In Legacy, writer and scholar Adam Lauder argues that the paintings of 19th-century artist Robert S. Duncanson envisioned abolition.
Preview features short conversations with artists—including Camille Turner, Curtis Talwst Santiago, Denise Ferreira da Silva, Charles Campbell, Aisha Sasha John and Michael Fernandes—on upcoming projects.
Reviews: Angel Callander on The New Black Vanguard: Photography between Art and Fashion by Antwaun Sargent; Pablo de Ocampo on Dana Michel's CUTLASS SPRING; Kate Lahey on "What Carries Us" at The Rooms, St. John's; Valentina Desideri on Justine A. Chambers; Cason Sharpe on Brontez Purnell hosted by McEvoy Foundation for the Arts, San Francisco; Jordan Brown on "Afro Drag" at Phi Foundation, Montreal; Laurie White on Karin Jones and Amy Malbeuf at the Richmond Art Gallery; Sepake Angiama on A Billion Black Anthropocenes or None by Kathryn Yusoff; Connor Garel on André Leon Talley's autobiography The Chiffon Trenches: A Memoir; Karina Griffith on The Otolith Group at the Berlinale Forum Expanded; Nadia Kurd on "Grasping at the Roots" at the Mitchell Art Gallery, Edmonton; and Sheila Petty on Other Places: Reflections on Media Arts in Canada, edited by Deanna Bowen.

Also: a letter from the Black Curators Forum outlines a list of action items toward long-lasting equity in art institutions.

Subscribe to Canadian Art by September 22 to receive the fall 2020 issue, or access the digital edition via PocketMags and Flipster.