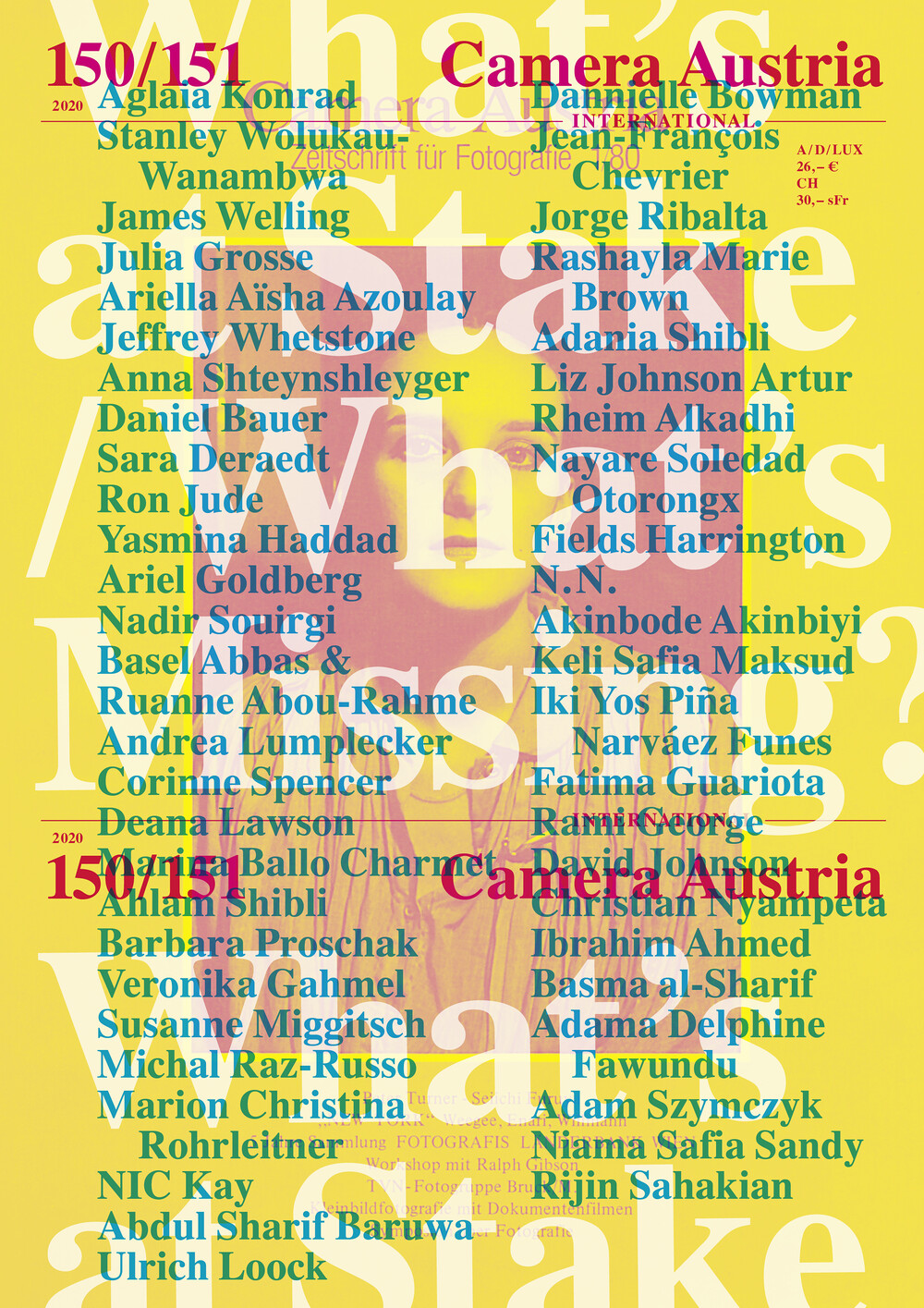 No. 150/151: What's at Stake / What's Missing?
Camera Austria, Graz / Austria
September 9, 2020

September 9, 2020
Buy this issue here or get a subscription and save some money.
With contributions by: Aglaia Konrad, Stanley Wolukau-Wanambwa, James Welling, Julia Grosse, Ariella Aïsha Azoulay, Jeffrey Whetstone, Anna Shteynshleyger, Daniel Bauer, Sara Deraedt, Ron Jude, Yasmina Haddad, Ariel Goldberg, Nadir Souirgi, Basel Abbas & Ruanne Abou-Rahme, Andrea Lumplecker, Corinne Spencer, Deana Lawson, Marina Ballo Charmet, Ahlam Shibli, Barbara Proschak, Veronika Gahmel, Susanne Miggitsch, Michal Raz-Russo, Marion Christina Rohrleitner, NIC Kay, Abdul Sharif Baruwa, Ulrich Loock, Dannielle Bowman, Jean-François Chevrier, Jorge Ribalta, Rashayla Marie Brown, Adania Shibli, Liz Johnson Artur, Rheim Alkadhi, Nayare Soledad Otorongx, Fields Harrington, N. N., Akinbode Akinbiyi, Keli Safia Maksud, Iki Yos Piña Narváez Funes, Fatima Guariota, Rami George, David Johnson, Christian Nyampeta, Ibrahim Ahmed, Basma al-Sharif, Adama Delphine Fawundu, Adam Szymczyk, Niama Safia Sandy, Rijin Sahakian
On the occasion of Camera Austria International's double anniversary this summer—the 150th issue of the magazine and the 40th anniversary of its founding—we invited individuals from Camera Austria's network, but also beyond, to reflect on the question "What's at Stake / What's Missing?" What is indeed at stake today when considering the medium of photography in the context of its shifted conditions of production, its modalities within society, or the many forms of its distribution and reception, all of which essentially influence artistic practice as well? Against the backdrop of Covid-19 and the struggle for social equality, which is playing out at countless sites around the world, the question of what is at stake has once again become urgently topical.
The contributions unfolding in the September issue of Camera Austria International convey the complex situation through kaleidoscopic insights. Explorations of archives attest to the fact that photographic criticism can never fully liberate itself from its traditions, and that its conditions and narratives must be continuously revised and questioned. Against the backdrop of current events, the political dimension of breathing is investigated. Further, the act of working against white supremacy and the related systems defining it attempts to move into the foreground a decolonialization of the gaze. Yet many of the contributions deal with a rejection of the hegemonic and spotlight BIPoC and transgender positions. And antiracist statements are linked to the call not only to remain rooted in one's own institutional surroundings, but also to join the protests in the streets. Questions inherent to the image and related to rapidly changing media technologies are taken up, and the limits of the photographic are repeatedly explored anew.
With all of these facets, the present issue of Camera Austria International is, most especially, a document of our present day. The contributions received this year between May and mid-August, which are chronologically inscribed in the pages of the issue and thus resemble a calendar, are much more topical and urgent than we could have even imagined in February 2020. Stanley Wolukau-Wanambwa, in his contribution to this issue, details what is at stake. Despite all relevance ascribed to photographic images, at stake is survival: "Whether at the level of our ecology, and thus of the planet, or at the level of our differently and continuously subjugated communities, which in their profitable subjugation bear the multiple, intersecting weights of economic, political, racial, religious, sexual, and cultural violence."
This polyphonic act of taking stock—aiming less to celebrate the presence of photography in the contemporary art field and more to challenge it—is accompanied by an expanded review section, which focuses on exhibitions and publications that our authors found relevant in the spring and summer of 2020.