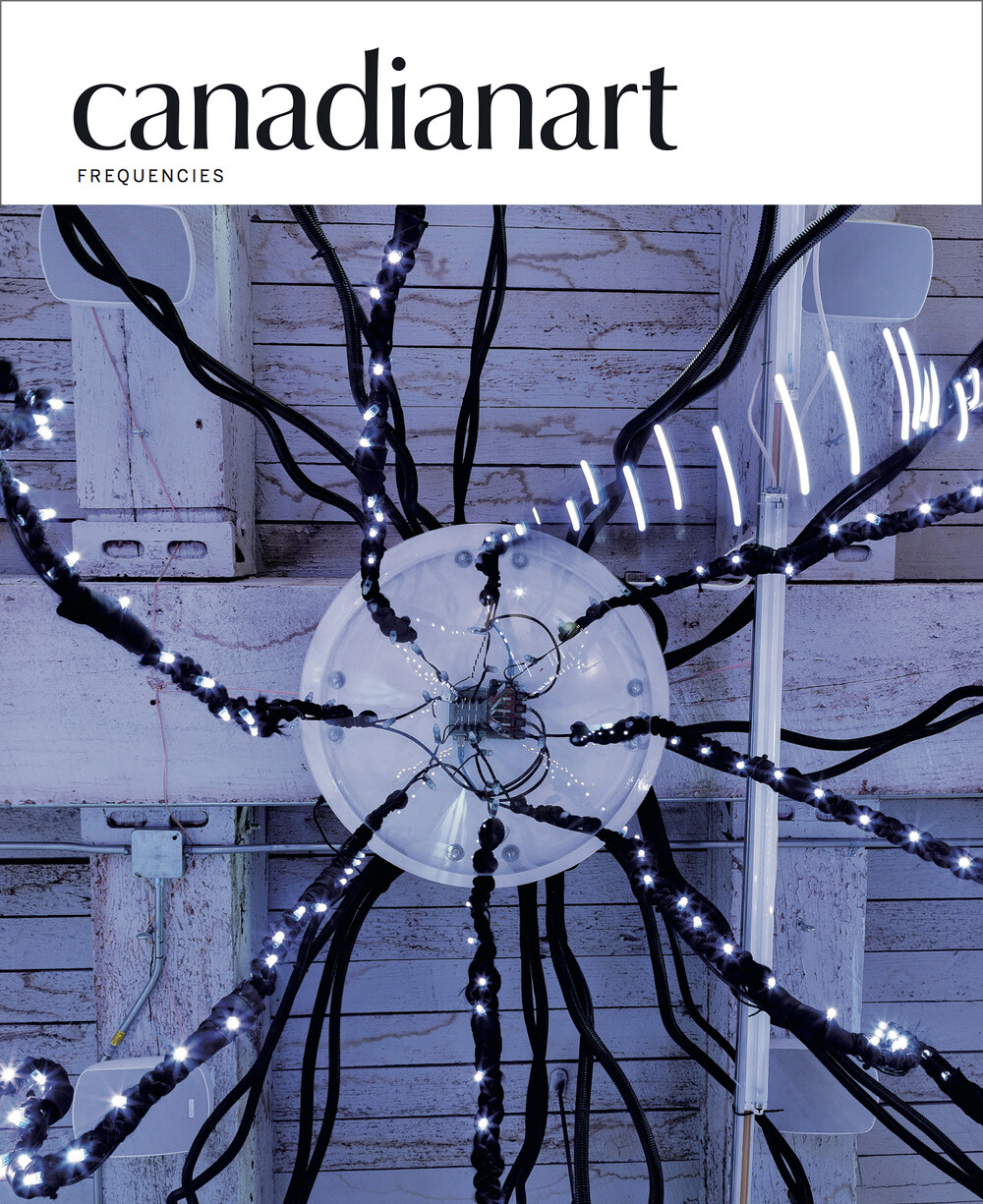 Spring 2021: Frequencies
Canadian Art
March 12, 2021

March 12, 2021
The spring 2021 issue of Canadian Art, Frequencies, came together during the second wave of the global coronavirus pandemic, when separation has become routine and lockdowns are in effect across many parts of the world. With restrictions on in-person gallery visits, we've had to attune to different ways of engaging with art. This presented an opportunity to spend time with practices that prioritize multisensory experiences, not only the visual but also the sonic and the haptic. For Frequencies, these sit alongside registers—including different kinds of communication or transmission—that exist beyond human perception. Many of the artists here focus on listening specifically, rethinking their relationships to sound and finding new forms of intimacy and connection beyond imagery. Together, these aesthetic experiences consider the role of frequencies as a modulating influence on artistic practice.
In this issue:
Artist and writer/performer Riel Bellow speaks with cover artist Kite about using historical and speculative technologies to navigate spiralling models of light, sound and time.
Lindsay Dawn Dobbin, curator and artist, writes that engaged listening practices create the conditions for wonder and receptivity, "the medicine the world needs right now."
Somatic senses of listening are also the subject of artist and writer jamilah malika abu-bakare's feature, which considers the relationship between popularity and power while articulating a canon of Black Canadian sound art.
Holistic frequencies move through Nathan Young's profile of Seth Cardinal Dodginghorse, whose practice and activism are considered in relation to ASMR, wellness tropes, Indigenous political agency and resistance.
Yaniya Lee, senior editor-at-large, profiles career experimenter Gambletron, whose performances transform humble and improvised materials into sounds of both harmony and breakdown.
Elsewhere, artists are working in ways that move into frequencies of another order. Managing editor Tess Edmonson writes about angels, illness and generational rhythm in the paintings of Rae Johnson.
And in the Spotlight section, curator Megan MacLaurin surveys practices by artists across Canada who use media technologies to build new worlds.
Accompanying the issue, the artist project by RUTMEAT is a sonic score available for listening on either your phone or a turntable—technologies from different eras that unite in a register of frequency.
Plus: poetry by Fan Wu, a collage by Jean Couteau and short conversations with Chrysanne Stathacos and Gabrielle L'Hirondelle Hill on their recent works.
Reviews include: Krystal Paraboo on Charles Campbell at Wil Aballe Art Projects, Vancouver; Francesca Ekwuyasi on Nanuk & Bibi at Nocturne Halifax; Jayne Wilkinson on Legacy Russell's Glitch Feminism: A Manifesto; Joni Low on Soundings: An Exhibition in Five Parts at Morris and Helen Belkin Art Gallery, Vancouver; Ossie Michelin on Thomassie Mangiok's board game Nunami; Amelia Wong-Mersereau on La machine qui enseignait des airs aux oiseaux at the Musée d'art contemporain, Montreal; Leah Sandals on Yvonne Mullock at Norberg Hall, Calgary; Louis Fermor on Milton Lim at The New Gallery, Calgary; Adrienne Huard on Indigenous Fashion Week Toronto; Lauren Fournier on Reflecting Dis-ease: eh ateh pahinihk ahkosiwin at the MacKenzie Art Gallery, Regina; Irene Bindi on Gelare Khoshgozaran at Plug In ICA, Winnipeg; and Joy Xiang on Moving Ether Way at Trinity Square Video, Toronto.
In 2021, each print issue of Canadian Art comes with a limited-edition artist project available to subscribers only. Subscribe to Canadian Art by April 20 to receive the spring 2021 issue and ensure that you receive all four special editions this year.