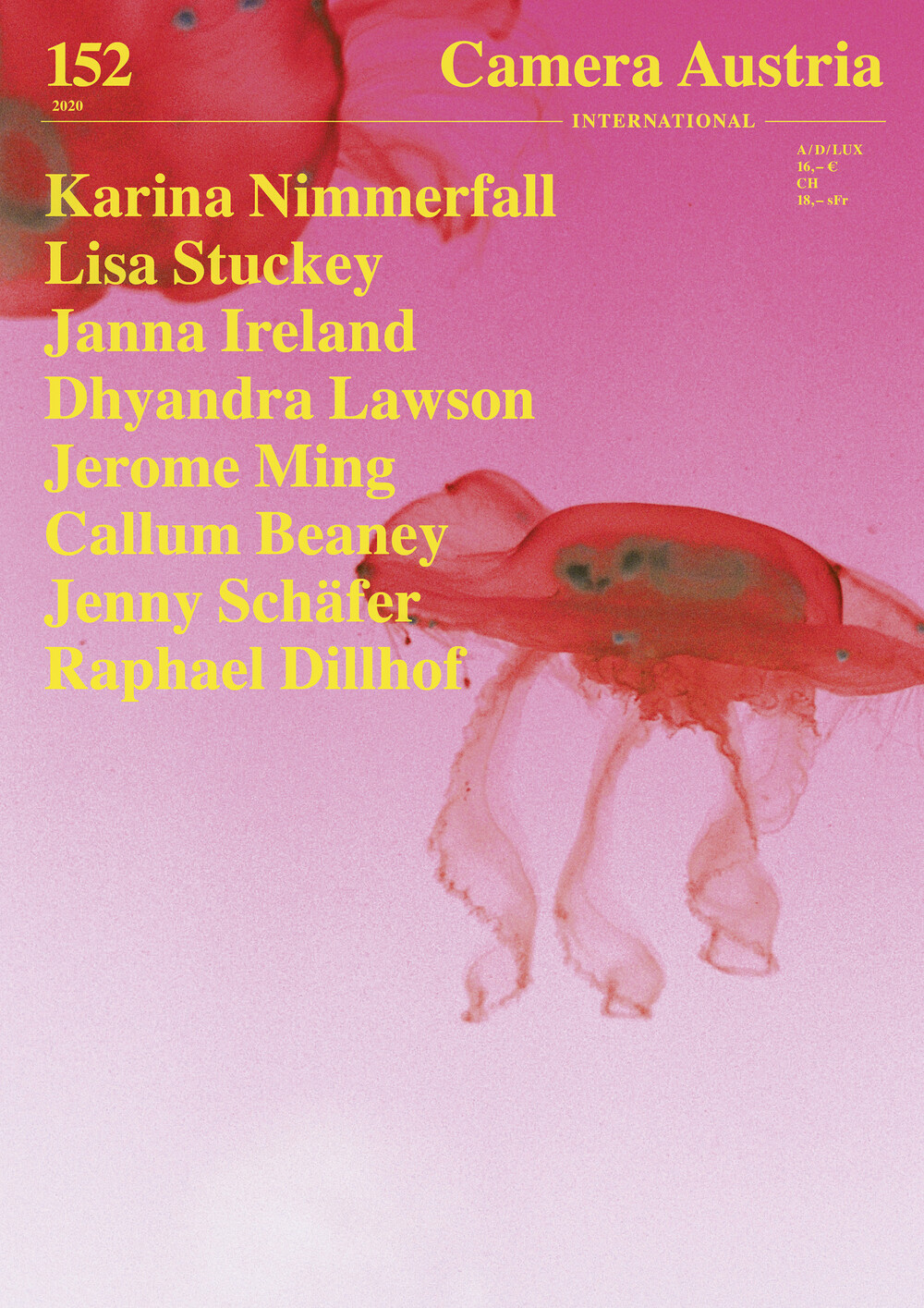 No. 152
Camera Austria, Graz / Austria
December 9, 2020

December 9, 2020
Featuring: Karina Nimmerfall, Lisa Stuckey, Janna Ireland, Dhyandra Lawson, Jerome Ming, Callum Beaney, Jenny Schäfer, Raphael Dillhof, Milo Keller, Manqin Zhang, Sara Bastai, Maeva Bosko, Joanna, Wierzbicka, Natalie Maximova, Olivia Wünsche, Erik van der Weijde, Ari Marcopoulos, James Welling
Buy this issue here or seize the special Christmas subscription offer.
In The Poetics of Space, Gaston Bachelard states that "our house is our corner of the world" (p. 26), a place shaped by memories and reveries. Yet the domestic sphere is certainly not to be seen as a site for retreating into a state of self-focused interiority, especially not in times of social distancing and spatial isolation. Rather, the positions presented in this issue of Camera Austria International shed light on how a social, political, and psychological exterior always also manifests within the intricate spaces of the private realm.
Karina Nimmerfall deals in many of her works with sites or architectural structures which embody the promise of a better future, which open up "possibilities for urban transformation processes in geographical and philosophical-topological respects," as Lisa Stuckey writes in her text about four of Nimmerfall's projects realized in recent years. In these "sequences fallen out of their time," it is not always clearly discernible where the boundaries between reality and fiction run, at which points diverging temporal planes coincide, or where visions of the future topple.
Janna Ireland also explores different planes of reality. In her interior shots and self-portraits, which are rich in art-historical references, the artist plays with the codes of a white-connoted leisure class and their clearly displayed affluence by staging herself alone or with her family in a Southern California villa. Dhyandra Lawson analyzes how "Ireland began using her own image as a subject in her work to correct the predominance of white subjects in the Western art canon." The artist touches on a similar topic in the series There Is Only One Paul R. Williams (2016–ongoing), in which she traces the projects of the African American architect Paul Revere Williams, who was responsible for designing and drawing countless private and public buildings in the Western United States.
Jerome Ming's first book Oobanken was published in 2019 and comprises photographs of carefully arranged sculptures and models, and also of staged everyday moments, which the artist took in 2013–14 while living and working in Myanmar. All photos document scenes staged in Ming's immediate surroundings, usually domestic, with his aim being to find "a way to think about photography differently." In this work, Callum Beaney sees "a dialogue about the act of creation itself. Before Ming's camera, both success and failure, final work and experiment, are given equal footing... As composed scenes, the 'documentation' starts to come together, and to feel like a work in its own right."
The pictorial worlds created by Jenny Schäfer in the collages of her current series oceans+ghosts (2020) are populated by plastic figures, decorative items, animal stickers, and all kinds of supposedly superfluous objects that accumulate over time in the playrooms of children in the Western world. Raphael Dillhof believes that these objects, which the artist stages against romantic sunsets or vividly blue pools, epitomize stability in an era overshadowed by uncertainty and threat on multiple levels: "Schäfer's images withhold any sense of orientation and jolt the viewer while remaining deeply serene at the same time, calming in their aesthetics, in their open curiosity, in their esteeming, unprejudiced treatment of their material."
Reality and fiction also become blurred in the artwork of six students from the ECAL/University of Art and Design Lausanne, who are introduced in this issue by Milo Keller, head of their study program. Computer-generated images, as well as virtual and augmented reality, allow photography to engage with the realm of the digital.
The issue is rounded off by an interview Erik van der Weijde led with Ari Marcopoulos and a comprehensive review section with responses to twenty internationally relevant exhibitions and recent publications. Moreover, Camera Austria subscribers will receive a miniposter with this issue, and we are especially pleased that James Welling accepted our invitation to design the poster, sharing with us one of the motifs from his current series "Cento" (2019–ongoing).