Over the past year, we have begun to notice a change in how our feelings manifest—from genuine physical sensations to cognitive gestures informed by geopolitics. It's hard to define these new feelings, but they are embodied in this issue of Flash Art titled "The Age of Love," named after an essay by Chus Martínez. Her self-reflective text points out the need for an imagination of immanence, of epistemological togetherness, of freedom and love.
Even during a global health and economic crisis, individuals with real messages are able to take small, radical steps forward. Yet many new voices have emerged during these unprecedented times, oftentimes thanks to nimble footwork and technological prowess. It's a daring approach that seems to be increasingly relevant among a number of the radical artists featured in this issue such as Anne Imhof (this issue cover story), Hito Steyerl and Helen Marten, among others. In some ways the geopolitical and racial complexities that marked 2020 have been embedded in everyone's process. What is key is finding a balance between aesthetics and ethics, and following through on urgent commitments within communities.
Also in this issue: Taja Cheek in conversation with Detroit based producer and DJ Carl Craig on his latest project commissioned by Dia Beacon; Mattia Capelletti discuss with Rebecca Salvadori the genesis of her work Rave Trilogy; Alessandro Sciarroni tells about himself through suggestions on celestial bodies and archetypal movements; Camilla Paolino analyzes the mythopoetic practices of Isabella Costabile; the first episode of "SPAZIO" a new visual column conceived by Alessandro Bava that will explore, along 2021, the artistic practices that use space as a medium. Moreover the research program "Digital PTSD. Art practice and its impact on digital trauma" promoted by Castello di Rivoli and two illuminating texts from our archive, by Benjamin Weil and Éric Troncy, published in 1992.
Reviews: Alejandro Cardenas, ALEXANDRIA, Almine Rech, New York / Hamishi Farah, Antagoni, Château Shatto, Los Angeles / Emma McIntyre, Pour Plenty On the Worlds, Chris Sharp Gallery, Los Angeles / Xinyi Cheng, The Horse with Eye Blinders, Hamburger Bahnhof – Museum für Gegenwart, Berlin / Lydia Ourahmane, Barzakh, Kunsthalle Basel / Richard Artschwager Gagosian, Rome / Pedro Cabrita Reis and Cerith Wyn-Evans, The Mudam Collection and The Pinault Collection in Dialogue, Mudam Luxembourg – Musée d'Art Moderne Grand-Duc Jean / Senzeni Mthwakazi Marasela, Waiting for Gebane, Zeitz MOCAA, Cape Town.
Get your print copy here or subscribe for digital access here.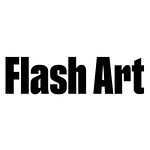 more from Flash Art Italia