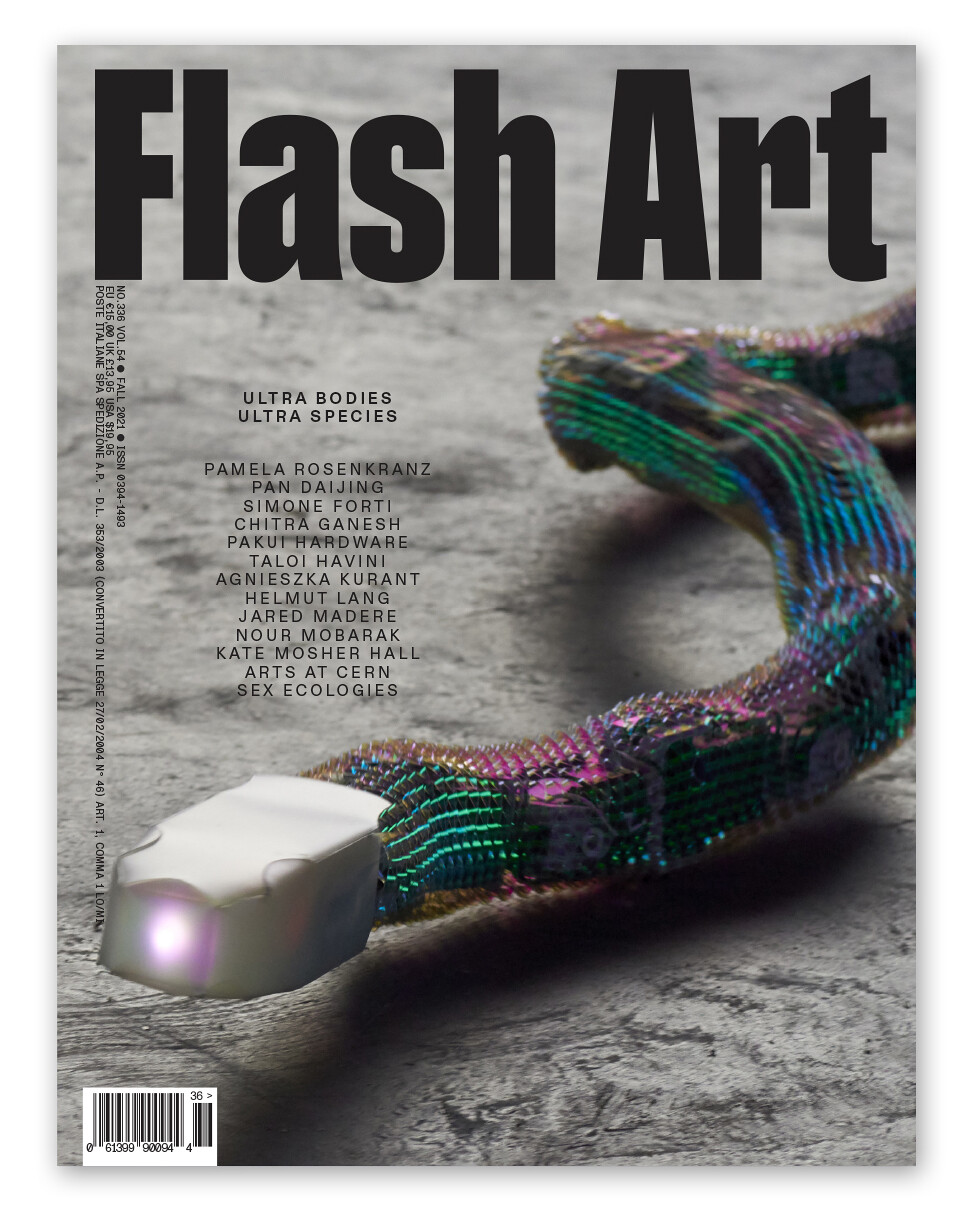 Ultra Bodies Ultra Species: fall 2021
Flash Art International
September 6, 2021
This issue inaugurating the fall season aims to reflect and expand on the concept of biodiversity in nowadays' visual arts. Over the past hundred years or so, artists and scientists have come to follow increasingly common paths, from exploration to research to discovery, and from production to dissemination, first within their communities and then across broader society. We've tried to expand the notion of biodiversity, it means in a way thinking on it as a growth of ecosystem productivity, where each species has an important role to play. From technology, the AI, the "molecular turn" etc have all an essential role within a huge number of artists productions.
Spanning from different researches and approaches, all artists involved in this issue titled Ultra Bodies Ultra Species, are designing a new scenario of the art world. Art critic Nicolas Bourriaud, that since his first group exhibition at Mo.Co Montpellier titled "Crash Test" spoke about a "Molecular Turn," in this issue reflects on Pamela Rosenkranz's invisible dimension in work—the cover story of this issue—especially on her latest production.
Noam Segal dialogues with Agnieszka Kurant, which practice deals with an expansion of what is traditionally considered the properly human realm by highlighting the agency of various nonhuman actors such as data, minerals, insects, bacteria, and collective and artificial intelligence. Ingrid Luquet-Gad analyses the recent shows by Pakui Hardware that are part of the duo's long-term research on the monitoring of post-natural bodies, organs, and life forms. The Nour Mobarak's polymorphic work is analyses by Marie de Brougerolle within the frame of current questions of posthumanism.
The issue will also features artists Pan Daijing, in conversation with Andrea Lissoni; and Simone Forti in dialogue with Patrick Steffen. Besides two special visual commissions to artists Chitra Ganesh, that has conceived a graphic narrative starting from a reflection on the concept of biodiversity, and a meditation on current states of uncertainty and fragmentation. Fusing image and text, she constructs a multilayered narrative that animates the interconnected nature of being; and Jared Madere, which has worked for six years with AI across various mediums, created a visual essay that responds to the skepticism aimed at the ethics of employing AI in police and surveillance infrastructure. Moreover Flash Art Editor Eleonora Milani invited Mónica Bello, Head of Arts at CERN, to talk about the relationship between the arts and sciences. All productions presented in this issue may function as the biodiversity, in which diversity of mediums and branches ensures sustainability for a huge number of art forms.
Also in this issue: Chus Martínez, for the third chapter of her column "The Age of Love" dedicates her investigation on nowadays emotions on Taloi Havini's work she presented at Ocean Space in Venice; Charlie Robin Jones explores how we can think of biodiverse design beyond the surface signifiers of "green" fashion via the life and work of Helmut Lang, looking at Lang's subtraction of himself from the fashion machine, and into the world of art; for his last episode of "Tell Everyone" William J. Simmons' focuses on the tenth anniversary of Lady Gaga's Born This Way that marks a moment in her development as an artist, but it is likewise a moment in the fan's development, whose life is lived in proximity and relation to the object of fandom; and Mariana Lemos reflects on the book Sex Ecologies, edited by Stefanie Hessler, a process of gathering, mapping, working through, and working with ideas that have recently begun to intersect both the humanities and the arts, trying to understand what sex ecology is; and Kate Mosher Hall recounts a personal life experience in her "Letter from the city" from Los Angeles.
Reviews: Carol Bove The séances aren't helping The Metropolitan Museum of Art, New York / Virgil Abloh Figures of Speech ICA, Boston / James Barnor Accra / London – A Retrospective Serpentine Galleries, London / Martine Syms Aphrodite's Beasts Fridericianum, Kassel / Ouverture Pinault Collection – La Bourse de Commerce, Paris / La Mer imaginaire Fondation Carmignac, Porquerolles Island
Get your print copy here or subscribe for digital access here.