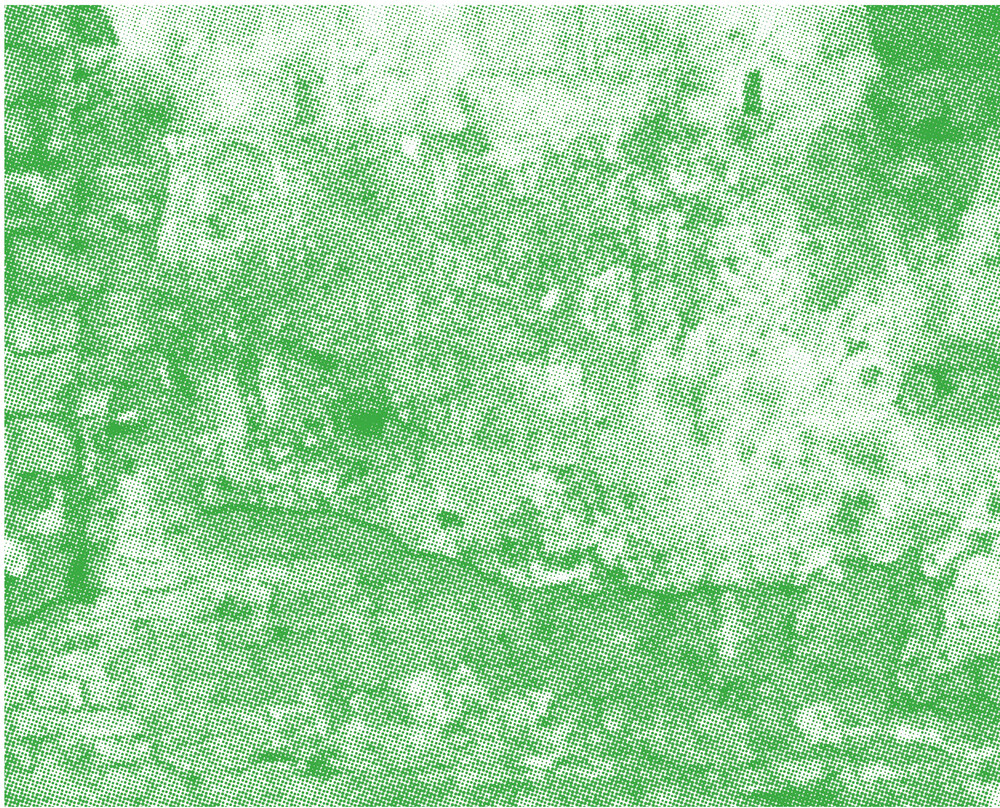 Zuzanna Czebatul, Nahir Francis, and Eric Winkler
Untitled (Matchstick)
Sleek Magazine
September 5–19, 2021

September 10, 2021
SLEEK Magazine is pleased to present the exhibition Untitled (Matchstick) featuring three Berlin-based artists at a new location at the Reinickendorf creative complex Wilhelm Hallen within its current show, Hallen #2 – Yes To All.
The installation titled Without Any Meaning, We're Just Skin and Bone; Like Beautiful Robots Dancing Alone by Eric Winkler is inspired by bpm-heavy, electronic rhythms and a feeling of random encounters on the dance floor. Light reflections and beats seem to have been captured in the tiles and burned in through glazing. Also featured is the newly interpreted work Daze by Zuzanna Czebatul, depicting two intertwined obelisks that seem to toss around on the bed. In addition, the artist is showing five new concrete casts from the series, an ironic commentary on prevailing power structures. A video installation by non-binary multimedia artist Nahir Francis asks questions about social sustainability that can be experienced. During the exhibition, Francis will show various performances and will leave objects that will complete the installation until September 19.
We visited the artists in their studios to discuss their work and future projects. Read the interviews in the latest issue, SLEEK #70 The TRUTH, (release date September 10). The conversations will also be available online. In addition, SLEEK will offer artist editions on sleek-mag.com.
Zuzanna Czebatul
Zuzanna Czebatul's (1986 in Międzyrzecz, Poland) work focuses on systems of rule and power relations, about social and ecological issues or freedom. The artist is also perceived as an activist in various civil society contexts. It raises questions about justice and socially and politically sustainable thinking and acting. Sustainability cannot succeed without the ruling class. The question of those bodies that have to create ecological guidelines is raised. And not the criticism of the "unecological" actions of the individual. Who is in charge and how do you manage to formulate a common goal for the future? For the work Daze she develops an existing idea further and places her well-known, entwining obelisks on a bed. Next to this sculpture she shows five new casts of a circular relief paintings, tondi. A tondo is a circular sculpture that was used to decorate architecture in antiquity and represent people portrayed with dignity. The section on the erect penis, on the other hand, looks indecent, like adolescent scribbling. The term pornography comes from antiquity and describes an exclusive area of ​​representation of eroticism to which only men with a certain social position had access. These concrete works are consequently called Gentle Reminder (of the Banality of Power).
Eric Winkler
For Eric Winkler (1980 in Königs Wusterhausen), sustainable and resource-saving work is a principle of action. Energy and material are used as needed, and production waste is almost entirely avoided or re-used. His critical attitude toward consumption can be seen, for example, in his distribution methods, so pieces are deliberately not available in stores, but through personal contact. The melancholy title Without any meaning, we're just skin and bone; Like beautiful robots dancing alone he found in the song "Untouchable" by Girls Aloud. The DJ nd_baumecker played the song in December 2020 to celebrate Berghain's birthday, but due to the pandemic and the club's closure, only via an Instagram post. The post went viral and created a spatially independent, highly emotional dance floor moment. As such, the values of local subcultures such as punk, graffiti, techno and queer shaped Winkler's social understanding of art.
Nahir Francis
The non-binary artist Nahir Francis (1993 in Philadelphia, USA) creates situations that make people think about nature, the self, and the world. In ongoing performances in the Wilhelm Hallen the artist will invite the visitors to participate. "Keeping that same idea in mind, I consider being sustainable as an achievable practice. A practice that can be learned and explored at various levels, which has an impact regardless of how large or small the perceivable measures are... The pace of our world, including our fashion, is fast. At this pace, it is difficult to sustain the balance of life, human and non-human. For many, our pace of existence has caused a loss of connection with a sense of the true value of time and resources that improve the quality of life. Without a clear and balanced connection, it is difficult for individuals to make creative or empathetic decisions and solutions to improve their own quality of life or the world around them. With the performances activating the installation I aspire to provide the audience with an experience that both clears the mind and invites them to feel a sense of unity within themselves and with nature. I desire to transport the audience into a space where they sense the urgency and possibility of contributing quality action to the sustaining of our earth." –Nahir Francis
This exhibition has been made possible with the support of UGG, whose FEEL GOOD initiative is dedicated to the brand's commitment to environment, community and innovation. For more information on UGG's sustainability mission, please visit feelgoodfuture.ugg.com
Curated by Hans Krestel.

Opening hours
September 12, 2–7pm / Saturday–Sunday 11am–7pm
Press + Artist information
T 0049 177–6464856, press [​at​] sleekmag.com