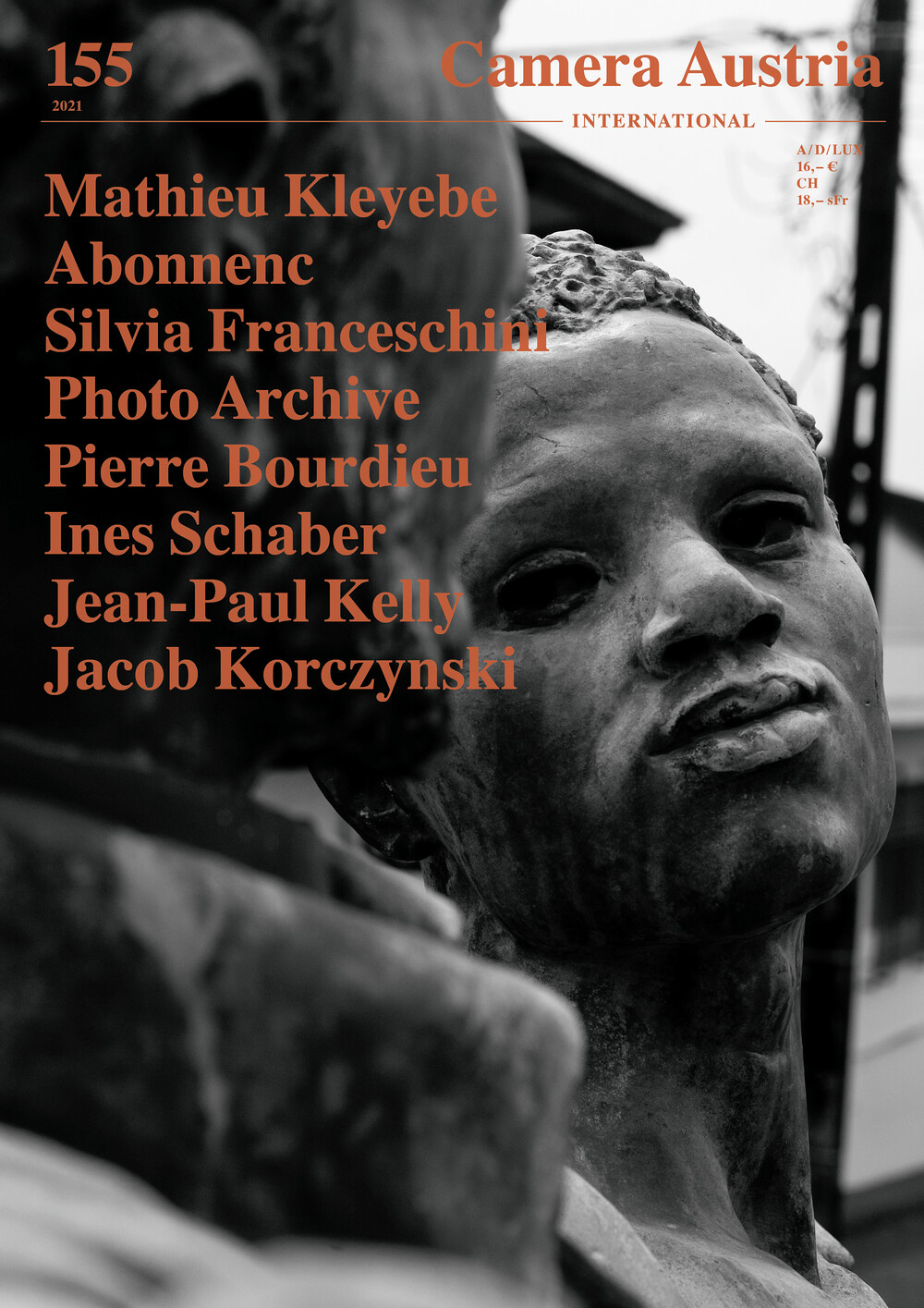 No. 155
Camera Austria, Graz / Austria
September 8, 2021
Buy this issue or get a subscription.
Featuring: Mathieu Kleyebe Abonnenc, Silvia Franceschini, Photo Archive Pierre Bourdieu, Ines Schaber, Jean-Paul Kelly, Jacob Korczynski, Julia Debus, Amy Touchette, Elisa Goldammer, Lucas Leffler, Sina Link, Cédrine Scheidig, Erik van der Weijde, Roger Willems, Stephan Keppel, and many more
The works presented in Camera Austria International no. 155 are devoted to different ways of accessing archives through exploration and illustrate how these archives are always also characterized by processuality and not necessarily by linear readings. Hence, the artist contributions featured in this issue show the incompleteness, the overlapping and changing, that characterizes landscapes, archives, and artistic works equally.
Taking an approach that links biographical research, archival material, artifacts, and metafictional elements, much of Mathieu Kleyebe Abonnenc's work deals with France's entanglements in the history of its former overseas colonies, especially French Guiana, and with the issue of how postcolonial trauma is inscribed in landscapes. Silvia Franceschini associates Abonnenc's poetic films, photographs, and installations with the writings of the British-Guianese author Wilson Harris, which have long influenced the artist: "In line with Harris's vision of the landscape as a matrix where an infinity of possible historical relationships comingle, he tries to materialize those traces, specters, and erasures of history, which, as a whole, offer a possibility to recover from the feeling of geographical and cultural loss that marks the nation's history."
Ines Schaber, in turn, invites readers to join her in examining the photographic archive of the French sociologist Pierre Bourdieu, especially the pictures he took between 1957 and 1961 during his period of research in Algeria. In her text, Schaber explores the complexity of this archive created during the Algerian War. She elaborates on the role that photography may have played for Bourdieu in his engagement with a land that was foreign to him and with its inhabitants, and how he used the medium to negotiate his relationship with the people and situations he encountered there. "Why did Bourdieu take photos in Algeria in the first place, what did he want to comprehend and show with his photography? What was he 'looking' at?—What studies was he carrying out while taking the photographs? Were they part of his research work, or was he pursuing a different project with them? What function did photography have for him?"
Jean-Paul Kelly and Jacob Korczynski have worked closely to develop a contribution that explores the limits of readability in the space of the magazine and fluctuates between language and image. Through methods of obscuring, superimposing, and revisiting existing images, Jean-Paul Kelly makes visible the complexity of ethical issues related to engaging with diverse source material—including photojournalism, pictures from magazines and image search engines, surveillance footage, and FBI files—while simultaneously negotiating their relationship to diverse formats and spaces. "My practice is one of oppositional critique, which often necessitates a doubling, a 'near proximity,' through strategies of appropriation, translation, inversion, reenactment, and abstraction to counter ideological apparatuses that mediate documentary representation."
The issue is rounded off by an interview Erik van der Weijde led with Roger Willems from Roma Publications for his series "Talking Books" and a comprehensive review section with responses to internationally relevant exhibitions and recent publications, including Investigative Commons, HKW, Berlin; Laura Poitras, n.b.k., Berlin; Stefan Panhans / Andrea Winkler, Kunstverein für die Rheinlande und Westfalen, Düsseldorf; Mohamed Bourouissa, Goldsmiths, London; sonsbeek20–>24, Arnhem; Zineb Sedira, Bildmuseet, Umeå; Jef Geys, Kunsthalle Bern; Les Rencontres de la photographie, Arles, and many more.
Get the issue here!
Join our newsletter.