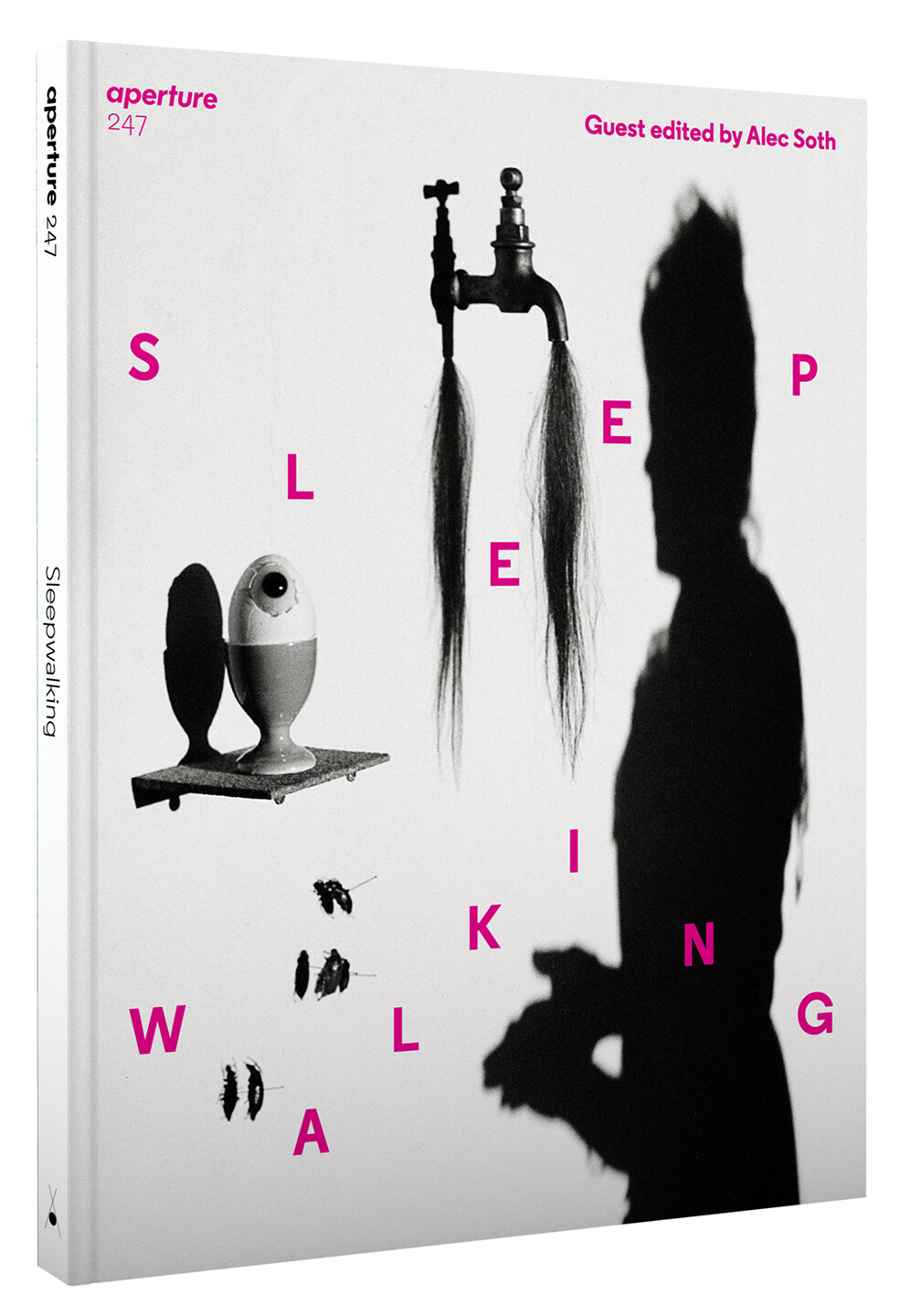 Issue 247: "Sleepwalking" guest edited by Alec Soth
Aperture Magazine, New York / United States
June 14, 2022
Buy this issue or subscribe and save.
"Sleepwalking," guest edited by Alec Soth, explores photography's relationship to dreams, wakefulness, and chance. And, starting summer 2022, The PhotoBook Review is now published exclusively within every issue of Aperture. In this issue:
Words & pictures
"Song of the Open Road"
Guest editor Alec Soth on photography's lyrical potential
A conversation with Siri Hustvedt
"Pictures for Dreaming"
From Alice Neel to Masahisa Fukase, the artists who have inspired Alec Soth
"Sideways Logic"
Emila Medková's wry Surrealism
Olivia Laing
"The Narrative Artist"
Sophie Calle's art of games and chance
Aaron Peck
"Apparitional Automaton"
The figure of the sleepwalker in art
Marina Warner
"The Family"
In Gregor Schneider's London-based project, two eerily similar houses
Gesine Borcherdt
"Things Out of Place"
Etienne Courtois hunts for images that already exist
Sara Knelman
"Angel, Fiend, Surrealist"
Lee Miller's many lives
Lauren Elkin
"On the Silence of Myth"
In the Swedish countryside, Maja Daniels collapses time
Kristian Vistrup Madsen
"Her Own Private Iowa"
Nancy Rexroth's 1970s experiments with a Diana camera
Rebecca Bengal
"Where the Cherries Blossom"
From Elliott Jerome Brown Jr., visions of a Black subjectivity
Harry Tafoya
"The Human Condition"
Duane Michals on luck and fate
A conversation with Jesse Dorris
Plus—Glen Helfand on Janet Delaney's fascination with everyday workers; Phoebe Chen on the monumental films of Wang Bing; Juliana Halpert on Anthony Hernandez and the streetscapes of Los Angeles; Vasantha Yogananthan on Etel Adnan, Jim Goldberg, and the French rapper Laylow; six questions for Jim Jarmusch; and The PhotoBook Review: a new section that includes a conversation about the book as exhibition with photographers Hiroko Komatsu and Osamu Kanemura; Brian Wallis on a biography of Vivian Maier; and reviews of photobooks by Nona Faustine, Samuel Fosso, Óscar Monzón, and Anna Stüdeli.
Use #ApertureMagazine to join the conversation on Twitter, Instagram, and Facebook.
Aperture: The Magazine of Photography and Ideas
Subscribe now to save and never miss an issue.
Support has been provided by members of Aperture's Magazine Council: The Kanakia Foundation, Jon Stryker and Slobodan Randjelović, Susan and Thomas Dunn, and Michael W. Sonnenfelt, MUUS Collection. Additional support is provided in part by the New York City Department of Cultural Affairs in partnership with the City Council.
Aperture Foundation's programs are made possible in part by the New York State Council on the Arts with the support of the Office of the Governor and the New York State Legislature.