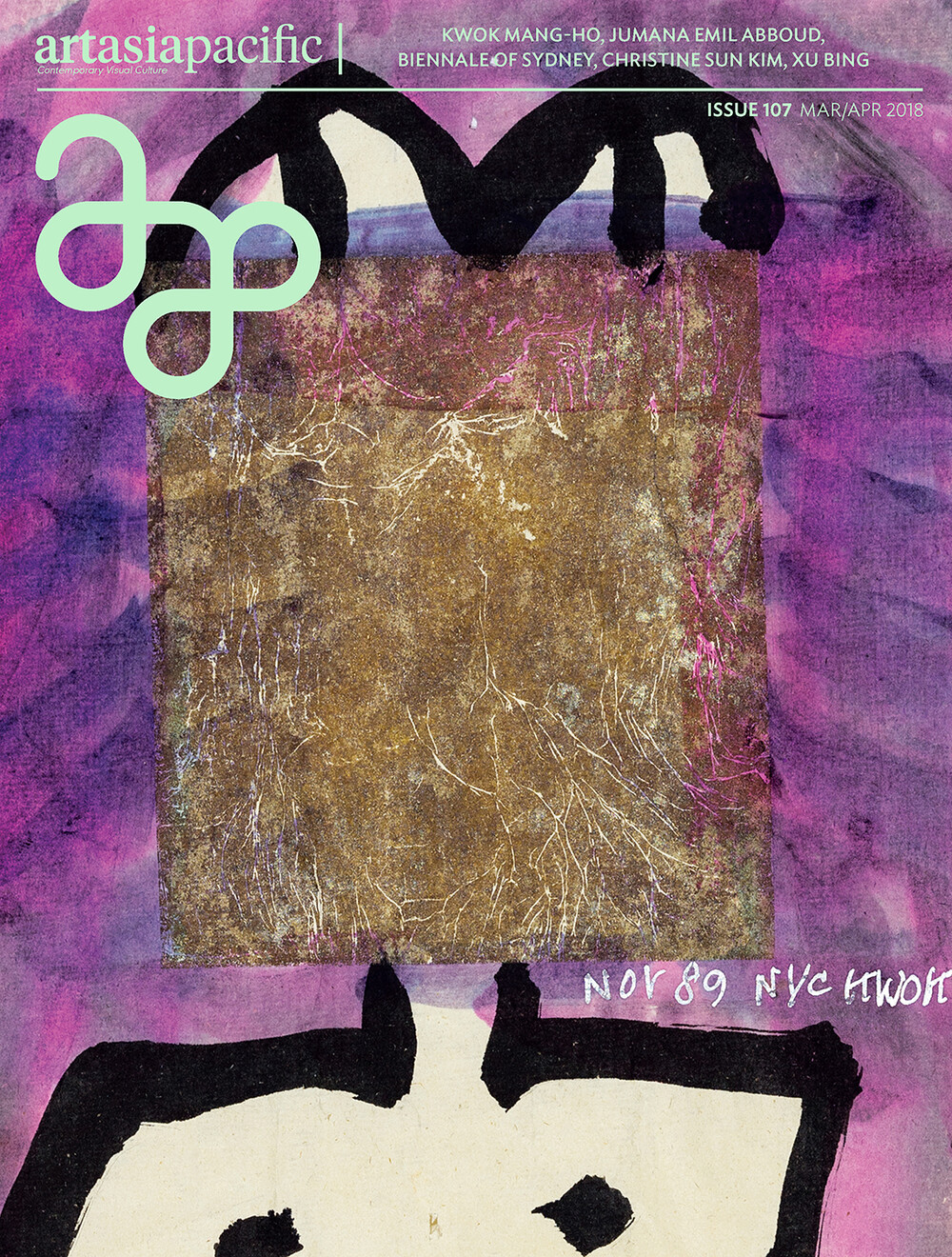 ArtAsiaPacific
March/April 2018
ArtAsiaPacific
March 1, 2018
In ArtAsiaPacific's March/April issue, we examine how artists have reconciled fundamental beliefs with the material world, prodding and predicting what tomorrow offers.
Our cover Feature chronicles the life of Kwok Mang-Ho, whose performance and installation art in the 1970s informed a generation of Hong Kong artists. AAP managing editor Ysabelle Cheung explains that the 70-year-old artist, who represented Hong Kong in the 54th Venice Biennale in 2011, projects a bifurcated identity. He is the fire-eating Kwok, setting toys and plastic pipes alight; his alter ego, the lovable Frog King, bursts forth with color and song.
In the second Feature, AAP editor-at-large HG Masters examines the work of Jerusalem-based Jumana Emil Abboud, whose excursions across the West Bank sees her summoning djinn and ghouls from Palestinian folklore. Through performances and paintings, Abboud reflects on ownership of occupied lands and the traditions that are tied to locations.
This issue also introduces two special Features, both developed for AAP's 25th anniversary. One delves into our archives to compile a selection of images that encapsulate the sociopolitical and cultural climates throughout AAP's history, from censorship in Thai art in the 1990s to creative responses to the Iraq War. The other is a visual portfolio of five up-and-coming artists who explore modernization: Inas Halabi, the Karrabing Film Collective, Kim Heecheon, Andrew Luk and Genevieve Chua.
Rounding out the Features, Hong Kong conceptualist Ho Siu Kee speaks to Debe Sham about her community-based interventions during her Yale-China Arts Fellowship, for Inside Burger Collection.
We profile collectors and art patrons to mark March's many art events, from the 21st Biennale of Sydney to Art Basel Hong Kong. Désiré Feuerle, who opened The Feuerle Collection in a World War II bunker in Berlin in 2016, relates his obsession with classical and contemporary works. Sydney's Penelope Seidler discusses her support for cultural institutions. Shanghai collector-couple Andrew Ruff and Ling Ling Zou discuss their acquisition of works by Chinese contemporary artists. Hong Kong shutterbug Douglas So opens up his F11 Foto Museum to reveal his collection of vintage photographs and Leica cameras. Pakhruddin Sulaiman explains how radical work made by young Malaysian artists buoyed his interest in contemporary art. Jam Acuzar, founder of Bellas Artes Projects in Bataan, invites artists to the Philippines to escape the art market's pressures.
In Essays, AAP's Taiwan desk editor David Frazier ruminates on the impact of Xu Bing's film Dragonfly Eyes (2017), compiled from over 10,000 hours of CCTV footage. Cleo Roberts visits Manila to cover the activities of artist-run organizations such as 98B Collaboratory and Green Papaya Art Projects.
In One on One, Biennale of Sydney participant Brook Andrew reads the work of Jimmie Durham as a manifesto for society's self-destructive tendencies. In The Point, Berlin-based Christine Sun Kim discusses her identities as an Asian mother, artist and a Deaf person who communicates with the world via American Sign Language and art. Reaksmey Yean's Dispatch, from Phnom Penh, argues for varied streams for culture that could reframe Cambodia's narrative. Reviews include "Negotiating the Future: 6th Asian Art Biennial" at the National Taiwan Museum of Fine Arts, Ahmed Mater's "Mecca Journeys" at the Brooklyn Museum and more.
Finally, in Where I Work, we visit Palestinian artist Jawad al-Malhi in Ramallah. Since the 1980s, he has depicted residents of the Shuafat refugee camp in his paintings and sculptures. Although the work shows us how little has changed, it recognizes the daily struggles in the camp. These residents wish to connect with the outside world, just as those outside might wish to connect with them.
Subscribe to the print edition or buy digital copies on iTunes, Google Play, Zinio or Magzter. Subscribers can access our entire back-issue catalog in ArtAsiaPacific's Digital Library. Download the ArtAsiaPacific City Guide app today to be in the know about events and openings in 53 countries and territories across Asia, the Pacific and the Middle East!