Ellie Ga
Square Octagon Circle
Siglio
September 10, 2018
Siglio at Printed Matter's New York Art Book Fair :
September 21–23
Table B17
Book Lauch at Bureau Gallery:
October 11, 6:30–8:30pm
178 Norfolk St, New York, NY 10002
MoMA PS1
22-25 Jackson Ave.
Long Island City, New York 11101
United States
sigliopress.com
Instagram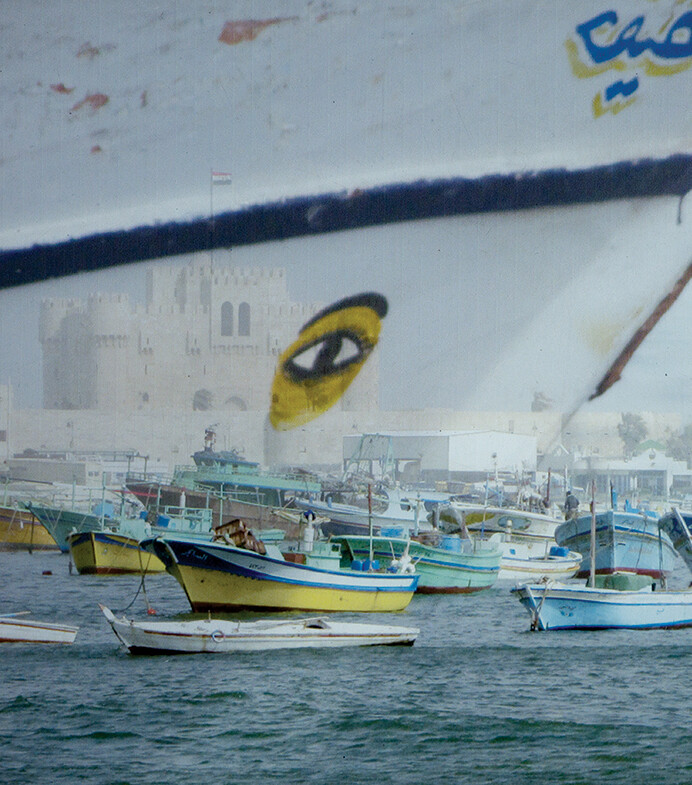 A labyrinthine inquiry into the Pharos Lighthouse that maps the impossible desire to reconstruct this wonder of ancient Egypt.
Over 2,000 stone remnants of the fabled Pharos Lighthouse lie in the murky waters of the Mediterranean. Although mapped meticulously by underwater archaeologists, this ancient wonder will never be reconstructed: the lighthouse can only be inferred from its fragments. Above the surface, in the post-revolutionary Egyptian city of Alexandria, images of the lighthouse are everywhere, populating the public imagination, though they bear little resemblance to the ruins at the bottom of the sea.
In a richly layered narrative of image and text, artist Ellie Ga embarks on a labyrinthine inquiry into the lighthouse, navigating the spaces between history, memory and mythology, translation and mistranslation, the uncovered and the overlooked. Ga takes the reader with her on dive boats and into the water, behind the walls of hidden museums, through city streets pasted with political graffiti, into the offices of archaeologists and the homes of Alexandrians.
Using a lightbox and transparencies of photographs, video stills, and an array of archival materials, Ga arranges and rearranges fragments, accumulating and subtracting them to illuminate correspondences and contradictions. Above and below the surface, into the past and the present, Square Octagon Circle not only pursues seeming tangents, elusive truths and near-discoveries, but also maps the impossible desire to reconstruct this ancient wonder of the world.
Square Octagon Circle by Ellie Ga, paperback with die-cut cover and flaps, 212 pages, full color throughout, 7.25 x 8. ISBN: 978-1-938221-18-7. Published: September 25. There is also a limited edition of 25 that includes a signed and numbered archival inkjet print with the paperback book.
"Ga doesn't just present a Keatsian capability of 'being in uncertainties, mysteries, doubts.' She seeks out answers in her process, which meanders like waves or ice cracks, with a democratic openness to an aggregate of voices and perspectives. Triangulation is not quite the word for how she connects her physical movement through a place to points of references in history, mythology, science, and her own memory and conversations. If I could assign her associative procedure a geometry, it would be that of the Stomachions she discovers in her consideration of Archimedes: a puzzle of 14 pieces that can form a square, in hundreds of distinct arrangements." —Emmy Catedral, BOMB
Ellie Ga is a New York-born artist whose immersive, wide-ranging investigations include the classification of stains on city sidewalks to the charting of the quotidian in the frozen reaches of the Arctic Ocean. In performances, video-essays and installations, Ga's braided narratives intertwine extensive research with first-hand experiences that often follow uncertain leads and take unexpected turns. She has exhibited and performed internationally at the New Museum, The Kitchen and the Guggenheim Museum in New York, the Albright-Knox Museum in Buffalo, and La Fondation Cartier pour L'Art Contemporain in Paris, among many others. Her most recent solo exhibition in New York City was Strophe at Bureau Gallery in 2017.
Printed Matter's New York Art Book Fair at MoMA PS1
September 21–23
Find Siglio in "The Dome" at table B17 where Square Octagon Circle will be featured with more fall titles—Intermedia, Fluxus and the Something Else Press: Selected Writings by Dick Higgins and Frail Sister by Karen Green.
About Siglio
2018 marks Siglio's tenth year of of fiercely independent publishing, driven by its feminist ethos and its commitment to artists and writers who obey no boundaries, pay no fealty to trends and invite readers to see the world anew by reading word and image in provocative, unfamiliar ways. Siglio books—authored by Joe Brainard, Marcel Broodthaers, John Cage, Sophie Calle, Karen Green, Dorothy Iannone, Ray Johnson, Jess, Nancy Spero, Cecilia Vicuña, among many others—have earned devoted readerships as well as critical accolades from New York Times, the New Yorker, New York Review of Books, Times Literary Supplement, London Review of Books, Los Angeles Times, and Bookforum among many others.
more from Siglio