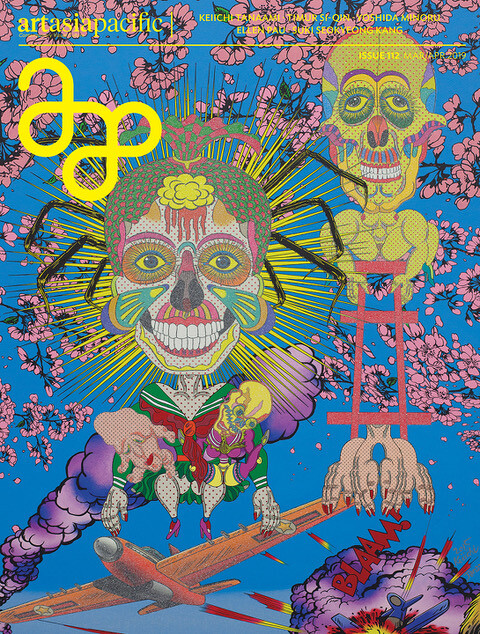 ArtAsiaPacific issue 112
ArtAsiaPacific
March 1, 2019
ArtAsiaPacific's March/April issue explores topics of technology and communication. Our cover Feature is a retrospective take on the work and life of Keiichi Tanaami, whose macabre paintings, installations and avant-garde animations conflating Japanese Edo-era aesthetics with Americana signaled the rise of the pop art movement in Japan in the late 20th century. The prolific octogenarian influenced several generations of contemporary artists and continues to communicate a unique perspective on the world. In the second Feature, AAP reviews editor Ophelia Lai explores the seductive, recurring and connective patterns in our world that compel Timur Si-Qin to produce complex multimedia installations that, in Lai's words, "aim to upend the artificial dualisms that alienate humans from nature, and ask how a wider understanding of natural patterning can open up windows to the divine." Our special Inside Burger Collection Feature is a sparse recollection, anchored by quotes on absence and spatial distance, of Gianni Jetzer's multi-artist exhibition How to See [What Isn't There], held at the Langen Foundation in Neuss, Germany.
Rounding out the Features is a new section called In Depth, in which AAP editors dissect recently produced artworks in close detail. Writing about Apichatpong Weerasethakul's video installation Blue (2018), deputy editor and deputy publisher HG Masters describes the effects of seeing the work at the Bangkok festival Ghost:2561 and notes how it exemplifies what film theorist Giuliana Bruno calls a "screen membrane" that turns art and architecture into "pliant planes of moving images." And looking at a work that circulates on the micro-screens of smartphones, managing editor Ysabelle Cheung discusses one of Nalini Malani's iPad stop-motion animations, that the veteran new-media artist posts to her Instagram account as philosophical ruminations.
In Profiles, we spotlight art patrons from the Asia-Pacific region who stand out from the pack: Christoph Bendick, one of the leading collectors of contemporary art from Cambodia; Sydney-based spin-doctor and museum patron Sue Cato; Shenzhen's Frank F. Yang, who pushes for collaborations related to art education; the LGBTQ art collector and activist Patrick Sun; and Singapore's Edmund Cheng, who has lobbied the government and real-estate developers to place art in the city's public spaces for nearly 30 years.
Focusing on New York, Eugenie Tsai writes a short Dispatch on the recent shifts toward inclusivity and diversity, picking up where the 1990s left off and starting with the city's re-examination of monuments dedicated to racially exploitative or abusive figures, such as 19th-century gynecologist J. Marion Sims, whose statue was removed from Central Park in 2018. Tsai, who is the John and Barbara Vogelstein curator of contemporary art at the Brooklyn Museum, champions art-activist organizations such as the Chinatown Art Brigade, which are blazing new paths in a historically white-and-privilege-centered city.
For Where I Work, AAP visits Suki Seokyeong Kang in her studio at the foot of Inwangsan Mountain in Seoul. The craggy peak has been a popular subject for Korean painters since the Joseon dynasty, most famously in a landscape by Jeong Seon (1676–1759), whose works and approach to painting are an inspiration for Kang. For One on One, Ellen Pau, long considered a pioneering figure in Hong Kong's video and new-media art scene, discusses multidisciplinary artist and theater director Danny Yung's revolutionary Video Circle piece, conceived in 1996, when television monitors were cubes rather than the flat screens of today. To Pau, the lapses and lags between the various analog videos by numerous Asia-Pacific artists playing on each of the TV sets embodied the artistic potentials of the medium itself. Pau's recollection of this work, and its collaborative spirit, mirrors a line from Nina Horisaki-Christens's essay on artist Yoshida Minoru's practice: "Communication is never straightforward or easy, yet the struggle to connect across linguistic divides generates new meanings that enrich our understanding of ourselves and our worlds."
Subscribe to the print edition or buy digital copies on iTunes, Google Play, Zinio or Magzter. Subscribers can access our entire back-issue catalog in ArtAsiaPacific's Digital Library. Download the ArtAsiaPacific City Guide app today to be in the know about events and openings in 53 countries and territories across Asia, the Pacific and the Middle East.
Don't forget to check out the ArtAsiaPacific Podcast; subscribe on iTunes for exclusive art news, interviews and stories narrated through sound.