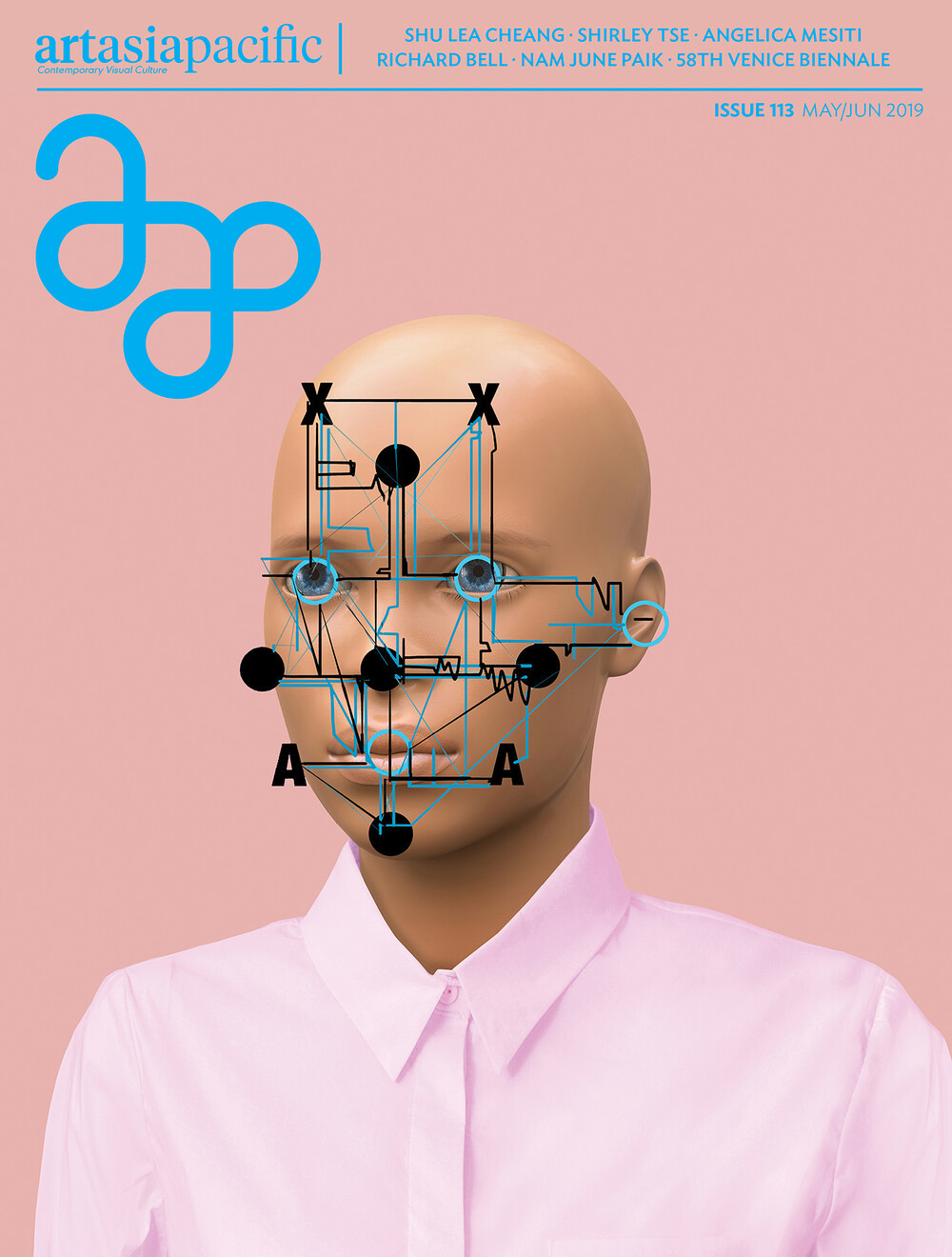 ArtAsiaPacific May/June 2019
ArtAsiaPacific
May 1, 2019

May 1, 2019
In the May/June issue of ArtAsiaPacific, we highlight Venice Biennale artists who have imaginatively forged new links between themselves and others.
Critic, curator and artist Banyi Huang studies the practice of net-art, bio-art and new-media pioneer Shu Lea Cheang, whose new work appears on the cover. Cheang will present the multi-chamber installation 3x3x6 at the 58th Venice Biennale, in the Taiwan Pavilion collateral exhibition. The installation, which investigates the surveillance, control and incarceration of the contemporary body, suggests, in Huang's words, "The body... through the deconstructed misuse of technologies... can also be hacked, remixed and reprojected as a resistant tool for solidarity and affirmation."
Shirley Tse, who will represent Hong Kong at Venice, has fashioned a visual diary of everyday objects in 3D-printed joints and hand-turned wooden forms in a "rhizome-like" installation, Negotiated Differences (2019), which will occupy the pavilion. Linked together, these objects—a badminton racket and a bowling pin, for example—are a continuation of her interests in ideas of plasticity and the molecular structures of polymers, and their connection to global patterns of migration and trade, as Tse explains in an interview with Julee Woo Jin Chung.
For her new three-channel video installation that will premiere at the Australia Pavilion, Angelica Mesiti filmed various performers and musicians within the stately halls of the ancient Senate in Rome and the Australian Senate in Canberra. In a conversation with Museum of Contemporary Art Australia chief curator Rachel Kent, Mesiti discusses the social and political nature of human communication, which she often explores using antiquated forms of technology as well as nonlinguistic methods in her highly choreographed works.
Elsewhere in the Features, for Inside Burger Collection, curator Carlos Basualdo looks at the socially engaged art practice of Mohamed Bourouissa. For In Depth, AAP's editors examine four new works in detail, including Candice Lin's earthy figurines; Christopher Kulendran Thomas and Annika Kuhlmann's display-room-like installations; the latest manifestations of Ho Tzu Nyen's ongoing project The Critical Dictionary of Southeast Asia (2012– ); and Tuan Andrew Nguyen's four-channel video installation about the Vietnamese-Senegalese community in Dakar.
In our Essays section, Tai Kwun Contemporary's head of arts Tobias Berger reminisces about Nam June Paik's Electronic Super Highway installation at the 1993 Germany Pavilion, in which the late godfather of video art predicted today's technology-driven hyper-connectivity.
Rounding out our spotlight on the Venice Biennale, the Profiles section highlights the practices of three Venice pavilion artists—Song Ming-Ang, siren eun young jung and Mark Justiniani—representing Singapore, South Korea and the Philippines, respectively. For Where I Work, contributing editor Michael Young visits Indigenous artist Richard Bell, who will mount his provocative Embassy (2013–) project as an unofficial installation in Venice. The tent, inspired by the 1972 Aboriginal Tent Embassy as a protest for the political rights of Aboriginal Australians, focuses on resistance in the face of increasing xenophobia and nationalism.
Increased intergroup contact can lead to positive integration and visibility, as artist and academic Laura Kina clarifies in her Dispatch from Chicago, where an intermixing of people—queer, colored, differently abled—has created new artistic communities despite the problems of gentrification. In The Point, Matthias Arndt of A3 – Arndt Art Agency argues for a more open-network approach to the art market.
And, finally, in One on One, artist Anida Yoeu Ali pens a moving tribute to the late Lee Wen (1957–2019). Ali explains how Lee, known for iconic "Yellow Man" performances that critiqued stereotypes of Asian identity, inspired generations of artists in Southeast Asia and left a lasting legacy.
Subscribe to the print edition or buy digital copies on iTunes, Google Play, Zinio or Magzter. Subscribers can access our entire back-issue catalog in ArtAsiaPacific's Digital Library. Download the ArtAsiaPacific City Guide app today to be in the know about events and openings in 53 countries and territories across Asia, the Pacific and the Middle East.
Don't forget to check out the ArtAsiaPacific Podcast; subscribe on iTunes for exclusive art news, interviews and stories narrated through sound.