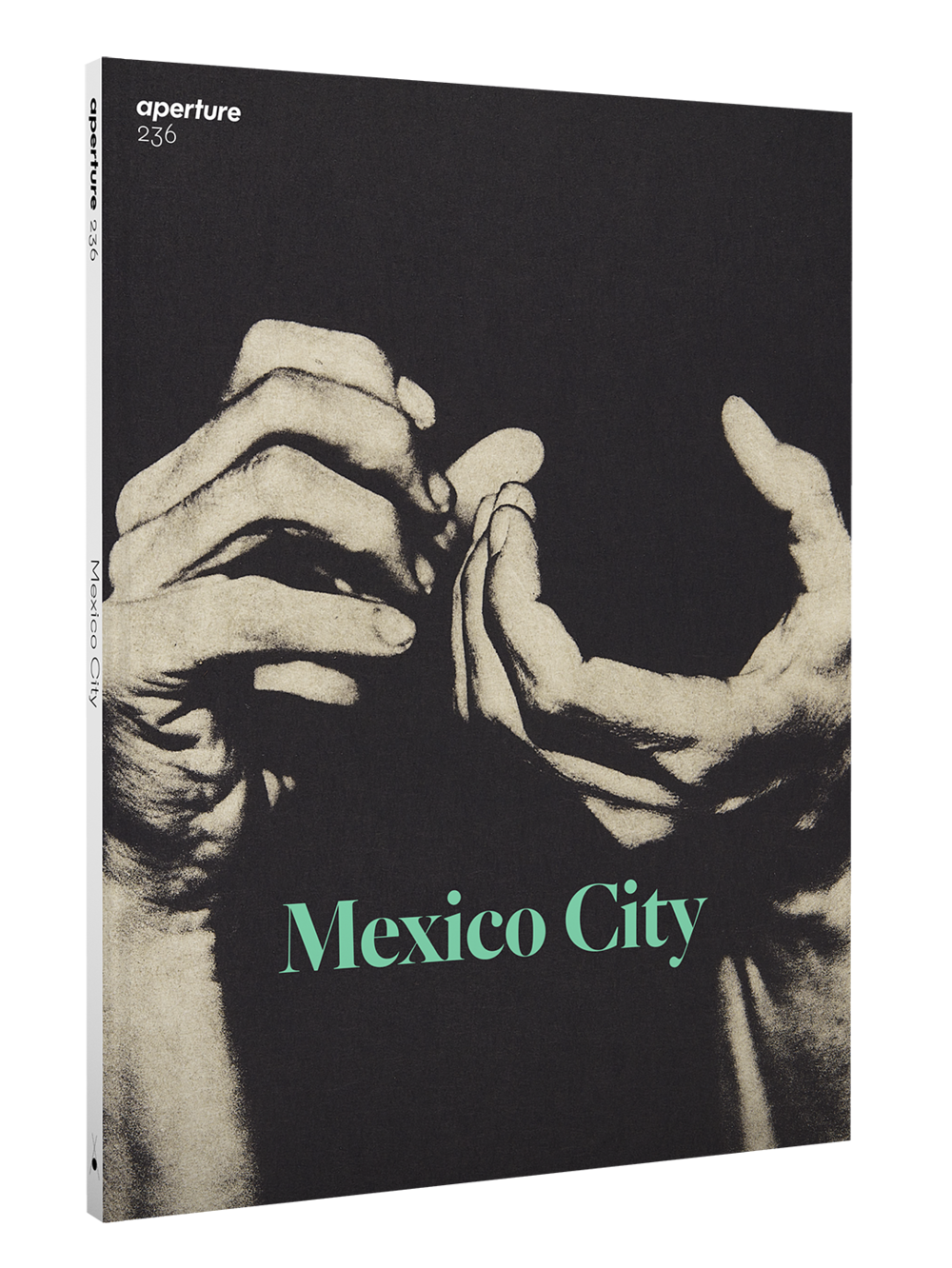 Issue 236: "Mexico City"
Aperture Magazine, New York / United States
September 10, 2019

September 10, 2019
This fall, Aperture considers the thriving photography scene in Mexico City, North America's largest metropolis. The fourth in Aperture's series of city-focused issues—following São Paulo, Tokyo, and Los Angeles—"Mexico City" features leading photographers, curators, and other creative people who are shaping the visual culture of a city that, as writer Álvaro Enrigue notes, "always returns as a stronger and more brilliant version of itself." In Mexico City, history permeates artists' narratives of both the personal and the social, from Iñaki Bonillas's inventive reworking of his grandfather's archive to a notorious police magazine's portraits of defiance and gender fluidity; and from Sonia Madrigal's timely taxonomy of border-crossing by way of the Chalco-Ixtapaluca expressway to Maya Goded and Mayra Martell's photographic homages to the thousands of disappeared women of Ciudad Juárez. "My camera was a pretext for getting to know Mexico's traditions and culture," says Graciela Iturbide, Mexico's grand dame of image-making, in an exclusive interview with publisher Ramón Reverté. This issue illuminates Mexico City's diverse image culture and reflects the ways Mexican photographers are pushing new visions in the medium.
In the issue:
Words
"Graciela Iturbide: Dreams & Visions"
The life and work of Latin America's most revered photographer
A Conversation with Ramón Reverté
"Spiral City"
How a group of young artists transformed Mexico City in the 1990s
By Kit Hammonds
"Mexico and the Photobook"
From Manuel Álvarez Bravo to Alejandro Cartagena, the legacy of images in print
Pablo Ortiz Monasterio and Horacio Fernández in Conversation
"The Shadow and the Flash"
A visionary conceptual photographer on the art of the family archive
Iñaki Bonillas in Conversation with Iván Ruiz
"Members Only"
Looking back at Mexico City's photo clubs
By Sarah Hermanson Meister
"Posing Defiance"
Outlaws and gender nonconformists in a midcentury police archive
By Alfonso Morales Carrillo
"A History of Violence"
How can women photographers represent Mexico's disappeared?
Maya Goded and Mayra Martell in Conversation with Marcela Turati
Pictures
Pablo López Luz
Introduction by Álvaro Enrigue
Miquel Calderón
Introduction by María Virginia Jaua
Gabriel Orozco
Introduction by María Minera
Lake Verea
Introduction by Alejandro Hernández Gálvez
Melba Arellano
Introduction by Mario Ballesteros
The J. L. Venegas Archive
Introduction by Yvonne Venegas
Sonia Madrigal
Introduction by Yxta Maya Murray
Jesús León
Introduction by Daniel Saldaña París
Tania Franco Klein
Introduction by Chloe Aridjis
Use #ApertureMagazine to join the conversation on Twitter, Instagram, and Facebook.
Aperture: The Magazine of Photography and Ideas
Subscribe now to save and never miss an issue.
Aperture wishes to thank FotoMéxico and Grupo Habita for supporting the launch of this issue in Mexico City, and Selina for supporting the launch in New York.
Significant support for Aperture magazine is provided by The Kanakia Foundation. Further generous support is provided, in part, by The Andy Warhol Foundation for the Visual Arts and the New York City Department of Cultural Affairs, in partnership with the City Council.
more from Aperture Magazine