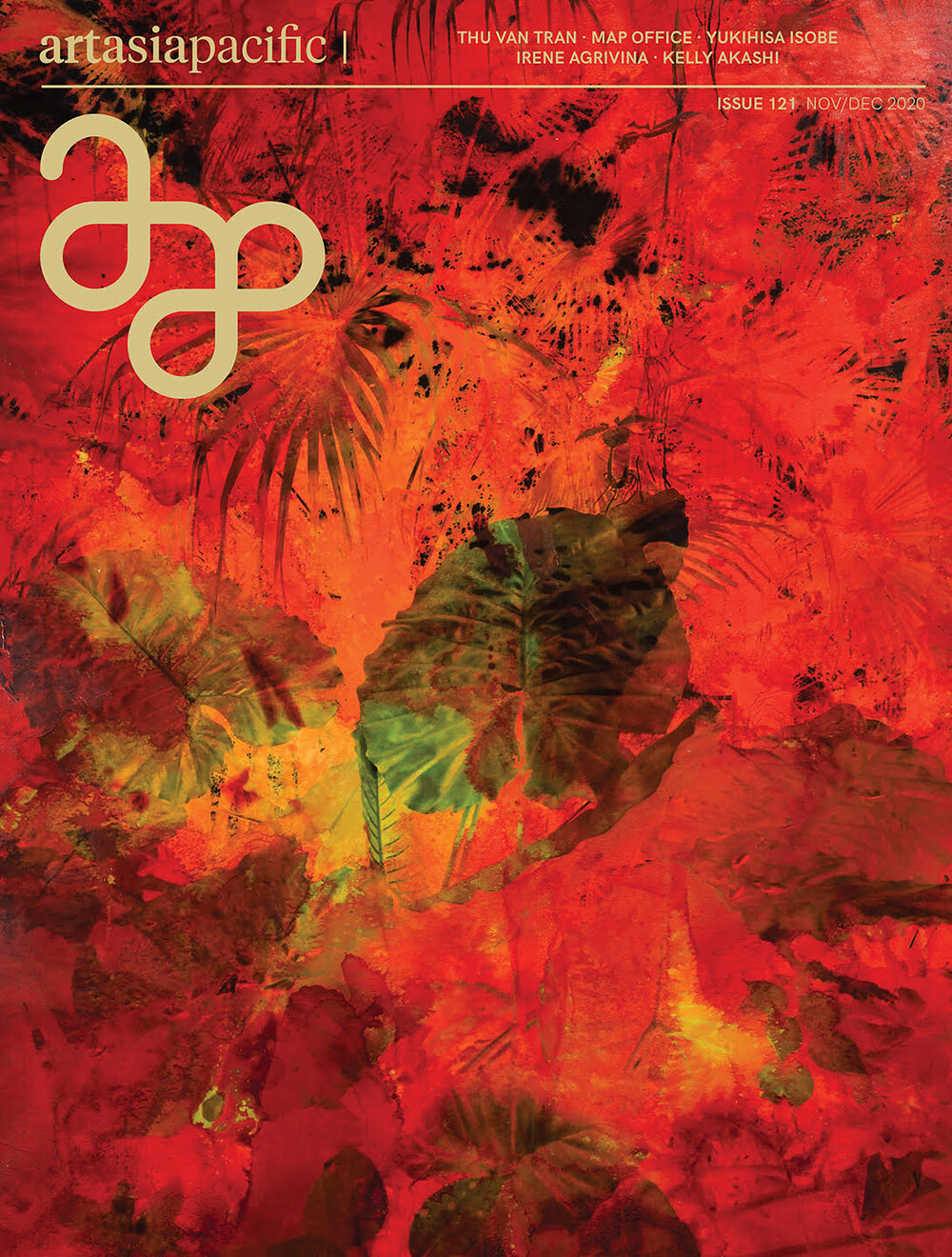 November/December 2020
ArtAsiaPacific
November 2, 2020

November 2, 2020
Recognizing our interdependence with the earth and its diverse organisms is becoming critical as the planet's ice caps melt at alarming rates, wildfires ravage the land, and droughts and floods threaten the food security of millions. In ArtAsiaPacific's November/December 2020 issue, we survey artists who are examining the ecologies that we are a part of and uncovering the impacts of the anthropocene.
In our cover Feature, Paris-based Thu Van Tran, in conversation with managing editor Chloe Chu, traces the residues of colonialism and modern warfare in the environment and culture of Vietnam. In the series From Green to Orange (2014– ), seen on the cover, she effaces photographs of Vietnam's jungles and creates layers with alcohol, ink, and rust. The resulting images speak to the haunting aftereffects of the chemical weapons deployed during the Vietnam War.
Concerned about anthropogenic damage to the world's oceans and seas, Hong Kong-based MAP Office, comprising Laurent Gutierrez and Valérie Portefaix, have spent the last decade exploring possibilities for the sustainable growth of waterfront communities through publications, videos, and installations. As they explain to deputy editor and deputy publisher HG Masters, they have embarked on their most ambitious project: to create a self-sustaining workshop space on the island of Ishigaki.
For Up Close, the editors examine Prabhakar Pachpute's drawings about the fight of Indian farmers against the erosion of their livelihoods and rights, as well as Su Yu Hsin's and Truong Cong Tung's explorations of the intertwined transformations of human beliefs and the environment. Rounding out the Features section, art historian Martina Corgnati delineates the life of surrealist Meret Oppenheim, in Inside Burger Collection.
In Essays, AAP examines the multivalent practice of Yukihisa Isobe, from his timeless design for the first Earth Day poster in 1970 to his air-activated sculptures and environmental installations in the Echigo-Tsumari region in Japan.
The Profiles section spotlights open-source activist, technologist, and artist Irene Agrivina, who looks to nature for solutions to Indonesia's societal problems, as independent curator Chabib Duta Hapsoro details. Similarly working with organic materials, specifically agricultural waste, is architectural scientist Mae-ling Lokko, whose innovations, including upcycled mycelium-based tiles, are outlined by news and web editor Lauren Long. Meanwhile, associate editor Ophelia Lai writes about Australian photographer Tamara Dean, who centers the inextricable relationship between humankind and nature in her images.
For the Point, the Forest Curriculum, led by curators Abhijan Toto and Pujita Guha, propose Zomia, the forested belt that connects South and Southeast Asia, as a model for rethinking what constitutes "knowledge" and how knowledge itself is organized. Elsewhere in the issue, for Dispatch, Madrid desk editor Rebecca Close files a report about how discussions on colonialism and race are shaping the Spanish capital's cultural life. For One on One, Dubai-based multimedia artist Raja'a Khalid pays homage to writer Kurt Vonnegut, whose use of humor and "tireless advocacy for kindness and empathy" inspired her own practice as a "hopeful cynic." Olga Viso, a museum advisor and former executive director of the Walker Art Center in Minneapolis, also penned a special Tribute to polymath artist Siah Armajani (1939–2020), who "deplored all forms of injustice and spoke out boldly" throughout his career.
Lastly, for Where I Work, regular contributor Danielle Shang visited the Los Angeles studio of Kelly Akashi, whose sculptures are inspired by organic forms, including the spirals found in shells, ferns, and DNA, in which she finds "a vocabulary for the universe and for the faculties of harmony, strength, agility, growth, and mobility." Like Akashi, the many artists and creators featured in this issue are exploring new interpersonal relationships and inventing strategies of survivance as we are compelled to readapt our behaviors to conditions on a rapidly changing planet.
A digital edition of the full AAP 121 Nov/Dec issue is now available for purchase on Zinio, Google Play, iTunes, and Magzter.