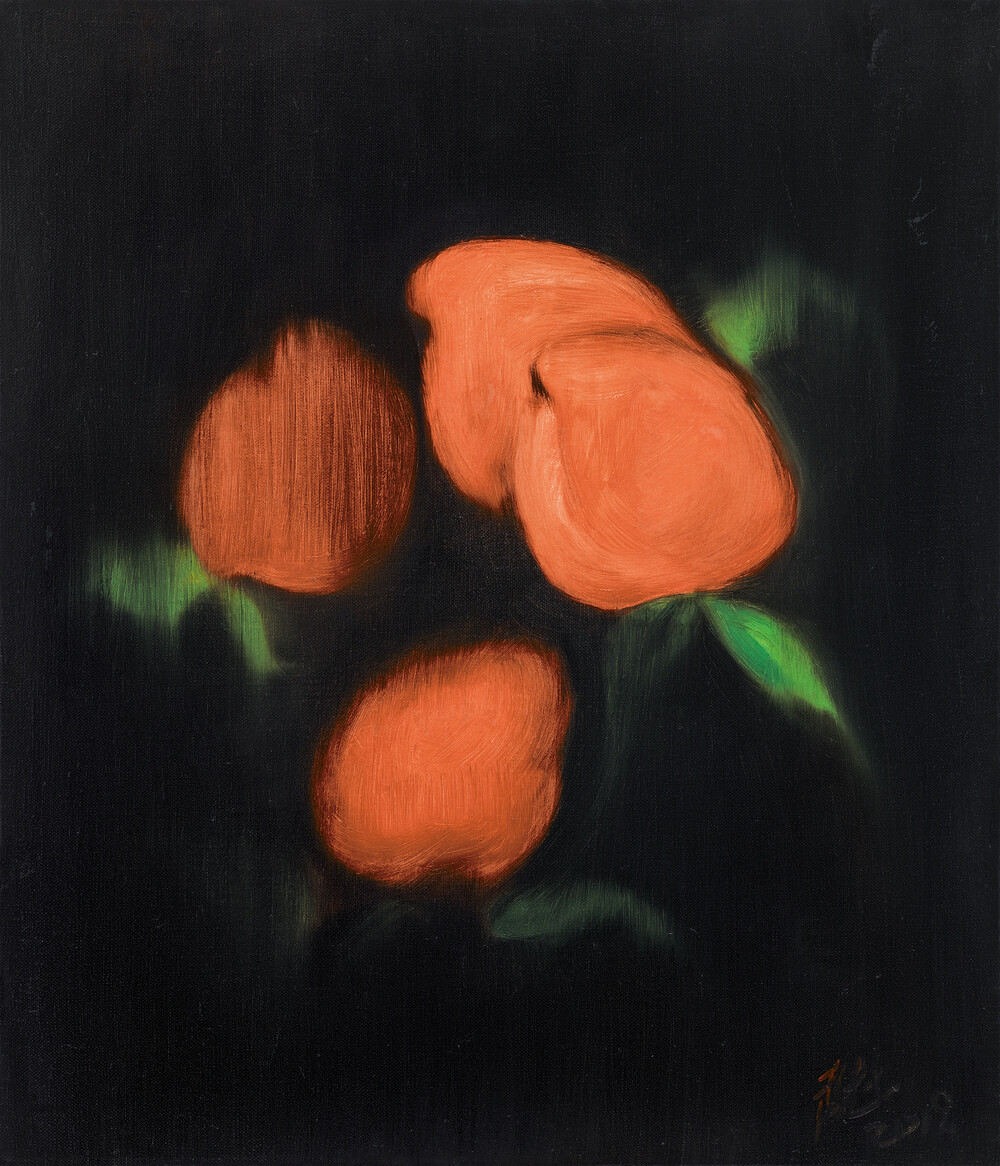 Zhao Zhao
Poetry and the Villain
Lin & Lin Gallery, Taipei / Taiwan
January 15–February 29, 2020

January 14, 2020
Lin & Lin Gallery is honored to announce Zhao Zhao's solo exhibition Poetry and the Villain opening in January 2020, curated by Cui CanCan again, that is going to present Zhao's new series of works. He is China's most sought after post 1980s artist, this exhibition is his second solo show at Lin & Lin Gallery after the previous solo show in 2017. Through depicting five different subject matters, the artist tells variety stories that are tremendous poetical and allegoric.
Following the 2017 "Self-Portrait" series, Zhao Zhao continues his unique aesthetic approach, created five themes: "Father and Son," "Villain," "Bamboo Shoot," "Grandpa Tells a Story," and "Peach" that seem different but actually along the same narrative logic, makes them being causal and entangled with each other, yet maintains a mutual fascination at the same time. Therefore, the artist draws the outline for the dialectic path of conflictual and struggling, yet sweet and ambiguous circumstances in life. The more situations the painter's life has occurred, the more times the image is manifested. Sometimes it is a bamboo shoot that grows like a flame in the long night; sometimes it is the desire of a peach growing with animal-like ferocity; sometimes he is a storytelling God of Immortality conveying the many implications of an experience; or sometimes he plays the villain, such as Vajradhara, Dharmapāla, or Chaturmahārāja to intimidate us all. Based on perception and delusion, Zhao's painting is more rigorous than poetry yet freer than most painting, and in the gap between, another allegory forms.
As curator Cui CanCan saying, "His early series 'Self-Portrait' is romantic and pure, but later, in Villain, we see that the evil man has come out of his shell. Since the artist matured, good and evil, and right and wrong, have come together, and his physical body has been restructured. Later still, a new life emerged and Zhao Zhao became a father, making him anxious about growing old. He became more deeply aware of life's path, as well as its trials and tribulations, such that he could only continue to fight for redemption. Growth eventually turns into aging, and the accumulation of experience is the result of a life. Therefore, a father becomes a grandfather in his paintings, and experiences are both true and false, and righteous and evil. The bulge on the forehead of the old man in the painting is both a symbol of wisdom and a flower-like tumor harboring evil… Every wise man knows the cost of every beginning, that death is the result of life, and the peach always grows from a festering wound. Furthermore, every villain has pinched a plump peach or a naive face, just because the peach is a myth and a temptation."
Born in Xinjiang, 1982, Zhao Zhao graduated from the Xinjiang Institute of Arts, 2003. Now he works and lives in Beijing and Los Angeles. He has worked in a subversive way all along and is keen on raising challenges on the reality and its traditional practice of art forms through various media. He creates a body of work which examines the power of individual free will and the intensity of authoritative control.
In recent years, his bold and radical artistic practice has won him international recognition. He has held solo shows in many galleries worldwide, such as Alexander Ochs Galleries (Berlin, Germany), Carl Kostyál Foundation (Stockholm, Sweden), Roberts & Tilton (Los Angeles, USA), Chambers Fine Art (New York, USA), Mizuma Art Gallery (Tokyo, Japan), Lin & Lin Gallery (Taipei, China), Tang Contemporary Art (Beijing, China) and CAAW (Beijing, China). In 2019, Zhao Zhao won the 13th AAC (Award of Art China) for the Artist of the Year. In 2017, he was appraised as one of the Top 10 Chinese artists by CoBo and was nominated for the 11th AAC as the Young Artist of the Year. He was also listed as one of the 25 Artists to Watch by Modern Painters.
more from Lin & Lin Gallery