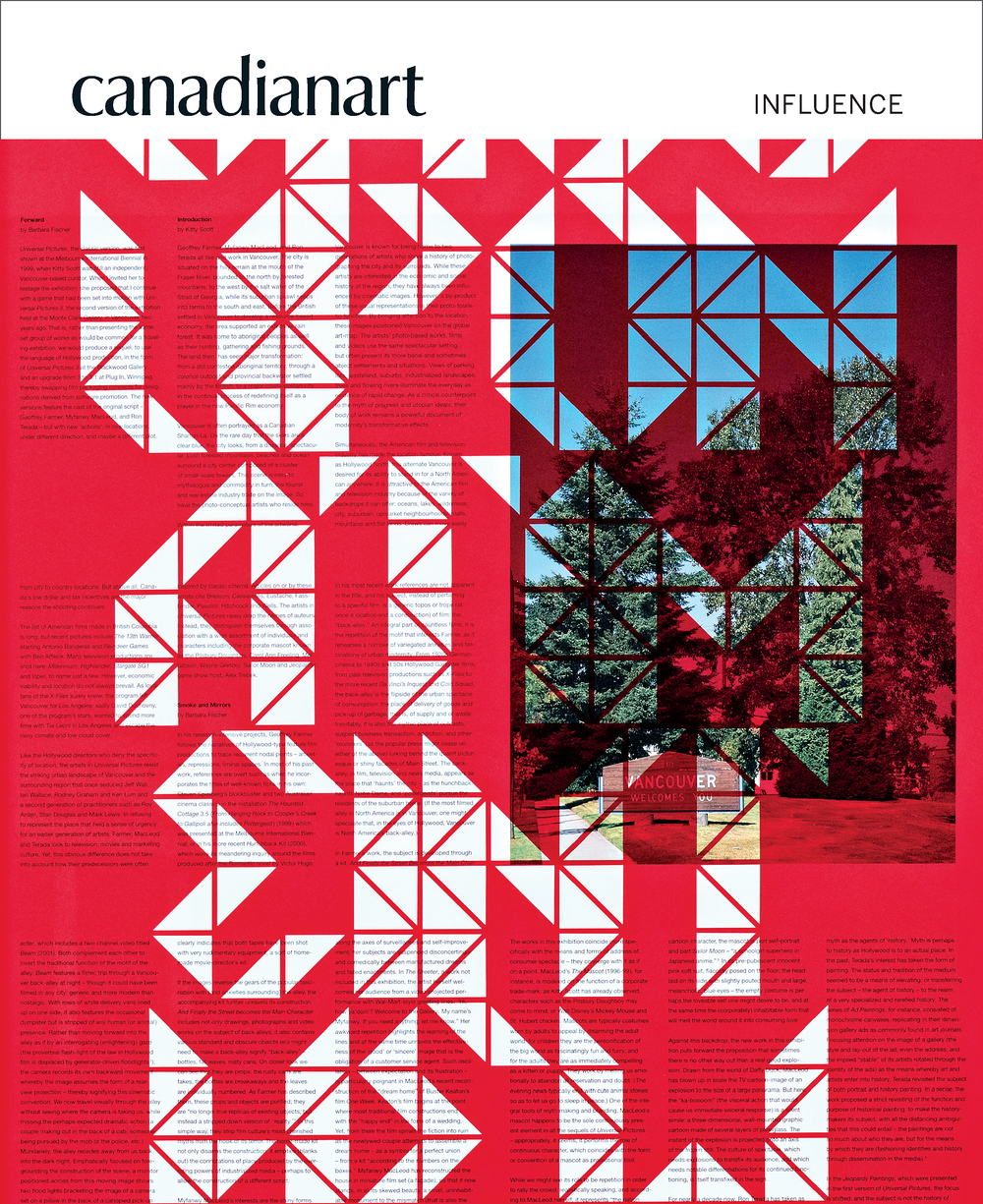 Spring 2020: Influence
Canadian Art
March 18, 2020

March 18, 2020
The spring issue of Canadian Art, available now, looks at questions of "Influence" to think about how artists inspire, collaborate with and influence one another. What structures and systems affect how the art world works and how artists connect? What legacies are left behind, to be picked up by the next generation? And how do wider networks of influence—in media and visual culture—intersect with artists' work?
In this issue:
"I wanted to get away from making art about art," says acclaimed artist Ron Terada, who, along with art historian Tom McDonough, reflects on 10 years of his practice by asking what it means to make paintings inspired by social media and our current moment of collectivity.

Maya Wilson-Sanchez and Deanna Bowen discuss Bowen's landmark exhibition "God of Gods: A Canadian Play," mapping the early 20th-century networks of power that shaped Canadian culture.

Artist Hazel Meyer writes about what happened when she was gifted a ton of marble belonging to iconic artist Joyce Wieland.

Arielle Twist visits the archives of Aiyyana Maracle—an artist, performer and storyteller whose work centred the experiences of Indigenous trans women—and considers the politics of preserving her legacy.

Zachery Longboy, an artist whose contributions to the canon of queer Indigenous video art have been vital, speaks with Justin Ducharme about failure, love and freedom.

In our Dialogue section, Sara Cwynar and Elizabeth Zvonar talk about untangling beauty from consumption.

Kay Gabriel contributes two sonnets for Kevin Killian in Poetry.

Alice Ming Wai Jim revisits the pivotal 1989 exhibition Black Wimmin: When and Where We Enter for Legacy.

Features editor Yaniya Lee considers literary influence and Jeanne Duval for the issue's Keynote.

In Overheard, writer William Gibson meditates on envisioning the 22nd century: "We're not all headed into the same future. But in some sense we're not all living in the same present, either."

Joni Low profiles 10 emerging and underrepresented artists in this issue's Spotlight section.

Preview features conversations with artists and curators such as Miao Ying, Liz Magor and Native Art Department International on their upcoming projects.

Reviews: Saelan Twerdy on Eva and Franco Mattes at Phi Foundation, Montreal; Nasrin Himada on Mitchell Wiebe at MacKenzie Art Gallery, Regina; Amy Fung on Jill Johnston; Bryne McLaughlin on Jonas Staal; Tess Edmonson on Lili Huston-Herterich at Zalucky Contemporary, Toronto; Alan Gilbert on Alan Belcher at Downs & Ross, New York; Jayne Wilkinson on Wael Shawky at Polygon Gallery, Vancouver; Joy Xiang on Xuan Ye at Pari Nadimi Gallery, Toronto; Lindsay Nixon on "Soft Power" at SFMoMA; Tausif Noor on Suzy Lake at Arsenal Contemporary, New York; Leah Sandals on Cannupa Hanska Luger and Kali Spitzer at Gardiner Museum, Toronto; Georgiana Uhlyarik on Jinny Yu at Galerie UQO, Gatineau; Yan Wu on Carole Condé and Karl Beveridge at Robert McLaughlin Gallery, Oshawa; and Emma Sharpe on Jenine Marsh at Centre d'art et de diffusion CLARK, Montreal.

Plus: the 2020 edition of our popular Collecting Guide offers informative ideas about building and managing an art collection, and interviews with collectors, gallerists, artists and specialists on navigating the world of collecting.

Subscribe to Canadian Art by March 31 to receive the spring 2020 issue.