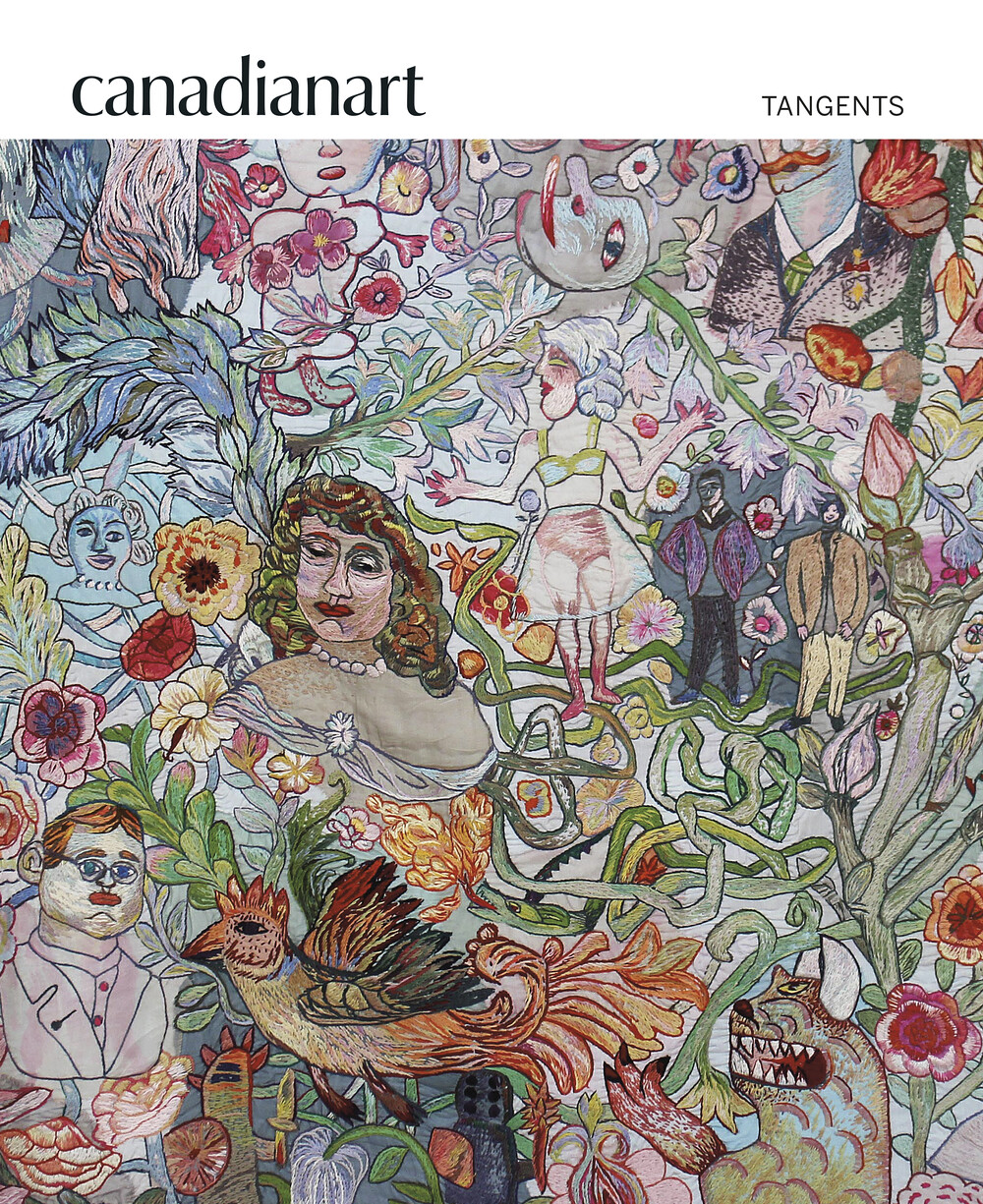 Winter 2021: "Tangents"
Canadian Art
December 11, 2020

December 11, 2020
For the winter 2021 issue of Canadian Art, "Tangents," we asked artists to tell us stories about their stories—to write about idiosyncratic histories, side interests or obsessions, curiosities and unknowns. Taking our lead from artists and artist-led research, we're exploring how lateral, divergent thinking can produce ideas that change course, ideas that, however subtly, resonate and shift the direction of a project or a practice. All the stories in this issue are written by artists: some detail how the day-to-day aspects of one's personal life directly informs a practice; others mine family histories, inherited narratives and obscure archives to find meaning in the present; still others focus on plant, animal and insect life, exploring topics that might seem unrelated but often lead to surprising affinities in one's work. These oblique, seemingly tangential, interests offer different ways of understanding artists and their objects of study, especially during a time of flux.
In this issue:
Cover artist Anna Torma discusses the changing seasons in her garden and how it comes to influence her vibrant, large-scale embroideries—where all kinds of flora and fauna show up.
Found-object sculptor Georgia Dickie takes us on a walk around her neighbourhood, narrating her fixation on free piles and curb alerts.
Printmaker and mixed-media artist Jason Sikoak speaks with Elder Mina Campbell about Labrador's seal hunt, an annual event he depicts in his work.
Fabiola Carranza, whose practice examines cultural and personal phenomena through video, text and translation, looks at the case of Felicia Montealegre, the famous wife of Leonard Bernstein and a distant cousin of Carranza's.
Media artist and curator Christina Battle analyzes two photographs of an Edmonton workers' strike that have preoccupied her since childhood, and draws parallels with the dystopian images found in science-fiction films.
Woojae Kim's research into nonhuman intelligence takes a rigorous yet poetic approach to the emotional and chemical experience of smell and how it differs between humans and other organisms.
Zahra Komeylian's experimental approach combines personal history, theory and myth to circle around the story of a sculptor (her uncle) who made thousands of miniature, collectible lighthouses.
Rémi Belliveau takes a deep dive into the social history of 1960s and '70s Acadian musicians—an interest that has informed his recent exhibitions, including one this fall at Galerie de l'UQAM.
And writer Emma Sharpe surveys 10 artists in Spotlight who imagine the world otherwise.
The visual projects in "Tangents" likewise explore writing as form. Simon Belleau's Pasolini's St. Paul takes a screenplay as its source material for an intervention into a work that is never finished, continually in process. And Divya Mehra's acerbic and hilarious writing parodies an open letter, one that readers can tear out of the magazine for their own personal use.
Preview features short conversations with Thelma Pepper, Anna Binta Diallo, Kapwani Kiwanga, Alex Turgeon, Heather Igloliorte and Marigold Santos on upcoming projects.
Reviews include: Jayne Wilkinson on Azadeh Elmizadeh at Franz Kaka, Toronto; Adrienne Huard on Jeneen Frei Njootli at PLATFORM, Winnipeg; Ossie Michelin on Acts of Resistance at the Museum of Vancouver; Tess Edmonson on Amy Lam at SFU Galleries, Burnaby; Bryne McLaughlin on Manuel Mathieu at the Power Plant, Toronto; Chelsea Rozansky on Patrick Cruz at Gallery TPW, Toronto; Geordie Miller on Cube Show at Owens Art Gallery, Sackville; Johanne Sloan on Cynthia Girard-Renard at Darling Foundry, Montreal; Amelia Wong-Mersereau on Walter Scott's Wendy; Harry Burke on Elif Saydam at Tanya Leighton, Berlin; Christian Vistan on Third Realm at the Polygon Gallery, North Vancouver; and Emilie Croning on Owen V. Gordon at BAND Gallery and Cultural Centre, Toronto.
Subscribe to Canadian Art by January 20 to receive the winter 2021 issue, or access the digital edition via PocketMags and Flipster.