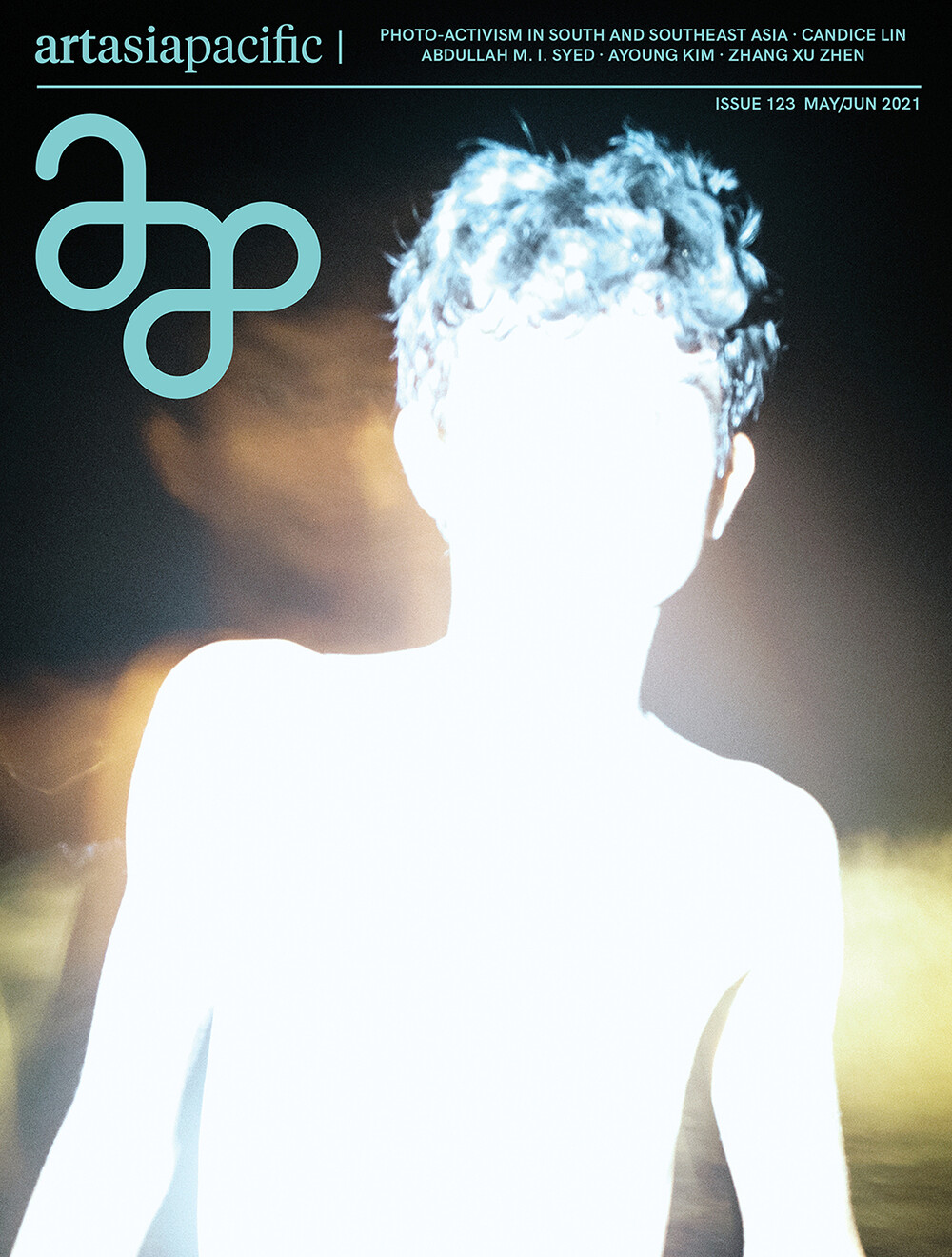 May/June 2021
ArtAsiaPacific
May 3, 2021

May 3, 2021
Photography is often described as a passive media—a recording of things that happen before the lens. But for many contemporary artists and photojournalists, it is a field of active investigation and exploration. ArtAsiaPacific's May/June issue spotlights artists who have sought to bring suppressed histories and historically marginalized groups to light. Our cover Feature, by Cleo Roberts-Komireddi, is anchored in a Sohrab Hura-curated exhibition of South and Southeast Asian photographers at Dubai's Ishara Art Foundation, Growing Like A Tree. Examining the practices of the Burmese all-female Thuma Collective, Kaali Collective and Chobi Mela in Bangladesh, and Nepal's photo.circle and Nepal Picture Library, Roberts-Komireddi sets out to examine how a surge in majoritarian politics is driving photo-activism, archiving initiatives, and collaboration between collectives across the region.
Our second Feature spotlights Los Angeles-based multimedia artist Candice Lin, whose touring solo exhibition Pigs and Poison historicizes the Covid-19-heightened scapegoating of Asians during pandemics. Probing the boundaries within and between species has long been of interest to Lin. Whether in her 2013 sculpture of a human-turned-cockroach or the sarcophagus that she designed in 2019 to encase the corpses of her and her future cats, she has focused on "non-humans and the dehumanized, creating projects that cross past with present and future, self with other," writes managing editor Chloe Chu.
Rounding out the Features section, in Up Close, the editors examine projects by Sarah Choo Jing, Mika Tajima, and Minouk Lim that propose ways of overcoming societal divisions. For Inside Burger Collection, writer and curator Marie Muracciole interviews Lebanese-American artist Simone Fattal.
The Profiles section considers the works of Abdullah M. I. Syed, whose practice is rooted in a "poetic resistance" that, as Susan Acret describes, "advocates for community building, family, the home, and inner transformation over pressures to attain wealth, power, and privilege." Profiled by Kerstin Winking, Agung Kurniawan likewise orchestrates healing through community, in his roles as artist and founding curator of Yogyakarta's Kedai Kebun Forum. Meanwhile, Ayoung Kim traces the ever-shifting borders that have divided and brought us together, as associate editor Ophelia Lai details.
In Essays, deputy editor HG Masters surveys the nearly 12-year-long run of the alternative space Arrow Factory, which resided in a 15-square-meter storefront in Beijing, and looks at the diverse approaches artists adopted to connect directly with the public.
In Dispatch, we hear about the intergenerational support between citizens and artists fighting for democracy in Myanmar. Elsewhere in the issue, Chicago-based artist Aram Han Sifuentes, in The Point, addresses how "the US voting system perpetuates systemic racism and White supremacy." For One on One, Haig Aivazian, artist and artistic co-director of the Beirut Art Center, outlines how the interdisciplinary and Orientalist approach of 19th-century French painter Eugène Delacroix has posed "persistent problems that [he has] continued to find productive" in his own practice. In Fine Print, lawyers Juyoun Han and Patrick K. Lin dissect how Section 230 of the US Communications Decency Act allows social media platforms the freedom to decide how and what content to ban, which has in turn impacted the free expression of artists using these digital spaces.
Lastly, for Where I Work, Daphne Chu visited the Taipei studio of animator Zhang Xu Zhan, who utilizes folded joss paper, customarily burned as offerings to one's ancestors, in his stop-motion videos. Chu writes, "There is a great weight of responsibility that comes with the institution of traditional culture . . . But for Zhang Xu, as an artist, he finds it much more intriguing to combine life experiences, tales, and mythology to create universes that are ambiguous, or in his own words, placed in the zhongjian, the intermediate." Whether researching folk traditions, revisiting past worldviews, or assembling archives that tell little-known histories, artists keep memories and communities alive in the light of the present.
A digital edition of the full AAP 123 May/June issue is now available for purchase on Zinio, Google Play, iTunes, and Magzter.